UPDATE: 4:45 p.m. ― Mary Bono announced Tuesday that she is resigning after only five days as USA Gymnastics interim president and CEO.
"It is with profound regret, coupled with a deep love for the sport of gymnastics and respect for those who aspire to be great gymnasts, that I today tendered my resignation as the Interim CEO of USA Gymnastics," Bono wrote in a statement published to Twitter. (Head here to read Bono's full resignation.)
PREVIOUSLY:
Some women who were sexually abused by former trainer Larry Nassar are speaking out against USA Gymnastics' new pick for interim president and CEO because she worked for a law firm that represented the organization when Nassar was first investigated.
USA Gymnastics on Friday appointed former Rep. Mary Bono (R-Calif.) to head up the organization as it attempts to course-correct after Nassar was accused of sexually abusing hundreds of athletes in his care. Many Nassar survivors, including Olympian Aly Raisman, pointed out that Bono worked for Faegre Baker Daniels, which represented USA Gymnastics when investigations into Nassar began in 2015.
"My teammates and I reported Nassar's abuse to USAG in 2015," she wrote in a tweet. "We now know USOC & lawyers at Faegre Baker Daniels (Mary Bono's firm) were also told then, yet Nassar continued to abuse children for 13 months!? Why hire someone associated with the firm that helped cover up our abuse?"
"Clearly this is not a 'new' USAG. Same corrupt decisions," Raisman wrote.
"You owe me an explanation of why you and your firm allowed Larry to abuse me in 2016 after you were well aware that he was abusing little girls," she wrote as she retweeted Bono.
The USA Gymnastics' board of directors told HuffPost that Bono did not work with the gymnastics organization during her time at Faegre Baker Daniels.
"Mary Bono worked at Faegre Baker Daniels Consulting, the legislative strategies and policies branch in Washington, D.C," the statement reads. "Faegre Baker Daniels is a large, global firm that has a number of divisions and areas, and Mary was not involved in FBD's work with USA Gymnastics as counsel of record."
A spokeswoman for Faegre Baker Daniels also refuted the cover-up claims.
"FaegreBD is guided by our firm's core values, which include honesty, integrity, respect and service," she said in a statement to HuffPost. "We uphold these values as we provide counsel to our clients."
"It is a matter of public record that a FaegreBD lawyer participated in reporting Larry Nassar to the FBI in the summer of 2015 ― a fact that refutes any claim of a cover up," the statement continued. "We are bound by our obligation of client confidentiality, and thus we cannot comment further at this time."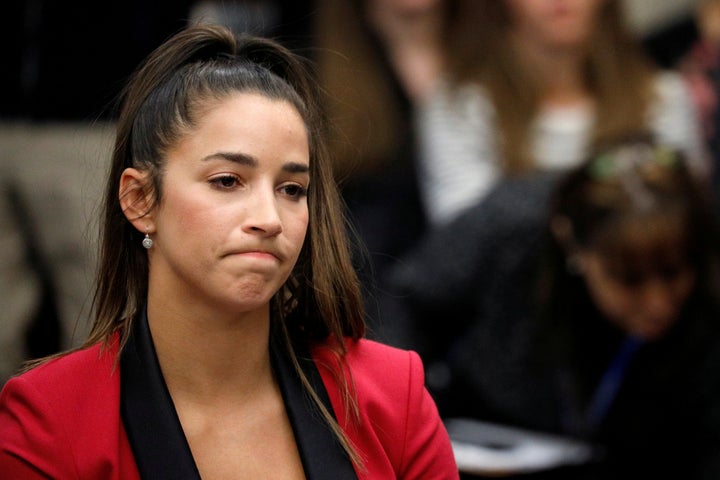 John Manly, an attorney who represents dozens of Nassar survivors, supported the criticism from Raisman and Lorincz.
"What the Board is really saying: 'Yea we all know Bono works for the Faegre law firm. Hell, that's why we picked her. You think we want a Pres who would disclose what we knew and when we knew it about Nassars child molestation? Are you crazy?'" Manly tweeted. "USAG is rotten to the core."
Olympic gymnast and Nassar survivor Simone Biles also called out Bono for posting a photo of her covering the Nike logo on her golf shoes. The act appeared to be part of a movement to disparage the sportswear company for partnering with Colin Kaepernick, who has kneeled during the national anthem to protest police brutality and racial inequality.
"Mouth drop. Don't worry, it's not like we needed a smarter USA Gymnastics president or any sponsors or anything," Biles tweeted.
Bono later deleted the tweet showing her covering the logo and apologized in a statement.
"This in no way reflects how I will approach my position at USA Gymnastics," she said. "I will do everything I can to help change the culture and to work with the entire community to build an open, safe and positive environment."
Bono takes over as interim president and CEO from Kerry Perry, who resigned in September after nine tumultuous months on the job.
HuffPost's "Her Stories" newsletter brings you even more reporting from around the world on the important issues affecting women. Sign up for it here.
Popular in the Community