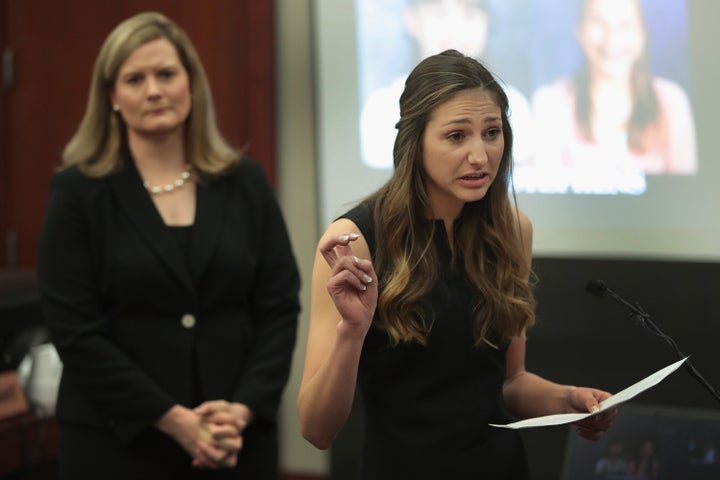 The sentencing hearing began at 9 on Tuesday morning and is set to run through Thursday afternoon. Nassar pleaded guilty to 10 counts of first-degree sexual misconduct in November. According to Michigan state Assistant Attorney General Angela Povilaitis, 98 victims and family members of victims are scheduled to read impact statements over the week.
Many of the sexual abuse survivors who spoke in court on Tuesday had been named anonymously in lawsuits and came out publicly for the first time while making their statements. Almost all of them asked Judge Rosemarie Aquilina to sentence Nassar to a minimum of 40 years and a maximum of 125 years in prison, which is in line with the prosecutor's request.
The morning started off with a riveting address from Kyle Stephens, a family friend of Nassar's and the only known victim who was not an athlete or a dancer. Stephens said she was sexually abused by Nassar for years, starting when she was just 6.
"You used my body for six years for your own sexual gratification. That is unforgivable," Stephens told Nassar.
"Little girls don't stay little forever. They turn into strong women that return to destroy your world."
The young woman said Nassar's abuse came between her and her parents when she tried to tell them about it. They didn't believe her for years. Her father killed himself in 2016, Stephens said, after realizing she had not been lying.
"Had he not had to bear the shame and self-loathing that stemmed from his defense of Larry Nassar, he would have had a fighting chance," she said, referring to her father's suicide.
Stephens looked directly at Nassar as she concluded on a powerful note: "Little girls don't stay little forever. They turn into strong women that return to destroy your world."
Nassar has been accused by 140 women of serial sexual abuse during his past tenures as the team doctor for USA Gymnastics, the doctor for various Michigan State University sports teams and the sports medicine doctor at the Michigan gymnastics training gym Twistars. Of those women, 125 have filed lawsuits against Nassar, USA Gymnastics, MSU and Twistars.
Olivia Cowan, now married and a mother of two young daughters, was visibly emotional as she talked about the after-effects of Nassar's abuse.
"This case has taken all of me, every ounce of my being, to press forward," she said, adding later, "I will educate my children about monsters like you and pray to God they will never experience pain like this."
"This case has taken all of me, every ounce of my being, to press forward."
Cowan also addressed MSU and USA Gymnastics, which have been accused of covering up the doctor's behavior for two decades.
"It's horrifying that MSU and USA Gymnastics are not stepping up to the plate to admit their wrongdoing. … I want MSU and USAG to know what they have done is on the very same level of accountability as the crime Nassar has committed," Cowan said with tears streaming down her face. "MSU knew what was being done to these athletes and decided to turn a blind eye to keep their reputation strong and their pockets full. If they would have only taken action upon the first reporting, they would have saved me and all these other women standing before us today."
The university has denied hiding Nassar's behavior in any way.
"Any suggestion that the university covered up Nassar's horrific conduct is simply false," MSU spokesperson Jason Cody told HuffPost earlier this month. "Nassar preyed on his victims, changing their lives in terrible ways. As [MSU] President Simon has said, MSU is truly sorry for the abuse all victims suffered, the pain it caused, and the pain it still causes."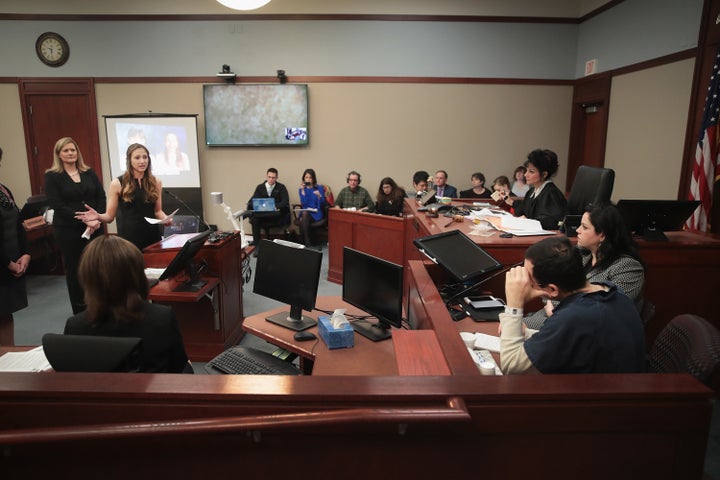 "Shame on you [USA Gymnastics] for looking the other way when this was brought to your attention," Cowan said. "A public apology after you've hid behind this monster for over 20 years will never be enough. Where were you when we needed you? If you would have only listened to the women who brought complaints and concerns over all these years, this would have saved so many children and women from being abused and from all the scars this has created."
In one of the most moving statements of the day, Donna Markham spoke on behalf of her daughter Chelsea, who was abused by Nassar.
"She never really recovered," Markham said of her daughter, whom she described as her "best friend."
"He was supposed to help her heal. But he didn't do that. He abused her," Markham told the court. "He had the audacity to do it while I was sitting in the room."
She went on to reveal why Chelsea wasn't delivering this impact statement. "She took her own life because she couldn't deal with the pain anymore," Markham said. "It will be 10 years in March that I lost my baby. She was 23 years old. … Every day I miss her. Every day. And it all started with him."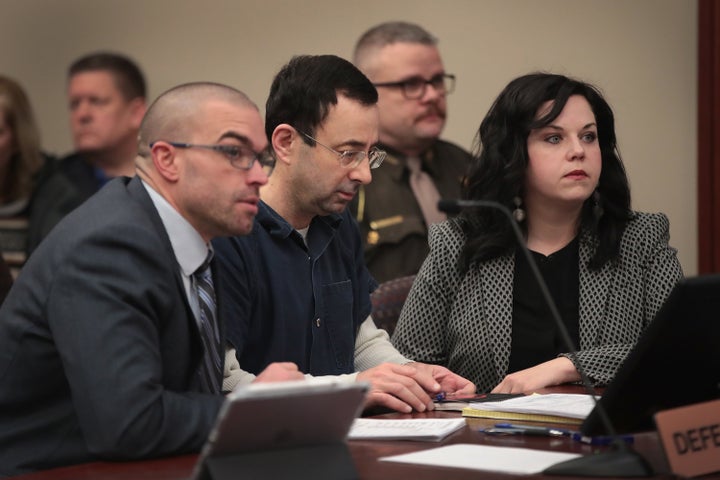 Judge Aquilina repeated to every victim who spoke that the abuse they'd endured was not their fault.
"You are worthy," she told survivor Danielle Moore. "This was done to you. It was not done by you."
The judge assured the 17-year-old Jessica Thomashow that she will heal. "You talk about being broken. He's going to break while you're healing and I believe that he will remain broken," she said.
In another powerful moment, survivor Kate Mahon quoted the writer Jasmin Kaur when she said: "Scream so that one day a hundred years from now, another sister will not have to dry her tears wondering where in history she lost her voice."
Mahon added that she came forward to speak on the behalf of all survivors of sexual abuse.
"By publicly speaking out against Larry Nassar, I'm not just speaking out for myself," she said. "I'm speaking out for all the girls and women of the past, present and future that have been or will be affected by sexual assault."
Other survivors who spoke on Tuesday included Jade Capua and Alexis Moore.
Popular in the Community