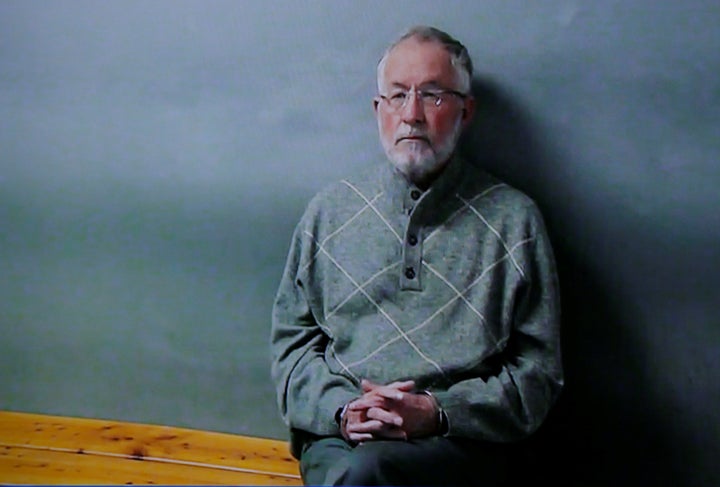 William Strampel ― former dean of MSU's College of Osteopathic Medicine and longtime boss of Nassar, a convicted child molester ― signed an agreement to retire on Friday afternoon, effective June 30. Strampel, 70, supervised Nassar for almost 15 years, during which time Nassar abused hundreds of athletes. The former dean has also been arrested on charges involving accusations of sexual assault and harassment. 
"As I said before, Strampel has not acted with the level of professionalism expected of an MSU employee, particularly one holding an office with the responsibility of patient safety," MSU interim President John Engler said in a Friday statement. 
"His conduct and attitude were unacceptable and went against the values of this university," Engler continued. "While completing the tenure revocation process would have been highly satisfying, his immediate retirement means we have achieved the same goal ― the end of the relationship between Strampel and MSU."
Engler tried to fire Strampel earlier this year but Strampel's tenure status meant that the process would last until 2019. Strampel, who has been at MSU since 1999, will receive a final payment of $175,000. The payment, according to MSU's statement, "represents a compromise of the salary Strampel claims he would have been entitled to over the duration of the lengthy tenure revocation process." 
Under the retirement agreement, Strampel forfeited emeritus status, which is an honor historically given to retiring faculty. He also won't receive any executive-level benefits, but will receive basic health care coverage, The Detroit News reported.   
Strampel did not immediately respond to HuffPost's request for comment.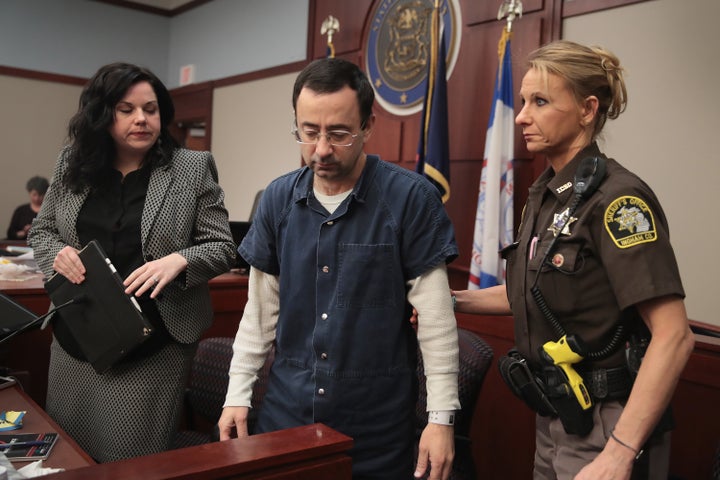 Strampel stepped down as dean in 2017 due to medical reasons and amid backlash that he had ignored complaints about Nassar. He oversaw Nassar during a 2014 Title IX investigation into sexual abuse allegations against the former doctor. Strampel allowed Nassar to continue working throughout the investigation, during which time Nassar continued to abuse athletes. 
Nassar is now serving three concurrent prison sentences of up to 175 years for sexual assault and child pornography.
In March, Strampel was arrested on four criminal charges involving accusations of sexual misconduct against him during his tenure at the university. Investigators found pornographic images and videos on Strampel's work computer, including one of Nassar sexually abusing a young female athlete during a "treatment session." 
Two more female students came forward in April, accusing Strampel of sexually assaulting them during practice medical exams, similar to the actions of Nassar. 
"The MSU culture of silence enabled [Strampel's] behavior, but that silence is broken now," one alleged Strampel survivor told The Detroit News after Friday's announcement. "I don't wish ill on anyone, but I also don't believe that someone who abuses a position of power should continue to be rewarded for their time through tenure. ...  I do hope that justice is served and he is held responsible criminally."
Strampel "used his office to harass, discriminate, demean, sexually proposition, and sexually assault female students," according to an affidavit filed by the Michigan Attorney General's Office in March.
Strampel is also named as a defendant in several civil lawsuits against MSU.
The former dean is one of a long list of MSU employees who have stepped down in the wake of the Nassar scandal. Former head gymnastics coach Kathie Klages was the first to resign in February 2017. Former President Lou Anna Simon resigned in January and, most recently, campus activists and Nassar survivors have called for Engler's resignation.  
Calling all HuffPost superfans!
Sign up for membership to become a founding member and help shape HuffPost's next chapter