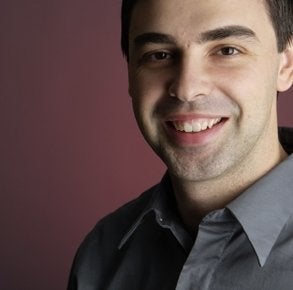 "Day-to-day adult supervision no longer needed!" Schmidt tweeted of the change.
Schmidt has been CEO since 2001, during which time he has overseen the company's growth from a Silicon Valley search engine into a global web goliath grossing over $29 billion in 2010. Under Schmidt, Google has introduced gamechanging products like Gmail, Chrome, and Android.
"In this new role I know [Larry] will merge Google's technology and business vision brilliantly. I am enormously proud of my last decade as CEO, and I am certain that the next 10 years under Larry will be even better! Larry, in my clear opinion, is ready to lead," Schmidt said in the announcement. Schmidt will be transition to a new role as executive chairman.
So what do we know about Google's new CEO?
BACKGROUND:
Page, 37, founded Google in 1998 with Sergey Brin. The two ran the company as co-presidents until 2001, when they handed the reins over to the more seasoned Schmidt.
Born in East Lansing, Michigan to two professors, Page fell into tech early, discovering a love of computers at the age of six. He built an inkjet printer from Legos while an undergrad at the University of Michigan. He met Brin while a Ph.D. candidate in Computer Science at Stanford, and the two hit it off.
Brin and Page's collaboration over web backlinks and citation led to an early version of Google, based off of an algorithm the two devised to make sense of the web called PageRank (after Page.)
John Battelle writes in Wired,
Page didn't start out looking for a better way to search the Web. Despite the fact that Stanford alumni were getting rich founding Internet companies, Page found the Web interesting primarily for its mathematical characteristics. Each computer was a node, and each link on a Web page was a connection between nodes - a classic graph structure. "Computer scientists love graphs," Page tells me. The World Wide Web, Page theorized, may have been the largest graph ever created, and it was growing at a breakneck pace. Many useful insights lurked in its vertices, awaiting discovery by inquiring graduate students. Winograd agreed, and Page set about pondering the link structure of the Web.
AT GOOGLE:
Page's role at Google has largely been in the product development and technology sector. Though he and Brin are both billionaires, they each receive a token salary of a dollar each year.
According to Business Insider, Page is infamous for his distaste for public relations and marketing, reportedly telling Google's PR department he would give them "a total of eight hours of his time that year for press conferences, speeches, or interviews."
Page has a few quirks, according to the book Googled by Ken Auletta, who recounted an incident where throughout a meeting with IAC chief Barry Diller, Page "stared fixedly at the screen of his PDA." He also has a helicopter that he flies himself.
In 2002, Larry was named a World Economic Forum Global Leader for Tomorrow. He is a member of the National Advisory Committee (NAC) of the University of Michigan College of Engineering, and together with co-founder Sergey Brin, Larry was honored with the Marconi Prize in 2004. He is a trustee on the board of the X PRIZE, and was elected to the National Academy of Engineering in 2004.
Page married Lucy Southworth, a research scientist, in 2007 and has a son, who was born in 2009.
Popular in the Community