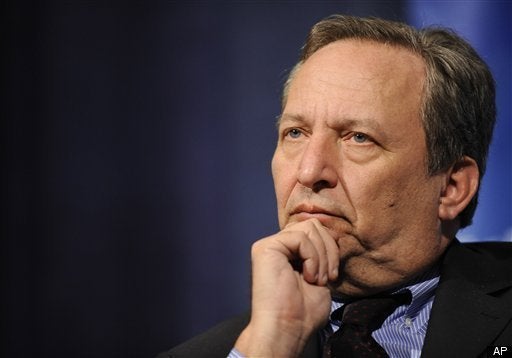 President Barack Obama's top economic adviser defended megabanks Thursday, arguing that breaking them up serves no purpose and that a proliferation of smaller banks would instead make the financial system "less stable."
The remarks stand in sharp contrast to those being made by the presidents of at least three regional Federal Reserve banks, one Nobel Prize-winning economist, top bank regulators in Europe, and former Wall Street chieftains, all of whom argue that in order to truly end Too Big To Fail, the U.S. needs to shrink its top financial institutions so that none of them ever again threaten the financial system.
"Most observers who study -- who study this believe that to try to break banks up into a lot of little pieces would hurt our ability to serve large companies and hurt the competitiveness of the United States," Summers said in response to a question about whether the U.S. should go further in trying to end Too Big To Fail by limiting the size of banks.
The leading financial reform bill in the Senate, authored by Senate Banking Committee Chairman Christopher Dodd and championed by the White House and the Democratic Party leadership, does not call for the nation's largest financial institutions to be broken up. It largely preserves their size and market dominance, though Senate and administration officials argue that tougher regulation may eventually lead firms to shed assets.
The banks owned by the four largest financial firms in the U.S. -- Bank of America, JPMorgan Chase, Citigroup and Wells Fargo -- collectively account for nearly half of all assets in the U.S. banking system, according to Federal Deposit Insurance Corporation data.
Those four megabanks collectively hold about $7.4 trillion in assets, according to the most recent regulatory filings with the Federal Reserve. That's equal to about 52 percent of the nation's estimated total output last year.
The top 12 banks in the U.S. control half the country's deposits. By comparison, it took 25 banks to accomplish this feat in 2003 and 42 banks in 1998, according to a Jan. 4 research note by Jason M. Goldberg of Barclays Capital.
But when asked whether the U.S. should break up these giant institutions, Summers said no. He added that it's not significant.
"But that's not the important issue," Summers said during the interview, adding to his answer as to why the U.S. shouldn't break up megabanks. "[Observers] believe that it would actually make us less stable, because the individual banks would be less diversified and, therefore, at greater risk of failing, because they would haven't profits in one area to turn to when a different area got in trouble.
"And most observers believe that dealing with the simultaneous failure of many -- many small institutions would actually generate more need for bailouts and reliance on taxpayers than the current economic environment," he added.
The FDIC has an insurance fund, derived from levies on banks, to process failed banks and protect depositors. The financial crisis of 2007-09, which led to the worst economic downturn since the Great Depression, was not caused by small bank failures.
A bill championed by Democratic Senators Ted Kaufman of Delaware, Sherrod Brown of Ohio, Robert P. Casey of Pennsylvania and Sheldon Whitehouse of Rhode Island proposes to break up financial behemoths. Observers say the proposal is gaining steam.
A test vote in the Senate Budget Committee on Thursday, which essentially would have expressed support for breaking up megabanks, failed by just a 12-10 vote. The small margin was surprising, one Senate aide said.
HuffPost posed the following questions, which were based on Summers's remarks, to the White House:
- Does Mr. Summers and/or the administration wish to see a Canadian-style banking system in the U.S. in which a handful of firms dominate the market in exchange for tougher oversight?
- Does Mr. Summers and/or the administration believe that larger institutions pose less risk to the financial system, due to their diversity?
- And for clarification's sake, how does "the simultaneous failure of many -- many small institutions...actually generate more need for bailouts and reliance on taxpayers than the current economic environment"?
In response, an administration spokesman e-mailed the following statement:
"The Administration has made clear its commitment to comprehensive Wall Street reform. The Administration's approach to ending Too Big To Fail includes stronger, more comprehensive regulation, higher capital requirements, new resolution authority to allow failing firms to fail, and restrictions on the size and scope of financial institutions. We cannot and will not go back to the status quo that caused the financial crisis."
"Banks in the United States are proportionately smaller than in Canada and in many European countries," writes Matthew Vogel, a White House spokesman, in an e-mail to HuffPost. "We propose nothing to increase the size of financial institutions. In fact, we tighten the limit on liabilities to further prevent firms from growing excessively large and require firms to separate out their riskiest, proprietary trading activities."
WATCH the video below (scroll to the 4:26 mark):
Related
Popular in the Community