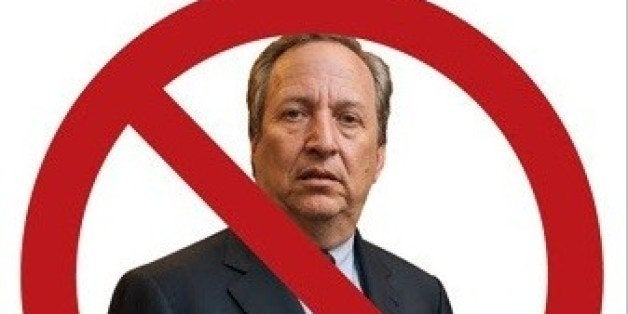 NEW YORK -- Last September, National Journal laid out the case against economist Larry Summers being named Federal Reserve chairman, just days before he withdrew his name from consideration.
Chief correspondent Michael Hirsh wrote the critical story, which was paired with a provocative cover featuring Summers behind a red "no" symbol. "When you see the National Journal cover on Summers, remember this mag sits in basically every Hill office," tweeted journalist Ezra Klein.
Summers didn't think the piece was fair and later complained to Atlantic Media chief David Bradley, who agreed he had a point.
"My memory is as follows: Summers expressed his concern over a National Journal story," Bradley told The Huffington Post on Thursday. "My view was -- and is -- that the story did not treat him fairly. I asked our editors to make sure that our coverage going forward was fair, especially giving Summers the opportunity to respond before we publish."
Summers' concerns with past National Journal coverage have surfaced because top editors of two Bradley-owned publications, National Journal and The Atlantic, recently reminded staff to be fair in covering the former Treasury secretary and president emeritus of Harvard University.
In February, National Journal editor-in-chief Tim Grieve told editors that he should be personally looped into stories referencing Summers in a substantive way and that reporters need to contact Summers for comment, a spokesperson confirmed to HuffPost. Similarly, just-named Atlantic co-president Bob Cohn told a group of editors this month to be sure to contact Summers in advance of publication.
News outlets, of course, should always contact story subjects for comment when warranted. But it's unusual for a magazine owner to side with a story subject over his own writer and to urge fair coverage of a particular public figure. A potential consequence of adding an extra hoop when it comes to covering a specific public figure is that the person receives less scrutiny.
Bradley's view that Hirsh's piece wasn't fair to Summer is also notable given that National Journal made no corrections to the 4,700-word cover story. The only clarification issued to the piece was not related to Summers.
Hirsh declined to comment.
But Adam B. Kushner, the former editor of National Journal who has since joined The Washington Post, defended Hirsh's piece Friday in an email to HuffPost.
"It was great journalism -- a heavily reported (and ultimately persuasive) analysis about the habits of a top public servant who was up for the country's second-most-powerful job," Kushner wrote.
"It was intellectually honest and responsible: Mike called Summers, and many people who knew him, for comment," Kushner continued. "And it concentrated a lot of scattered things people were already saying into a unified idea that dropped at exactly the right time to help shape the debate in Washington, which is what I, as editor, always wanted to do."
Kelly Friendly, a spokeswoman for Summers, confirmed to HuffPost that Summers contacted Bradley about the article. "No longer remember the details of the piece but we felt there were many inaccuracies and they had failed to check the facts," the spokesperson said.
Summers has a reputation for being able to privately tamp down criticism, which his exchange with Bradley seems to reinforce.
"Behind the scenes," Hirsh wrote in the September cover story, Summers "has used his power, combined with intellectual arrogance, to bully opponents into silence, even when they have been proved right."