WASHINGTON -- President Barack Obama gave a "full-throated defense" of Larry Summers in a closed meeting with House Democrats Wednesday, according to a lawmaker in the room, but said he's nowhere near making a decision on who will be the next Federal Reserve chairman.
Summers, along with Janet Yellen, are reportedly the top contenders for the Fed post. White House adviser Dan Pfeiffer said Wednesday that no decision will be made until the fall, but that hasn't stopped people from speculating about the frontrunner.
During Wednesday's meeting, one Democratic lawmaker, who requested anonymity, said the president became agitated and rose to Summers' defense in response to Rep. Ed Perlmutter (D-Colo.) walking up to the microphone and simply saying, "Larry Summers. Bad Choice."
In paraphrasing Obama's response, the lawmaker said the president replied, "Hey, don't talk sh*t about him because he's actually a pretty good guy. And then he said, 'If somebody talked sh*t about you like that, I'd defend you too."' (The lawmaker added that Obama didn't use the expletive.)
Still, the lawmaker said it didn't seem like a sign that Obama is about to tap Summers to run the Federal Reserve: "I just think he likes Larry."
The president's irritation wasn't just reserved for Perlmutter. According to two Democrats in the room, Obama also ripped The Huffington Post for making Summers, in the president's words, "a progressive whipping boy."
The Hill reported that Obama told Democrats "not to believe everything you read in the Huffington Post."
Summers certainly has his critics. Some leading Democrats recently jumped on reports that Obama is leaning toward Summers for the Fed post, criticizing his role in the 1999 repeal of Glass-Steagall financial regulations and the 2000 deregulation of the derivatives market. Others have questioned Summers' record with women.
After Wednesday's meeting, Rep. Gerry Connolly (D-Va.) told reporters that Obama said he felt Summers has been treated unfairly.
"He gave a full-throated defense of Larry Summers and his record in helping to save the economy from the dark days of '09," he said. "I mean, Larry Summers is a very capable person. I think the president showed real moxy in rising to his defense."
Connolly said that Obama emphasized he's "not even close" to deciding whom he'll tap for the Fed post, but said he "didn't like the disparagement" toward Summers.
Rep. John Larson (D-Conn.) disagreed with his colleagues on their characterization of Obama's remarks.
"I don't think he made a defense of Larry Summers," Larson said. "I think he just said, 'Listen, I want to state a few facts about his service.'"
Rep. Tammy Duckworth (D-Ill.) said she didn't interpret Obama's comments as an endorsement.
"He was just talking about how he's interviewed quite a number of candidates and will make up his mind when he does," she told HuffPost.
Another Democratic lawmaker, speaking on background, said the president talked about how "helpful" Summers had been in the past, especially following the financial crisis of 2008.
"[He said] Larry Summers had been one of the key people in making sure the nation's fiscal house was in order," the lawmaker said.
Ben Bernanke, the current Fed chairman, is stepping down in January. He's held the post since 2006.
UPDATE: 1:20 p.m. -- Obama didn't say much about Summers when he met with Senate Democrats later Wednesday morning, according to Sen. Ben Cardin (D-Md.).
"He didn't talk about specific candidates," Cardin said, "but he said the candidates that he's interviewed, that they basically share the president's vision of the importance of the Fed and moving forward in a balanced way with our economy."
Asked later about Obama's defense of Summers, White House press secretary Jay Carney praised him as someone who was "an important and hardworking member" of the president's economic team. Summers led Obama's National Economic Council during the recession, from January 2009 to December 2010.
Summers "stood shoulder to shoulder" with members of Obama's economic team during the "worst economic crisis of our lifetime," Carney said at his daily briefing. "Larry Summers' service was extremely helpful to the president ... He is certainly very grateful of Larry's time with him."
Zach Carter and Elise Foley contributed reporting.
Before You Go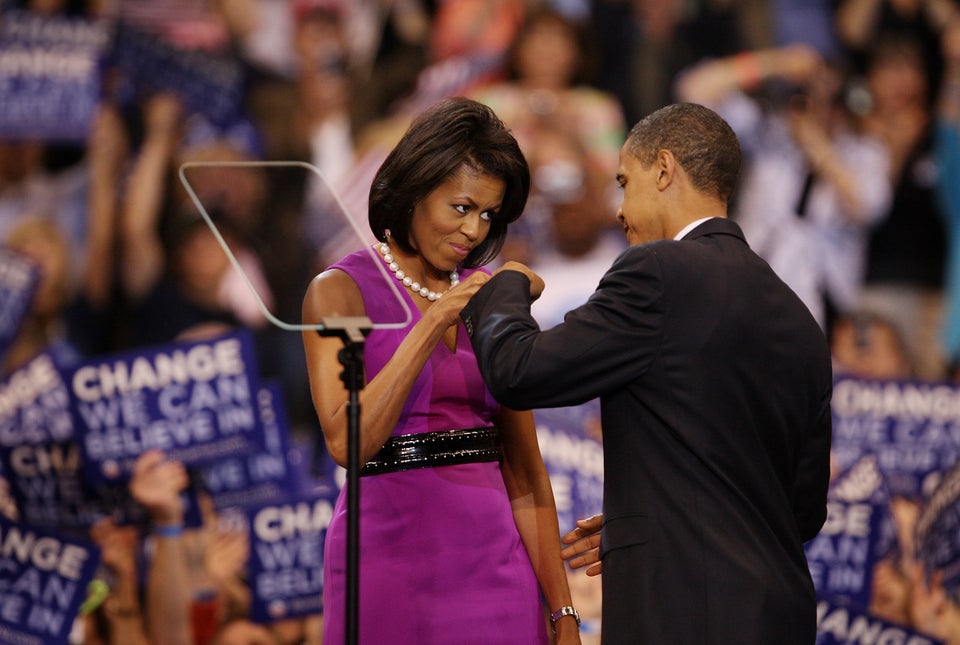 Obama's Fist Bumps
Popular in the Community