Dear Conservative America: When you've lost Larry the Cable Guy as a champion of "traditional marriage," your crusade against marriage equality may be over.
In a recent appearance on Larry King's Hulu show "Larry King Now," the country's most famous fake Cable Guy (real name: Dan Whitney) told King how he feels about the constant controversies regarding gay rights in America.
"I'm so sick of gay this, gay that," Larry the Cable Guy said. "I could care less. It ain't affecting my life at all," he said in response to a question about whether gays should be permitted to play professional sports.
The comedian explained that his opinion stems from his identification as a libertarian, and thinks that people should "mind their own business."
Sure, maybe it's not the most progressive opinion. But as a comedian whose persona and popularity are synonymous with the Bush years, Larry the Cable Guy deserves some credit at least as a conservative reflection of our changing times.
Before You Go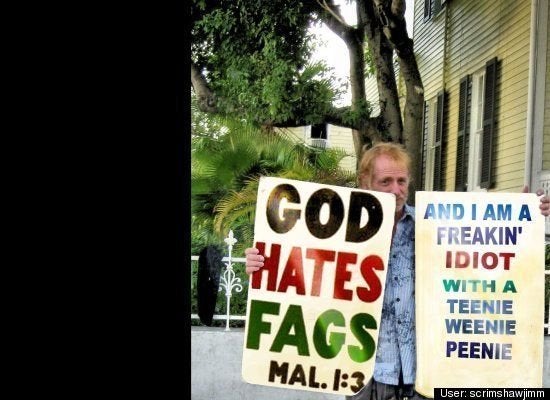 Anti-Gay Protesters Getting Owned
Popular in the Community