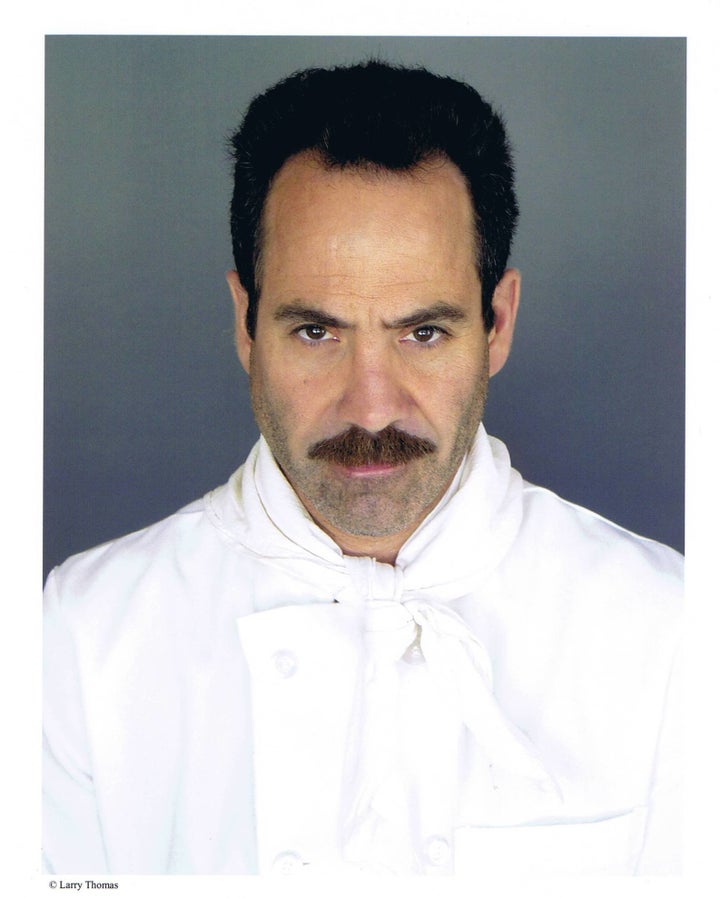 No T-shirts for you. Ever.
That's what Larry Thomas, the actor best known for his role as the Soup Nazi on "Seinfeld," is telling Serbu Firearms after the company used his likeness without his permission on a T-shirt advertising its products.
"I was pretty shocked," Thomas told The Huffington Post of his reaction upon first seeing the T-shirt. "Really? You're clinging to the second amendment of the Constitution and you wear it like a blanket and yet you're totally not aware that you're not allowed to use someone's personal image on your product without their permission?"
Thomas said he opened a message from a friend alerting him to the pro-gun T-shirt's existence on Friday night, while he was in a hotel room relaxing after an autograph convention. Once he saw the shirt, he contacted Serbu to ask the company to stop selling it and also asked Facebook to remove an image of the shirt from its site.
Thomas claims Facebook wouldn't take down the image. Facebook declined to comment.
Serbu, however, agreed to change the T-shirt.
"I'm not going to piss that guy off; I'm a decent person, I try to do the right thing," Mark Serbu, the company's founder, told HuffPost on Wednesday. The company removed Thomas' face from the shirts and replaced it with an image of Serbu dressed up in a chef's costume.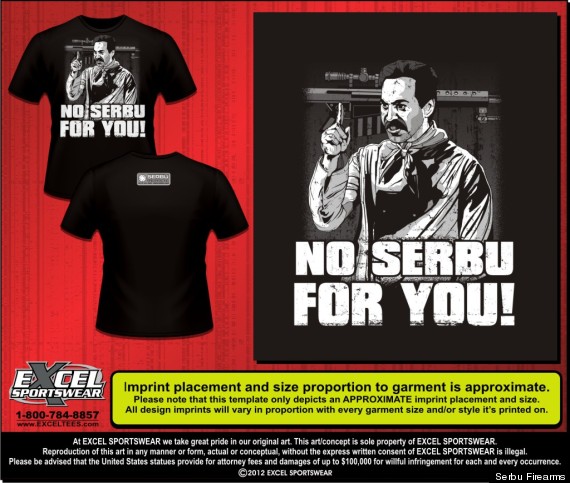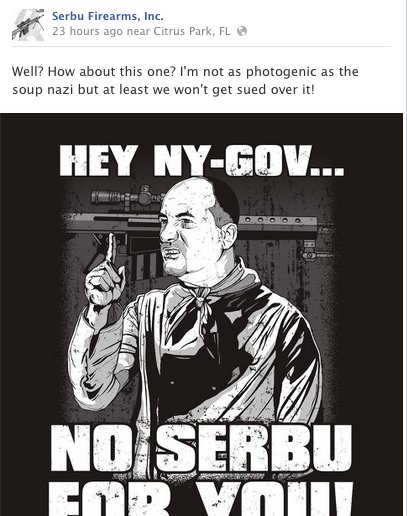 The new image still plays on the Soup Nazi's "no soup for you" catchphrase, but Serbu said, "I dont like it as well."
Tampa-based Serbu Firearms manufactures a BFG-50A rifle, which is banned under New York's new law. Serbu said the T-shirts were designed to advertise that the company has decided not to sell its weapons to the New York Police Department in protest of the law.
"There's a whole movement in the firearm manufacturing communtiy to not sell to states that have done what New York has done," Serbu said. "We don't sell to the state entity what we can't sell to the private citizens."
Though it seems his face won't be appearing on Serbu's shirts anymore, Thomas says he's still dealing with the fallout from what he called the most controversial unauthorized used of his likeness ever. The shirts forced him to take a public political stance, something Thomas says he's wary of, given that he's constantly auditioning for parts.
"Anyone who doesn't think we need some kind of gun control worries me," he said. "I don't think I'm extremely political in any way, but boy, I'm getting a lot of heat from the gun enthusiasts like I'm going to be the guy taking away their guns."
On the other hand, the result of the episode for Serbu -- who said he didn't know the origin of the "no soup for you" phrase until the controversy erupted -- has been a lot of "free publicity," he said.
"A lot of people are telling me I've never heard of your company until today," he added.
REAL LIFE. REAL NEWS. REAL VOICES.
Help us tell more of the stories that matter from voices that too often remain unheard.
BEFORE YOU GO
PHOTO GALLERY
Executives Making The Most Money Off The Gun Industry