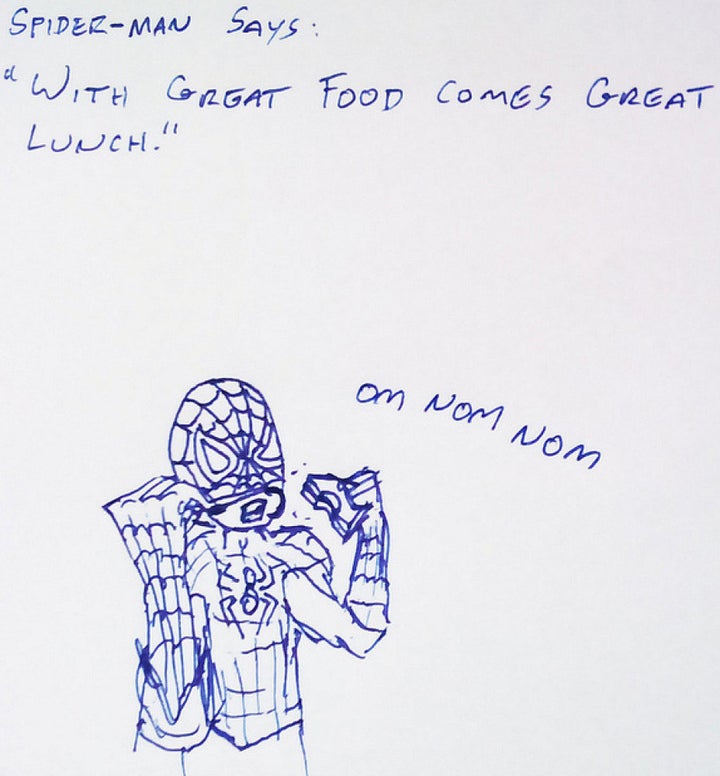 Stumped by your son or daughter's refusal to eat lunch at school? You may be 15 minutes -- and a couple of pens and markers -- away from a solution.
Lars Gronholt's 7-year-old daughter, Amelie, was finding it hard to focus on food during her short school lunch period. "I think ... she would rather be running around having fun with her friends than sitting and eating for 10 minutes first," Gronholt explained to HuffPost over email. So the Australian dad now adds a personal touch to the meals his wife packs every day -- in the form of pen drawings of superheroes like Spider-Man, Batman and Captain America, known collectively as the "Lunchbox Enforcers."
Like Benson, Gronholt says he uses his own lunch breaks to make the drawings, which take around 15 minutes each to complete.
Asked why he thought he thought the drawings were making a difference, Gronholt said: "She's a really creative girl, loves things outside the norm, so I think that may be part of it. Also it may be the lunchbox had negative connotations for her before? Preventing her from playing with her friends for ALL of lunch so now with these pictures, it might be that they've shifted it into a positive light?" Of course, he doesn't want to tempt fate: "I don't really want to analyse it too closely in case it all breaks down again!"
He's also surprised by the amount of attention his drawings have received. "This whole event has been really entertaining for us as we live in a little city called Darwin in Australia's Northern Territory," he writes. "In 5 days following the reddit post, the imgur version of the gallery had 3 times as many visitors as Darwin has residents."
And though he says he takes the pictures before sending his hand-drawn heroes away to do their job, they always come back to him at the end of the day: "[O]nce Amelie has had her lunch, she always puts the picture back in the lunchbox to give back to me when she gets home, which is super touching."
Click through the gallery below and vote for your favorite!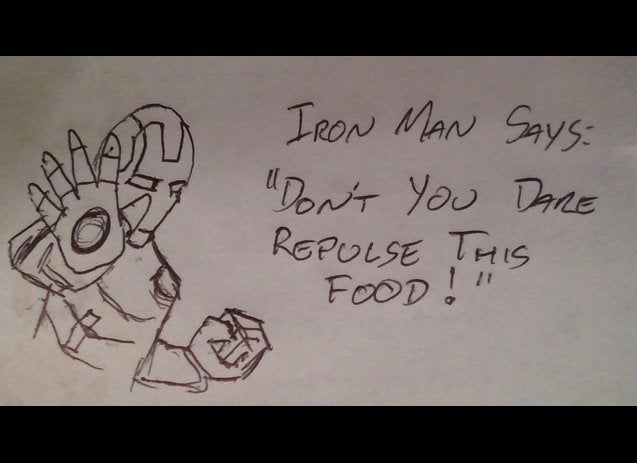 Lars Gronholt's Superhero Lunch Cartoons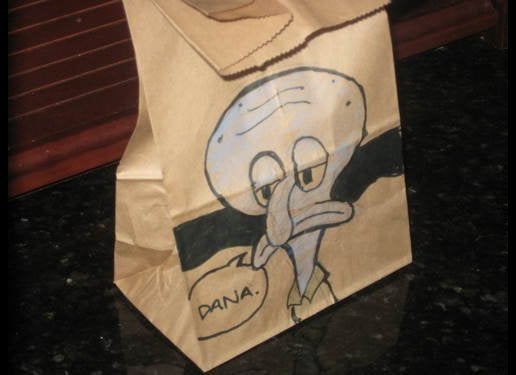 Lunch Bag Art
Popular in the Community