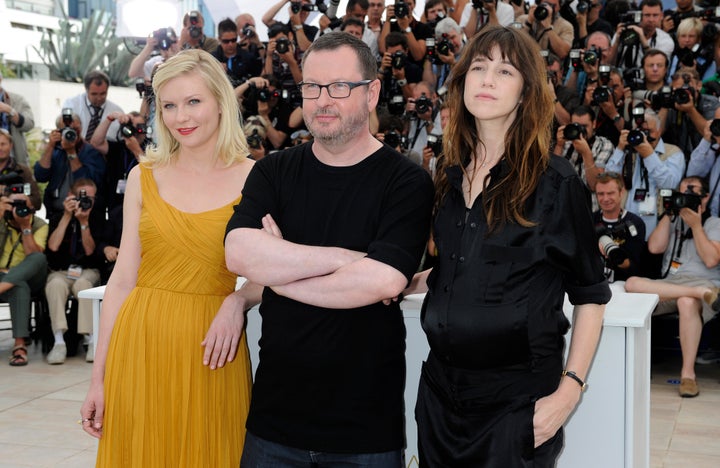 UPDATE: von Trier has issued an apology at the behest of the organizers of the Cannes Film Festival.
"If I have hurt someone this morning by the words I said at the press conference, I sincerely apologize. I am not antisemitic or racially prejudiced in any way, nor am I a Nazi," the director said in a statement.
Lars von Trier has a hit with his new movie at Cannes, but it was his press conference that is making headlines.
The maverick Danish director, who is receiving accolades for his Kirsten Dunst-starring apocalyptic tale "Melancholia," is no stranger to outrageous statements -- in 2005, he said President Bush dreams of being spanked by Condeleezza Rice -- shocked the assembled press with his answer to a question about his interest in the Nazi aesthetic.
"The only thing I can tell you is that I thought I was a Jew for a long time and was very happy being a Jew, then later on came [Danish and Jewish director] Susanne Bier, and suddenly I wasn't so happy about being a Jew. That was a joke. Sorry. But it turned out that I was not a Jew. If I'd been a Jew, then I would be a second-wave Jew, a kind of a new-wave Jew, but anyway, I really wanted to be a Jew and then I found out that I was really a Nazi. Because my family was German... which also gave me some pleasure. So I'm kind of a... What can I say? I understand Hitler. But I think he did some wrong things, yes absolutely, but I can see him sitting in his bunker. But there will come a point, at the end of this... I'm just saying, I think I understand the man. He's not what you would call a good guy, but yeah, I understand much about him and I sympathize with him a little bit. But come on, I'm not for the Second World War, and I'm not against Jews... I am of course, very much for Jews. No, not too much, because Israel is a pain in the ass. But still, how can I get out of this sentence? No, I just want to say about the art, I'm very much for Speer. Albert Speer, I liked. He was also maybe one of God's best children. He had some talent that was kind of possible for him to use... okay, I'm a Nazi."
The press were both shocked and laughed at von Trier's comments, though Dunst was more mortified than anything; at one point, she hid behind the director and said, "Oh, God!" in agony.
To top it off, he also offered that he was planning on making a long porn film with Dunst and co-star Charlotte Gainsbourg, and that perhaps his next film would be a movie take on "The Final Solution."
"I don't have so much to say, so I kind of have to improvise a little and just to let the feelings I have kind of come out into words," von Trier said. "This whole Nazi thing, I don't know where it came from, but you spend a lot of time in Germany, you sometimes want to feel a little free and just talk about this (expletive), you know?"
Popular in the Community