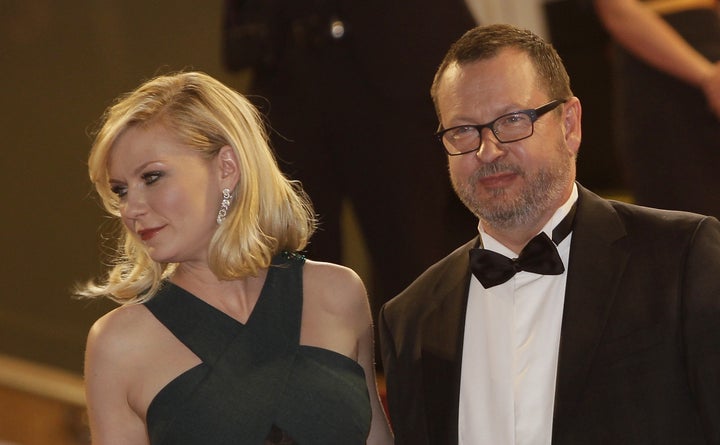 In an interview with The Hollywood Reporter, von Trier reiterated that he wasn't pro-Hitler, unless Hitler made a good film. When asked whether his future films will be banned from the festival, von Trier argued for art over politics.
"I hope not because even if I was Hitler­, and I must now state for the record I am not Hitler, but even if I was Hitler, and I made a great film, Cannes should select it," he said. "And I have to say I'm a little proud of being named a persona non grata. I think my family would be proud. I have a French order. Now they will likely tear It off my chest."
In fact, von Trier said the ban might be a good thing for him -- it could free him creatively, he argued.
Before this Cannes I was really worried the festival wouldn't accept my film," von Trier explained. "Because it might not be what people expect of me. And if the Cannes Festival is having any influence on how I make my films, maybe it's good if I'm banned. I like obstacles. If the obstacle is I'm not going to Cannes, maybe that's a positive thing."
On that point, only time -- and negotiations with international distributors -- will tell.
Here's a transcript of his controversial comments; check out the video below.
"The only thing I can tell you is that I thought I was a Jew for a long time and was very happy being a Jew, then later on came [Danish and Jewish director] Susanne Bier, and suddenly I wasn't so happy about being a Jew. That was a joke. Sorry. But it turned out that I was not a Jew. If I'd been a Jew, then I would be a second-wave Jew, a kind of a new-wave Jew, but anyway, I really wanted to be a Jew and then I found out that I was really a Nazi, because my family is German. And that also gave me some pleasure. So, I, what can I say? I understand Hitler. I think he did some wrong things but I can see him sitting in his bunker. I'm saying that I think I understand the man. He is not what we could call a good guy, but yeah, I understand much about him and I sympathize with him ... But come on! I'm not for the Second World War. And I'm not against Jews. No, not even Susanne Bier. I am very much for them. As much as Israelis are a pain in the ass. How do I get out of this sentence? Okay, I am a Nazi. As for the art, I'm for Speer. Albert Speer I liked. He was also one of God's best children. He has a talent that ... Okay, enough.
WATCH
:
Popular in the Community