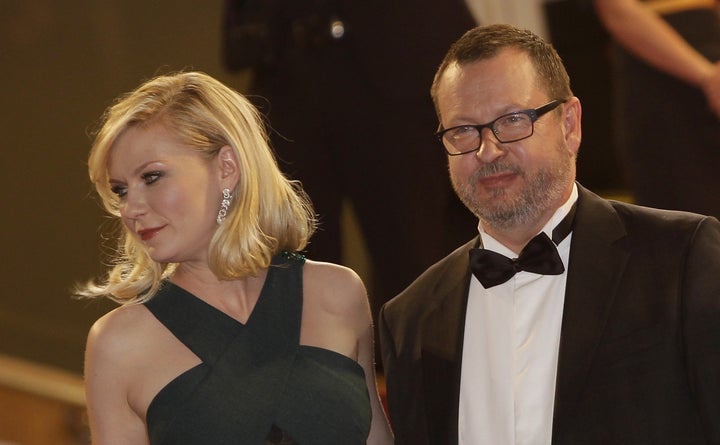 The Festival de Cannes provides artists from around the world with an exceptional forum to present their works and defend freedom of expression and creation. The Festival's Board of Directors, which held an extraordinary meeting this Thursday 19 May 2011, profoundly regrets that this forum has been used by Lars Von Trier to express comments that are unacceptable, intolerable, and contrary to the ideals of humanity and generosity that preside over the very existence of the Festival.

The Board of Directors firmly condemns these comments and declares Lars Von Trier a persona non grata at the Festival de Cannes, with effect immediately.
The comments in question came in a pres conference after the Danish auteur, so often provocative with his comments, debuted his new Kirsten Dunst-starring film, "Melanocholia," to mostly rave reviews.
"The only thing I can tell you is that I thought I was a Jew for a long time and was very happy being a Jew, then later on came [Danish and Jewish director] Susanne Bier, and suddenly I wasn't so happy about being a Jew. That was a joke. Sorry. But it turned out that I was not a Jew. If I'd been a Jew, then I would be a second-wave Jew, a kind of a new-wave Jew, but anyway,"I really wanted to be a Jew and then I found out that I was really a Nazi. Because my family was German... which also gave me some pleasure. So I'm kind of a... What can I say? I understand Hitler. But I think he did some wrong things, yes absolutely, but I can see him sitting in his bunker. But there will come a point, at the end of this... I'm just saying, I think I understand the man. He's not what you would call a good guy, but yeah, I understand much about him and I sympathize with him a little bit. But come on, I'm not for the Second World War, and I'm not against Jews... I am of course, very much for Jews. No, not too much, because Israel is a pain in the ass. But still, how can I get out of this sentence? No, I just want to say about the art, I'm very much for Speer. Albert Speer, I liked. He was also maybe one of God's best children. He had some talent that was kind of possible for him to use... okay, I'm a Nazi.
While his sly smile and deadpan delivery clued the assembled press into the fact that he was kidding -- though he has said in the past that he admires the Nazi aesthetic -- the apology wasn't enough for Cannes, or for the Argentinian distributor for his film, which also announced that it was distancing itself from von Trier on Thursday.
"In view of the unacceptable statements expressed by filmmaker Lars Von Trier at today's press conference in the Cannes Film Festival and his evident Nazi declaration - which is offensive for the Jewish people and human kind in general, Distribution Company SA, owner of the distribution rights for the film Melancholia in the Southern Cone, has decided to cancel the contract that linked it to the film.

We clearly condemn Mr. Lars Von Trier's statements and will not support or release his film in the country."
Support HuffPost
The Stakes Have Never Been Higher
Popular in the Community