Through my open car window, my girls and I were taking in the sights and sounds of the Capitol Hill neighborhood of downtown Seattle.
We live in the 'burbs so the advertisement of a local band alongside the image of a pin-up girl in tiger swag stapled to a city telephone pole was quite a sight. Also the rainbow flag festooned to a local business prompted a conversation about the origin of the rainbow flag. The neighborhood is famous for open-mindedness and artistic freedom.
Eight-year-old Amelia and her eleven-year-old sister Sophie peered out of their respective windows like excited pups: wind blowing through their hair and tails wagging as we drove past modest studio apartment buildings next to some of the city's grandest mansions. I parallel parked our minivan beside a pale blue Vespa.
911 East Pike Street is the home of a boutique media production agency, World Famous. A vintage affair with a brick façade and a telephone coded entry that I didn't have the number for. Luckily, Steve Manning, the publicist for World Famous and our official guide on today's family "art for art's sake," thrust open the door.
Since World Famous came to be in 2005, they've always made time and space for purely creative work -- employees are required to create one "Assignment" per month. The Assignments (67 questions like: "What is Love?" serve as creative prompts for art) were inspired by "Learning to Love you More". The web project and book produced by artist Miranda July.
We followed Steve up three floors of carpeted stairs. Past winding nooks and crannies, the kind, like Lucy's wardrobe, begged to be explored.
Home grown art lined the office walls.
"I don't have an office," Steve said wearing a "pleased as punch" expression. He pointed to a cushy little sofa in the first of two pleasantly lit dens that served as offices.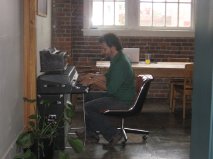 "I just sit on the sofa, with my laptop on my lap." Steve paused. "I'm sure I won't be having any children as a result." He joked as he led us into the second office that also served as the communal movie room and introduced us to the company's two principles, Alan Nay and Tony Fulgham.
"What made you want to incorporate the Assignments into the World Famous workplace?" I asked Alan and Tony.
"In a classic office structure... the Assignments takes the hierarchy out of it."
"We believe that making art for the sake of art makes us all better at what we do." Alan added.
"Half the time people forget I'm the boss. You're creating art to express yourself in some form that's honest." Tony explained as Alan swiveled toward the computer and began cueing up some examples of Assignments for us to watch on the big screen.
Alan, Tony, Steve, Andy and Megan (two other World Famous employees that had joined us) gathered around Amelia who wanted to share with them an Assignment she'd been working on at home.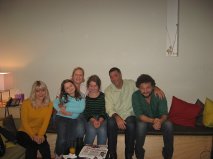 She popped open the lid of her Nintendo DS and using her stylus she tapped through a series of videos she'd created on Flip Notes.
"What are your Assignments about?" I asked Tony.
"They're all R-rated," he said, scratching a thatch of unruly hair. He had intense eyes and I'd been told he moonlighted in a local rock band.
"Mine are weird," Alan said, dimming the lights.
Once a month the employees of World Famous gather, as we were, to screen the month's batch of assignments.
"This first Assignment is Andy's," Alan said as "#56 A Video about Valentine's Day" appeared on the screen next to two clay figures who began to dance and then rolled together to create a heart.
"This is Andy's too," Steve said as a distant squiggle appeared on the screen and slowly expanded into the shape of a fetus (Andy's wife is expecting) and though I had just met Andy, the minute-long video nearly moved me to tears.
"I really took a risk with that one," Andy said shyly as another Assignment rolled into focus.
In the space of a few seconds I went from tears to nearly falling off the sofa in hysterics... I can't explain why watching a man in a lion suit walking down Broadway wearing a pink, feathered boa and dancing "Stayin' Alive" was funny. Even so, all of us were rolling.
"I like to make people laugh," Alan said with a toothy smile, clearly taking pleasure in our reaction to his art.
"Are you in the suit?" I asked.
"I was my high school mascot," Steve explained as Tony sprinted out of the room. I wondered if he might be off to a rock gig. I was surprised when he returned a few minutes later.
"Here's my Assignment," he said, clearing his throat. I sort of braced myself for something R-rated and yet underneath all the bravado I was intensely curious what he'd come up with. A "labor of love" remodel featuring drywall, painting and two girls came into view and the assignment title: There's No Place like Home.
When the lights came back on I blinked away the darkness and as Steve, Tony, Alan and Andy came into focus I felt I knew them differently through the "Art for art's sake" Assignments.
I asked Tony and Alan what people's reactions have been to the Assignments.
"People have a hard time understanding that we pay our employees to work on art for arts sake." Tony answered matter of fact.
Herein lies the difference between World Famous and public schools... A successful, private company doesn't have to justify art with improved test scores. They have the freedom to just believe in its inherent value. As parents we have that same freedom if we choose to exercise it.
When most school budgets are being slashed and kids aren't even passing math and reading, expecting public schools to teach our kids an appreciation of art for art's sake is expecting too much.
Ultimately, as parents, it is our responsibility to instill the importance of art. Not as a means to improve test scores but because it makes us better people.
On our way out Tony skedaddled toward the piano (of course they had a piano near the communal lunch table -- the employees break bread together "family-style" everyday) hitting the keys with gusto as he played us out.
The girls and I left feeling inspired to contribute our own creative Assignments to World Famous.
Popular in the Community