Chef, author and food celebrity Anthony Bourdain has been known to have his beefy opinions about vegans and vegetarians. He believes that "Vegetarians are the enemy of everything good and decent in the human spirit, an affront to all I stand for, the pure enjoyment of food." I'm sure he's had many exasperating moments in the kitchen as a chef because of dietary requests--- likely rolling his eyes upwards when asked to create a 'vegetarian plate'--- an annoyance to most chefs worth their Maldon sea salt, or as Bourdain himself put it, "[a vegan requesting a vegetarian plate is] a persistent irritant to any chef worth a damn."
Hyperbole shouldn't be eaten raw, so I'm going to teach Bourdain that vegetarians love good food just as much as omnivores do. See, I've had this running fantasy in my mind. I'm dressed in a dominatrix outfit--- black corset, garters with stockings, thigh-high boots--- you know, the whole enchilada sex-kitten-in-charge fantasy costume. I've got Anthony Bourdain strapped to a chair in an elegant dining room at a vegan restaurant. I'm force feeding him veggies while wearing temptress attire. It's vegan food so good that he begs to eat more.
What vegetarian plates might make Tony beg this veggie mistress for another bite?
Here are LA's 8 best vegan restaurants that would make Bourdain go vegan and say pretty please with an organic, locally grown cherry on top: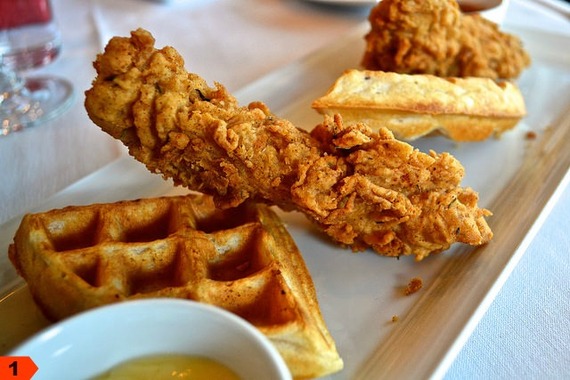 1)"Chicken and Waffles" at Crossroads Kitchen. I've heard that Anthony Bourdain doesn't really like breakfast, but what about chicken and waffles for brunch? This dish on the celebrated vegan Crossroads' brunch menu makes any meat-eating man go wild. Possibly better than the real thing, the fried "chicken" goes with waffles and warm maple hot sauce. This is the gateway plate to veganism for most proud, rough-and-tumble meaty-meat eating carnivores. Promise.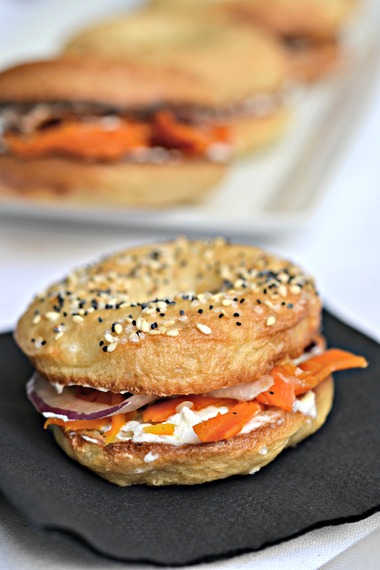 Crossroads Kitchen also serves bagels schmeared with Kite Hill Cream Cheese piled high with slivers of red onion, capers and carrot "lox." How can carrot taste like lox? Executive Chef Scot Jones shared his process: roast, wrap in nori, then smoke to get that loxy flavor. I'd love to feed Bourdain this bagel and cream cheese, carrot lox on a toasted gluten-free (almost) everything bagel.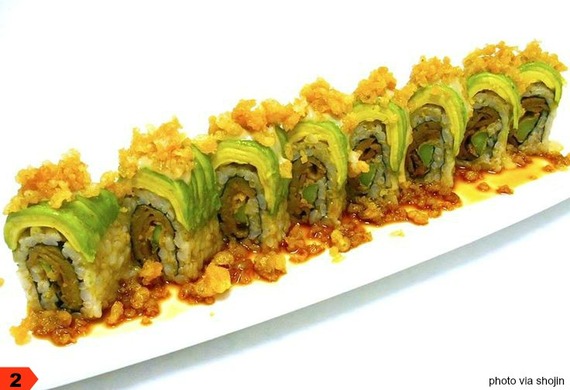 2) Shojin's "Crunchy Tiger Hidden Dragon" Roll. Japanese vegan, organic, macrobiotic "sushi" made with BBQ seitan, tempura asparagus, avocado, crispy potato, served with wasabi mayo and sweet tamari sauce. Also the Green Dynamite Roll, an avocado, asparagus, carrot roll with lemon, chili, cilantro, and green chili sauce is tasty. Maybe Tony would like this cool spot, though he'd toss in snide words about the prevalent use of avocado. (Hey, it's California. Roll with it, Tony.)

3) If Mexican food makes Tony say "mas" then this restaurante will make him say Gracias Madre. Butternut squash quesadillas, cashew cheese, crema, mole sauce, roasted chipotle peppers and tacos. If going vegan Mexican style makes Tony change his mind about vegetarians, I want him to say "gracias" wearing a smear of cashew crema on his face.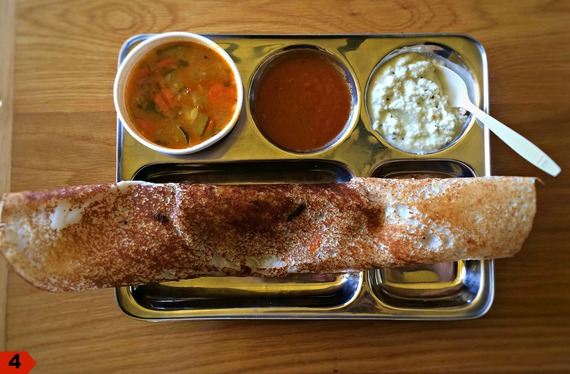 4) "Masala Dosa" at Samosa House I'm crazy for samosas. The vegetarian and vegan Indian food here is fabulous. They make a dosa as authentic as dosas can ever be and the Masala Dosa is the real deal. A thin rice and lentil crepe made perfectly greasy, stuffed with spiced potato, served with coconut and tomato chutney. I'd also give Bourdain tasty bites from Samosa House East, the sultry sister shop down the street that serves combo plates of dishes such as charcoal smoked cauliflower, soy tikka masala, and the popular spicy jackfruit. Samosa House East's cuisine is veggie Indian fare that pleases meat eaters. The samosa chaat is my afternoon indulgence.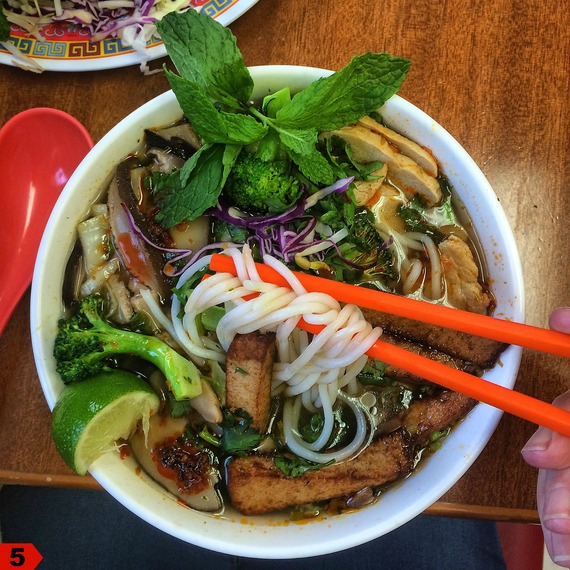 5) Vinh Loi Tofu dishes up some of the city's best vegan phở. Pronounced fuh, it's the most flavorful vegetarian phở broth made in Los Angeles. Plenty of meat-eaters have their secret tofu affair here in this spot hidden in a mini mall (where they also make their own tofu). A bowlful of phở packs its punch with generous amounts of vegan chicken, fish, shrimp, noodles and veggies, along with sides of basil, sprouts, red cabbage, cilantro, chili and limes. We know Tony loves good Viet food. He'd phở sure like this vegan goodness.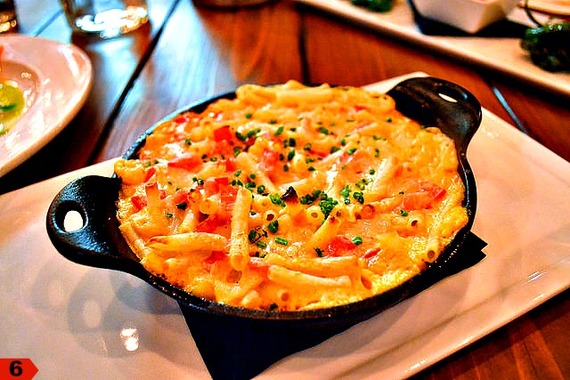 6) Sun Café Organic has the best vegan mac and cheese ever. I mean, ever. Seriously, this bowl of mac and cheese won the cheesy spoon award from my food critic fiancé Eddie Lin, a guy who loves his meats, cheeses and offals. I had to pry the bowl from his hands to get one morsel.
"The mac part is made of quinoa pasta and has a great al dente bite. The cheese part is a satisfying cashew "cheese" sauce which lends just enough goo and chew. A bourbon smoked paprika adds that certain dimension and depth you can't quite pin down." -- Eddie Lin, food writer, LA Magazine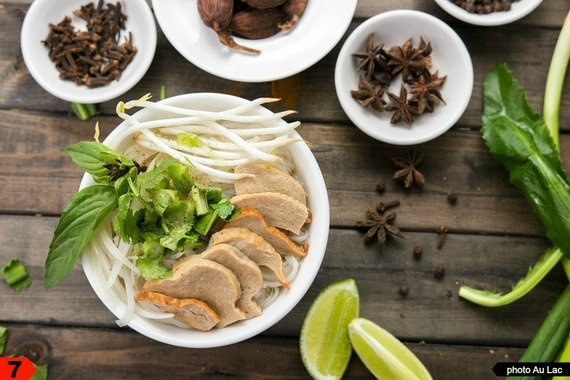 7) One of the oldest vegan Vietnamese restaurants in Orange County, Au Lac features Vietnamese cuisine in its plant-based splendor, with a new location in downtown Los Angeles. Boasting a menu full of phở, bún and Vietnamese classics done vegan style, such as Tôm hay Đậu Hũ Rang Muối, a lightly battered soy shrimp (or soft tofu), sautéed with jalapeño and cilantro, Au Lac is the place for Bourdain.
8) The Gadarene Swine is the perfect place to feed Bourdain an elevated veggie plate. This is a purely vegan restaurant with a carnivorous chef at the helm. The Gadarene Swine lists a tasting menu of pure veggie dishes. Rather than mock meats, Chef Phillip Frankland Lee's take on vegetables is with focus upon the vegetable rather than crafting it into something else. If Bourdain needs any schooling on veggies, tomato shooters with tomato-infused sake just might do the job here.
"At The Gadarene Swine, uni isn't the new kale, kale is the new uni, served as crisp baked chips with a bit of lemon, or fried and served over a bewilderingly rich purée." -- Jonathan Gold, food writer, Los Angeles Times
If Anthony Bourdain likes any of these vegan places when he's in Los Angeles and gives it two thumbs up, I'll reward him to an In and Out Burger, animal style. But he'll have to eat his words about vegans first. Now eat your veggies, Tony.