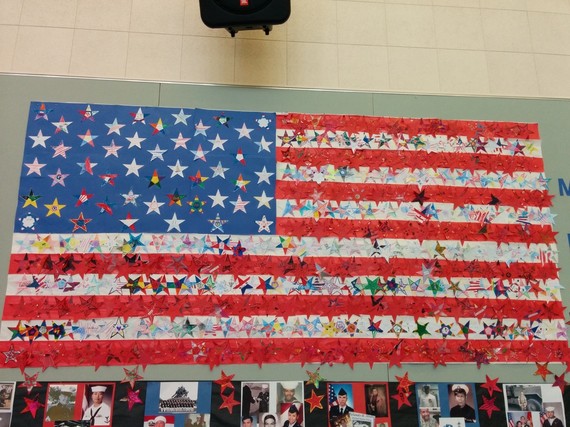 Nationwide, the Military Child Education Coalition (MCEC) estimates that there are four million children whose parents have served our country since 9/11. The vast majority of children in veteran and military families are being educated in civilian public schools. These families and students are resilient, proud, and idealistic, but many have also borne the burdens of this long and intense military conflict. The entire family serves when there is a war.
Veterans are returning to large, urban areas, looking for jobs, housing and schools that are sensitive to the challenges facing their families and the impact that multiple deployments and school transitions have had on their children. A survey conducted last year by the Center for Innovation and Research on Veterans and Military Families at the University of Southern California (USC) showed that each year, about 12,000 former service members are settling in Los Angeles County, which, with 325,000 veterans, has the largest veteran population of any metropolitan area in the country.
The city of Los Angeles has dedicated itself to providing post-9/11 veterans with the employment, housing, healthcare and other services they need to make a smooth transition into civilian life--and that includes focusing on the needs of their children.
It is critical to know where veteran- and military-connected students are attending school so educators can provide services. Recent studies conducted by researchers in California, Washington, and Iowa have shown that without proper school or community supports, military-connected children are at higher risk than civilian children for a range of negative outcomes, including substance use, being threatened by weapons, victimization in school, symptoms of depression, and thoughts of suicide. The research suggests that this is mainly due to the number of times parents or older siblings are deployed and the number of moves students make into new schools and communities--consequences of the war, military family life during war, and the lack of supports in some civilian communities. Transitioning from the military to civilian life does not mean those problems will immediately go away. In fact, experts say that the reintegration of a military parent back into the home and into civilian society is one of the most stressful periods for a family.
The Los Angeles Unified School District (LAUSD) is now identifying schools with high concentrations of students from military and veteran families so they can provide additional, appropriate, and sensitive services at those schools and be supportive during the reintegration process. It is a simple checkbox for military and veteran families on the emergency card filled out for every student in the district and represents a significant step by the nation's second-largest school district to serve a student population that has been invisible in large urban districts.
The decision to provide support to highly concentrated schools in LAUSD is the result of a strong partnership involving the Los Angeles Mayor's office, LAUSD, the Los Angeles Veterans Collaborative, and USC's Welcoming Practices/ Building Capacity in Military-Connected Schools project. Knowing which schools and communities in megacities like Los Angeles have large numbers of military and veteran-connected students has long been a top priority for all of these organizations.
This is a step that school districts in all large metropolitan areas across the U.S. should take to facilitate an easier transition to civilian life and show appreciation for the families' service to our country.
According to the MCEC, 14 states have now adopted some form of military student identifier, and such a provision has also been included in drafts of bills to reauthorize the federal Elementary and Secondary Education Act. A similar bill also passed both houses of the California legislature this year, but was unfortunately vetoed by Governor Brown. Most of the state and national efforts are still leaving veterans' children out of these policies. This means that the vast majority of those four million students will continue to be overlooked in our major cities' public schools.
LAUSD's school social workers, psychologists, counselors, nurses, school administrators, teachers and parents will be trained to better understand the issues facing military- and veteran-connected students. Professionals in LAUSD will be learning about strategies that help build resilience in these students and give them the social support they need. Over 5000 resource guides written by USC's Building Capacity/Welcoming Practices team are being distributed to administrators, teachers, parents, and pupil personnel staff members. LAUSD staff members have also received training in a resilience-building program called FOCUS created by researchers at the University of California Los Angeles that has been used effectively with military students and families across the nation.
This type of partnership aimed at the reintegration of veteran families into public schools and civilian communities should serve as an example and a challenge to mayors, school superintendents, veteran organizations and universities across this country. Large civilian institutions in big cities can work together to improve supports for students who might be facing battles due to the war, long after their parents return home.
Popular in the Community