In Los Angeles, most restaurants have a shorter shelf life than a Hollywood marriage. A special few chefs, however, are able to keep diners coming back for more by offering delightful seasonal novelties alongside tried-and-true classics.
Some of the of these superior chefs thrill patrons with ever-changing menus, while others have them coming back for well-executed staples. Each part of town has their own rockstar chefs, of course. Here are the notable names who continue to thrill diners on the Westside.
Chef Suzanne Goin and sommelier Caroline Styne opened this classy Brentwood spot in 2009. Nearly eight years later, it's still hopping on any given night of the week. The James Beard Award-winning chef and her nominated partner also oversee L.A. favorites on the other side of the 405: Lucques and A.O.C. The pair recently modified the dining format at their Westside destination to feature more small plates — all the better to sample more bites on the farmers market-inspired menu.
Patrons hit up the bar for Styne's carefully curated selection of wines and a diverse range of craft cocktails. For a refreshing and herbaceous start to the evening, order the Tavern on the Green — a mix of rum, lime, basil, cilantro and jalapeño. Happy hour runs everyday from 3-7 p.m.
Following your cocktail, head into the romantic skylit dining room for a meal fit for a president — seriously, this is where President Obama dines when he's in town (we miss you, 44). There are plenty of small plates to taste before hitting the main course, so pace yourself. It wouldn't be a Goin joint without the olive selections, so start there. Pair that with bacon-wrapped dates stuffed with parmesan to rev up your appetite -- a salty-sweet treat to say the least. Spice things up with the tempura-fried soft shell crab (while available), served with Padron peppers, chili-mango salsa, and Thai basil.
Two of the salad selections complement each other so well that you need to order them as a pair. The stone fruit with burrata and prosciutto is excellent on its own — you can't go wrong with sweet peaches and the creamy Italian cheese. But couple it with a plate of the heirloom tomatoes with green harissa and balsamic. You can thank me later.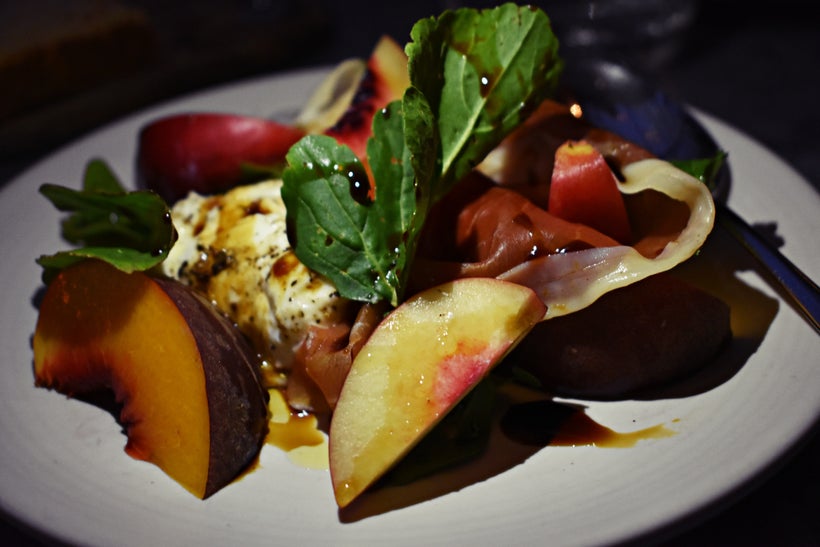 Moving on to the main course, the devil's chicken has been a stalwart of the Tavern menu since it opened for good reason — the tender chicken topped by crisp mustardy breadcrumbs and served with potatoes and leeks makes for the ultimate comfort dish. For those watching their carb intake, order up the Alaskan halibut, served with beluga lentils and red harissa.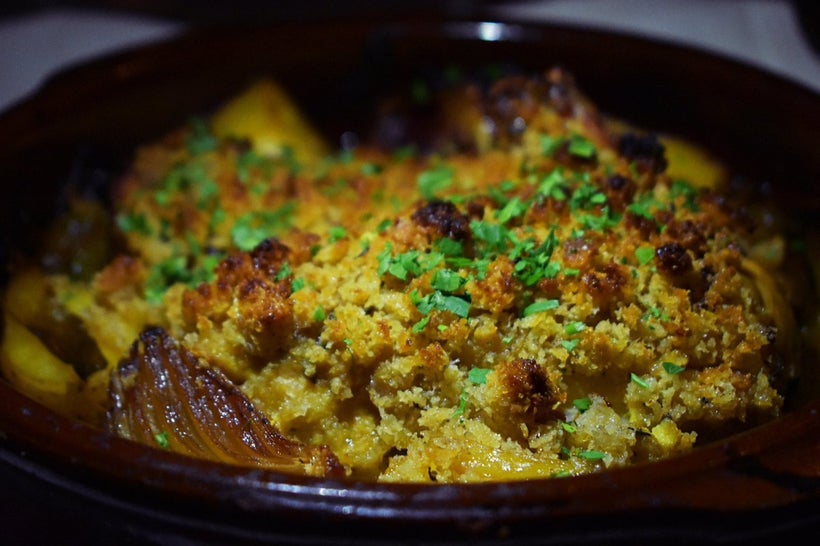 If you're still feeling indulgent, make sure to order dessert. I recommend the cornmeal cobbler. When I last visited, this Southern-inspired dish was served with nectarines, blackberries, and buttermilk ice cream — I suspect it alters with the season. Enjoy with your favorite dessert wine, and there are a few to celebrate on the after dinner drinks menu.
For unique small plates, Andrew Kirschner's Tar & Roses remains one of the most exciting options in town. Open since 2012, Kirshner makes it hard to stick to just a couple of the seasonal dishes (or a budget), so come hungry or plan several trips into the heart of Santa Monica. Each night has a different flare to the menu, which will let you know "what's burning" in the wood-fired oven — oak, apple, almond, walnut, or olive.
The popped corn with bacon, brown sugar, and chili gets a lot of love from the regulars, as do the oxtail dumplings topped with san bai su (a Japanese sauce made of Mirin, soy sauce, and rice wine vinegar), chili sauce, and sliced green onions.
I recommend starting with the wood-roasted English peas — eat them like edamame to get the salty, mint flavoring off the crisped pods before popping the fresh peas. Another can't-miss snack is the chicken liver mousse, served as a light smear across the plate and topped with pickled blackberries. Spread that deliciousness on toast with a little dab of honeycomb for a dish you'll remember fondly for months to come.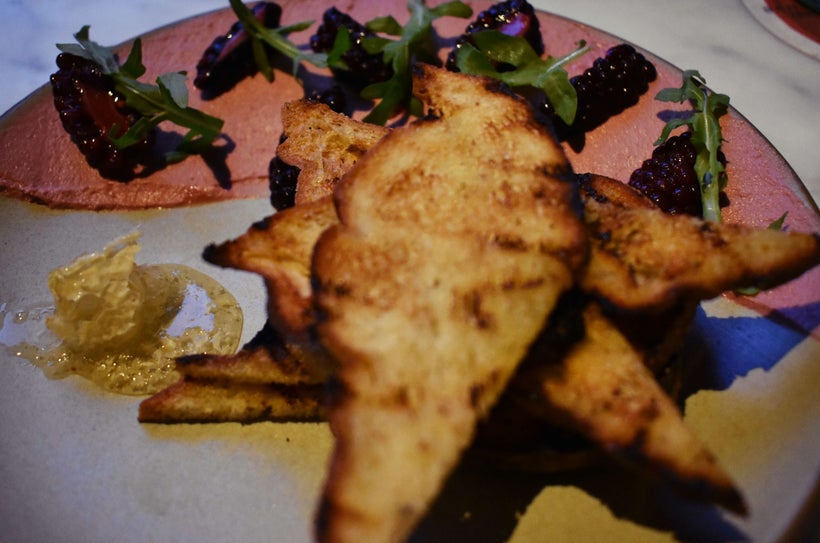 I'd be remiss if I didn't encourage you to taste the octopus skewers, served simply with chorizo vinaigrette and grilled lemon — honestly some of the most tender octopus I've sampled — and I order it every chance I get. Another seafood lover's dish is the Singaporean chili crab toast: a robust serving of crab topped with quail egg yolk, cilantro, and pea shoots. Pair both with the lovely Selbach Incline riesling.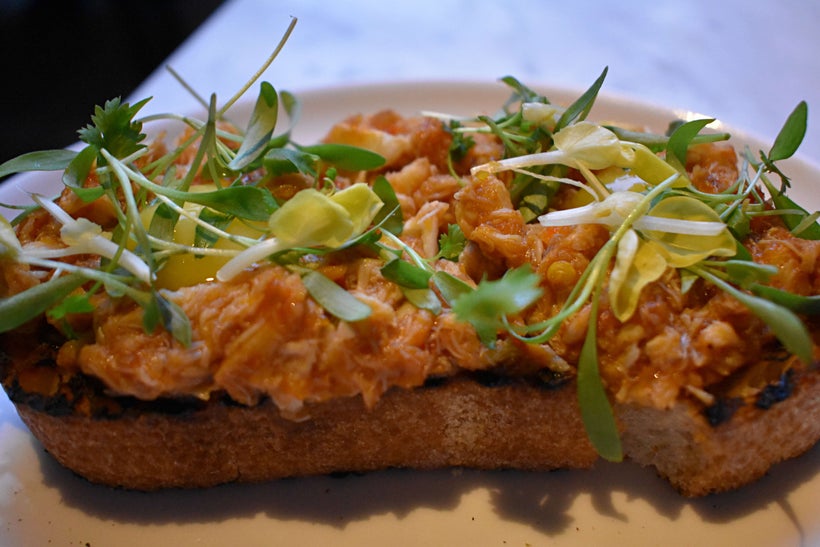 The spaghetti carbonara is listed as a small plate, but could easily satisfy as an entree after stuffing yourself with the snack portion of the menu. The rich pasta dish is served with a soft egg, pancetta, and parmesan. And although it sounds like a safe and harmless dish, don't be fooled -- it's more decadent than your tastebuds expect.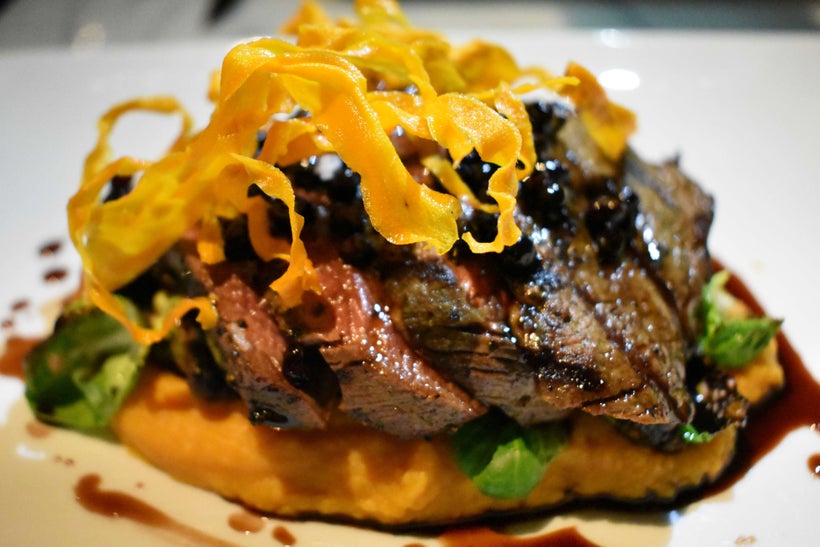 On the large plate menu, you can't miss the venison — melt-in-your-mouth-tender medallions served atop mashed sweet potatoes and huckleberries. There are two bold reds on the menu — the Sottimano nebbiolo and the Renato Corino barolo — worthy pairings for these heavier dishes. In fact, those Italian reds are nearly a meal in and of themselves.
Finally, there's the strawberry crostata, served with honeycomb ice cream. You can't claim to like dessert if you haven't tried this little work of art.
Chef Akasha Richmond has been at the helm of this Culver City staple approaching a decade. The open dining space makes for a great business meetup, a lively outing with friends, or romantic dinner. Wet your whistle with The Akasha — cucumber vodka with pineapple and cucumber juices. The Whiskey Summer is another excellent choice, with citrus and vanilla infused bourbon, Pom wonderful, orange, agave, and bitters.
I always send people to Akasha specifically to get the Tandoori-spiced chicken wings with mint relish and tamarind-date chutney. For the more traditional palate, the crispy rice-flour onion rings make a great share plate.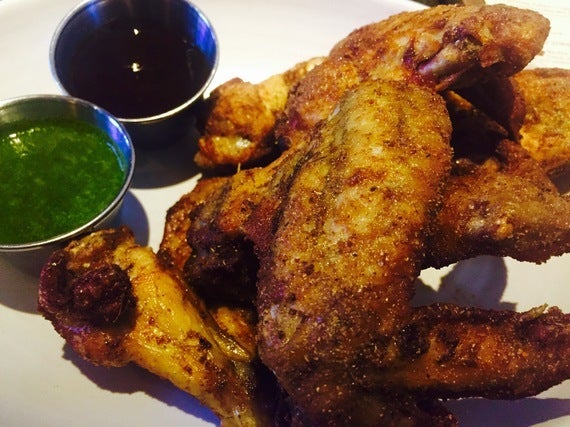 One of the stars of the larger plate menu is the Niman Ranch baby back ribs, which pairs wonderfully with the indulgent skillet macaroni and cheese — covered in gooey gruyere, cheddar, and toasted breadcrumbs. I won't tell if you won't.
REAL LIFE. REAL NEWS. REAL VOICES.
Help us tell more of the stories that matter from voices that too often remain unheard.
This post was published on the now-closed HuffPost Contributor platform. Contributors control their own work and posted freely to our site. If you need to flag this entry as abusive,
send us an email
.