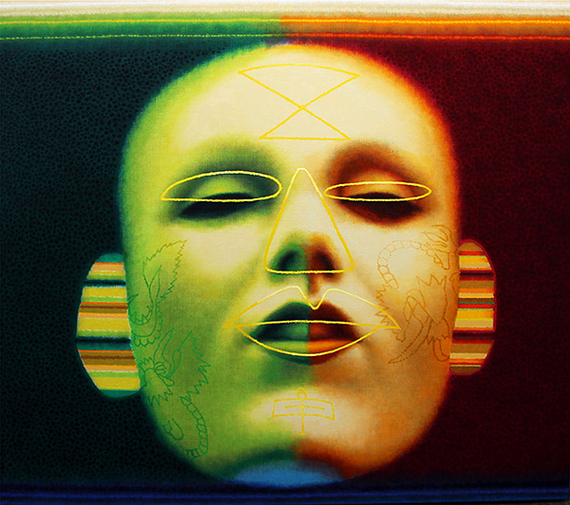 Ed Paschke, Spectrum, 1991, Oil on canvas, Signed, titled and dated in pencil on verso, Provenance: GOLDEEN Gallery, Santa Monica, CA, tag on verso, Image: 36 x 40 inches. Estimated Gallery Price: $90,000/$100,000
Santa Monica Auctions | Next year will be the 30th anniversary of the Santa Monica Auctions -- the legendary show and spectacle that has been a staple of the season since its inception way back when. So for part four of our preview series this year, we wanted to give some love to the auction's population of LA's Hometown Heroes -- the beloved local pillars of the scene, the stars in the artist's artists firmament. These are the people that are intertwined with the history of the Robert Berman Gallery itself, especially the heady days of the 70's '80s and into the early 90's -- and so many of those artists are still living and working here who never left, and they are the core of the home team. There's a great clutch of works here from the late-60s heyday, with not as much pop art as you'd think and instead a prevalence of conceptual abstraction. There's a lot of color and movement and muscular gestural painting as well as expert printmaking -- much of which comes out of Berman's personal and professional roots in the Venice Beach / Cool School world back in the day. The names are impressively renowned, but the works themselves more than live up to the hype of the slate.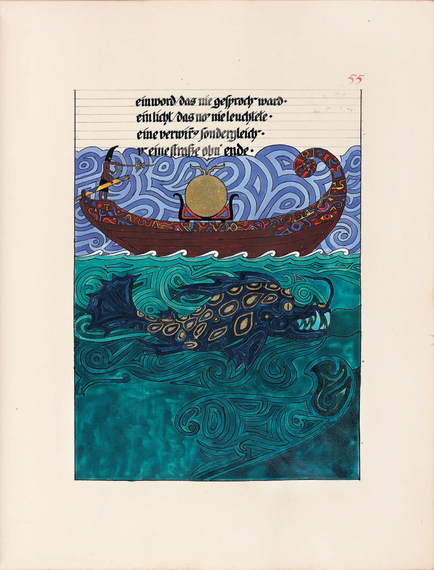 C. G. Jung: Liber Novus (The Red Book) | DigitalFusion and DCA Fine Art host the official debut of a new and remarkable series of limited-edition prints based on artwork by Carl G. Jung, one of the fathers of modern psychology.
This exhibition features images from the sequence of 77 prints culled from C. G. Jung's Liber Novus and realized with DigitalFusion's state-of-the-art digital technology. Liber Novus, "The Red Book," was produced and compiled by Jung as a personal "illuminated diary" of his dreams and interpretations, which began in 1913. The limited-edition series has been created with the cooperation of The Foundation for the Works of C.G. Jung in Zürich.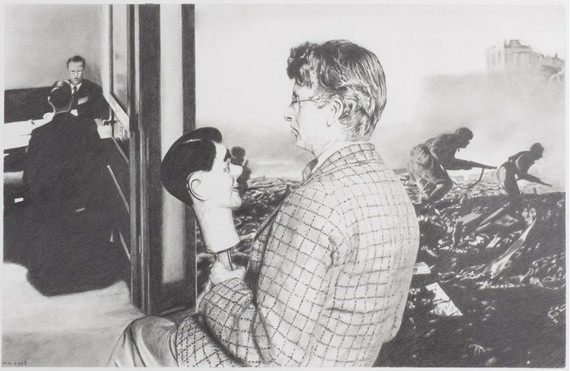 Martin Mull: State of the Union | Peeling back the veneer of collective perception, Mull's images offer a glimpse through the cracks in the quintessential postwar "American experience." Navigating a deeply psychological terrain with satire, dark humor, melancholy, and mid-century cultural reference, Mull's new images are held together by formalist concerns of painting and traditional picture-making. Rockwellian at a glance, Mull's vignettes are moody fusions of displaced characters, culled from period-specific popular magazines, found family snapshots, and vintage nudist publications.
This exhibition is Mull's first to feature a full suite of graphite drawings alongside his paintings. While the cast of figures and settings overlap - trapeze artists, salary men, matrons, nudes, and wholesome teenagers, the two distinct mediums tell subtly different stories.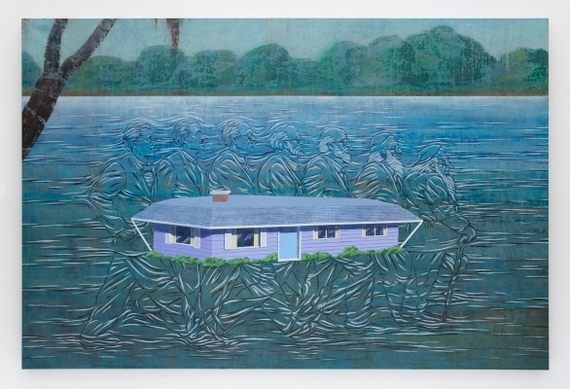 Jim Shaw | Spanning three decades and covering the entire gallery, Shaw's fantastical, humorous, and psychologically laden explorations into esoteric, as well as popular, cultural phenomena coalesce to render a tale of Biblical proportion. Combing historic texts, artworks, comic books, and his dreams, Shaw's flood of imagery is an essential tool in conveying his imagined histories and fables. Rivers, houses, and hair are but a few motifs repeated throughout the exhibition. Seemingly disparate, they mnemonically serve each other in depicting over-arching themes of fallen heroes, collapsed economies, concepts of sin, and general doomsday destruction.
No human transition is more extreme than life to death, which Shaw makes prominent in his repetition of ominous, and yet cleansing, water motifs. Enveloping the exhibition space at eighteen by forty feet is the work Mississippi River Mural, an old theater backdrop layered with a frieze of figures painted in illustrative comic style in battle-ready stances. This commanding work is unnervingly static, as if the figures have waited an eternity for their stage queue to the afterlife. Shaw's obsession with the cycle of life and death serves as a basis for the other works in the show.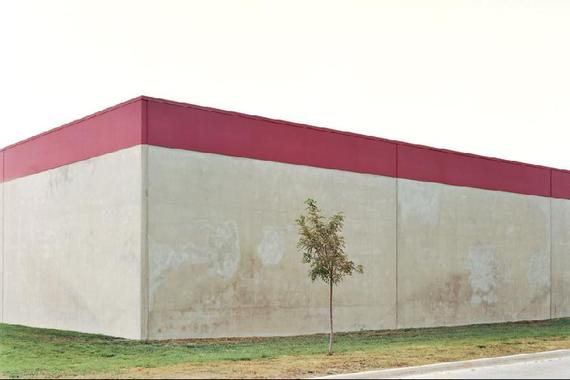 J Bennett Fitts: Industrial Landscape[ing] Redux | "With the economy in free fall there was no worse time to open an exhibition than January 2009." Gallerist Paul Kopeikin continues, "That's when I opened one of my favorite shows of the past twenty years, and although the work found an audience, it's bothered me that the exhibition was not seen and appreciated as it should have been. And so, with several new images recently taken by the artist..."
Fitts conceived of this series as a response to or updating of Lewis Baltz' striking 1970's series of photographs of Irvine warehouses. Fitts expands on the theme of the strangely manicured, isolated space; manufactured environments that seem to quantify the human experience of literal space and how it is utilized as an oddly dissociative landscape where all trace of human interaction is missing. These buildings seem to have been designed for a "low impact visual experience," meaning their appearance is deliberately innocuous.
For the most comprehensive calendar of art events throughout Los Angeles go to Artweek.LA.
Popular in the Community