For something to reach out and grab me, it has to have the effect of Changing My Life, and right away. Just say:
The Public Library is closing on Mondays.
Let's begin by introducing you to my first boyfriend. We began our courtship when I was three. His name was 'Rockville Centre Public Library'. "Three," you might say? How could a child really read at three? I'd learned to read at my grandmother's proverbial knee, backwards.
I used to ride my bike to the library in Long Island, NY, every Thursday. It was safe. I would check out the maximum. Six. I would put them into my bike basket, ride home, and then line them up in my drawer, BACKWARDS. This was the exact opposite order in which I wanted to read them. There was no deviation. Years of therapy clearly awaited me, but it was a beautiful love affair.
I was often at the Studio City library, in LA, back when it was a tiny shack. I remember being in the front seat of my car and putting down "The Kennedy Men: The third generation," next to a shiny red apple, and smiling. The adult apple rarely falls far from the Adult Tree, in some ways. That tiny shack had the best books. Now, they've replaced it with a monolith. Nowhere to sit. Lousy selection. And worst of all, Orthodox women in mini-vans stuffed into compact spaces, unloading what seems like 'clown-cars' filled with children who run screaming into the public library. They run amuck. It drives me crazy. I ask the librarians -- in a whisper, of course -- why they don't have to make them be quiet, and they shrug their shoulders at me in a weary way. 'It's not like when I was a kid' -- another phrase we all always invariably say.
The North Hollywood Library -- near me -- is much better. Beautiful, as a matter of fact. Opened windows on a park setting. Luscious. I went there last Monday to pick something up I had reserved online with Los Angeles Public Library's EZ LogIn and was very much looking forward to reading.
This is the very same NOHO Library where I once sat with two homeless, older black men. They were talking about the Grammy Awards that had happened the night before. Then, they were talking about how they used to always go to the Grammy's with Diana Ross. Since this is LA, and just about anything is possible, it was either that they were crazy, or it was true.
CLOSED on Saturdays, Sundays, and Mondays, the sign said.
According to the LA Weekly, Mayor Antonio Villaraigosa has 173 personal employees -- more than President Obama -- a large salary, and a free house. Each City Council Member is provided eight free cars. There is a brewing scandal of free tickets he has 'scored.' But the truth also is that he is a man of Hispanic origin. He should be guaranteeing the growth of his people, especially. In fact, the reason I supported Mayor Villaraigosa was that I thought it lovely that a city called 'Los Angeles' might for once have someone running it who is just like so many of the people who do actually live here.
There used to be an official Calligraphy Office that issued the Mayor's many proclamations. That office cost almost a million dollars. Now, a group of calligraphers are directly employed by the Mayor's office in City Hall itself, a mini-department that draws up the plaques that he takes to a variety of events. News organizations covering this story were given the Mayor's schedule with blacked-out dates. (This has become known as his 'calligraphy defense'). So it seems the upper echelon of LA's government tier has the highest paid city employees in the nation, the Mayor has potentially gotten $50,000 worth of free tickets, there are no cuts to contracts (in fact, he got tickets to LA Live, the Staples Center, as well as AEG and the Dodgers). But the library is closing on Saturday, Sunday, and Monday.
DA Steve Cooley's Public Integrity Division and the city's Ethics Committee are looking into these various charges.
Just to say, there is a case to be made that maybe he is right; he is our spokesman. And maybe I wouldn't have minded it so much, if I could go to the library whenever I wanted. You see, there's an old bromide that happens to be true -- the personal is political. Because in the way that most of us are, I hadn't given it more than half-an-eye until it was something that directly and greatly affected my week.
In LA, especially in LA, there is always the thing that fascinates and drives me crazy, that especially in LA, you have the richest and poorest elements abutting heads. As was demonstrated during the Rodney King riots, there is a third-world country three miles away from Beverly Hills.
The Mayor and his girlfriend missed the Beyonce concert, but last-minute proclamations to Beyonce and others are presented at each event. He also, in his defense, claims to have attended over 3000 events of lesser importance.
I talk to the librarians, on Tuesday, when I get the book I have reserved online. I am told about their concerns, the mixed messages that come from the City Council. We happen to be -- mid, July -- in the middle of a serious heat wave. The City has issued heat advisories, recommending that the elderly and young try to stay indoors. "Where are they to go?" the librarians ask me. They tell me that LA Parks & Recreation are expecting further layoffs this October, and everyone is worried.
Two Hispanic kids are talking to her. (Mini-Mayor Villaraigosa's, himself). She's on the phone with another branch, looking for a Three-part Action comic, and is multi-tasking, as is the librarian on the other phone. They've located Parts One and Two. She's on hold for the Third. These Hispanic kids are shy, thrilled, and not speaking great English, though one wears an 'American Baseball' t-shirt. "They're sending them, but now, because we're closed Monday, we don't have delivery for several days," she tells them.
"We're the only city without a Central Library,' she continues with me.
Many public libraries are now closed. Once, many years ago, someone asked me something random about what would I do if I won a million dollars and (now, make my movie), but still, I'd give a donation of countless value, in grateful thanks for services rendered. If I added up every hour I've spent in a library in my life, I would still owe them.
There's a rally at the downtown Central Library called 'Unslam the Door.' This is the first time in 187 years that these doors are shut on a Monday. "Let us In!" "Let Us Read!" Cars and buses honk as they drive by. "It's the first time you'll hear us telling people not to be quiet," one woman shouts in thanks.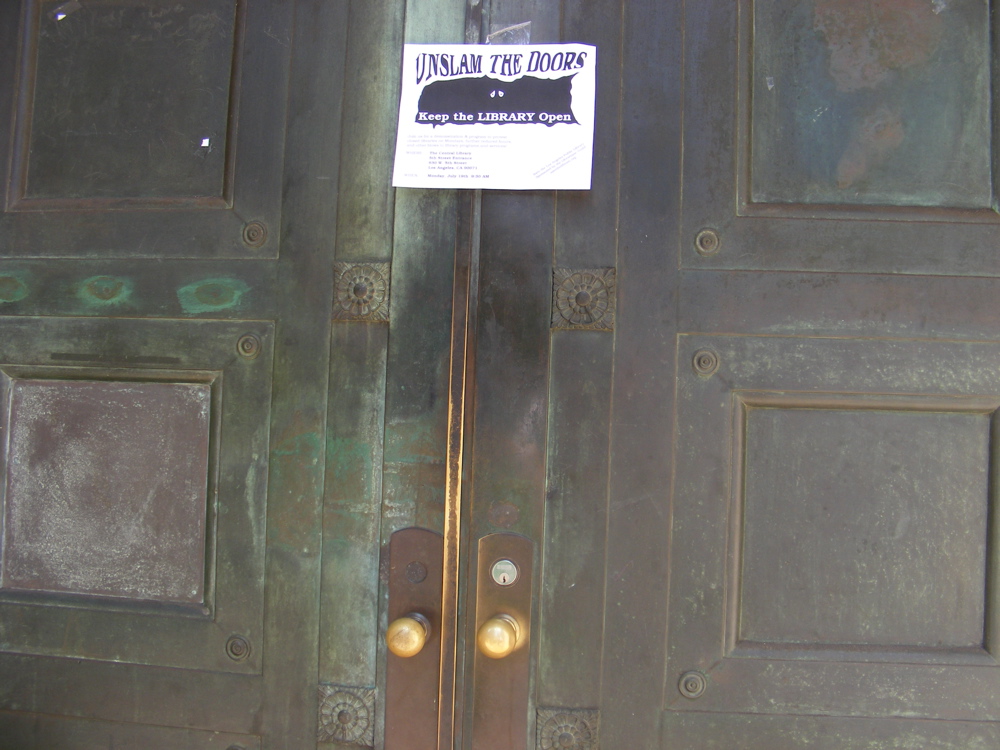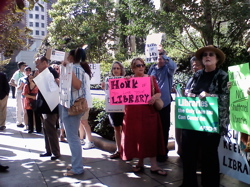 Another woman talks about children, into the microphone. She makes me CRY. Now that I'm 50, I guess everything does. But it's so personal to me. This is my life she is talking about. What about the kids that don't have a great family? This is their friend and their refuge. They said in the '60's that the Personal is Political. Well, for me... anti-war rallies, the WGA strike, the public library. My tale.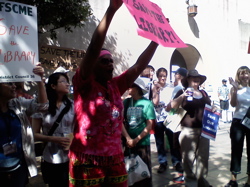 Refuse to be quiet, a sign says.
In another moment straight out of central casting, a woman with a thick Russian accent is crying at the closed door. "The library is closed? But I need to find a job on the computer, today." Tears flow. The news cameras take a moment to capture her. She can't be real. She's trying to steal the spotlight from the star. Since I live in LA, I'm quite sure she's an extra, trying to overact and steal the spotlight; this can't be real. She's clearly and annoyingly trying to make her mark!
Ironically, the downtown public library shares a courtyard with a fancy Pinot Bistro, which is just setting up for lunch as the rally finishes. It's been so hot for a week, that I can't imagine they've had much business outside. The Hispanic busboys are watching as they set places. Meals at this Bistro are easily $100 for two (lunch).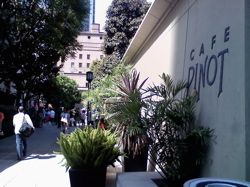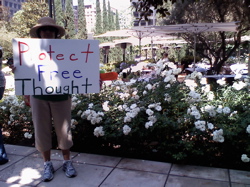 Like a hungry person with food issues, I check out way too many books on that first Tuesday at the NOHO branch. I over-check. I feel a sense of panic that they will be closed for three days, and I check out my reserved book and four others. That's 5, the max. And that's just from this library! Clearly, someone has 'book issues'. I eat/read/binge way too much! My brother and I once went online, he checked out the stock portfolio, and I looked to see where my books 'on hold' were.
Like a hungry person -- this is my life you're talking about.
Calling all HuffPost superfans!
Sign up for membership to become a founding member and help shape HuffPost's next chapter