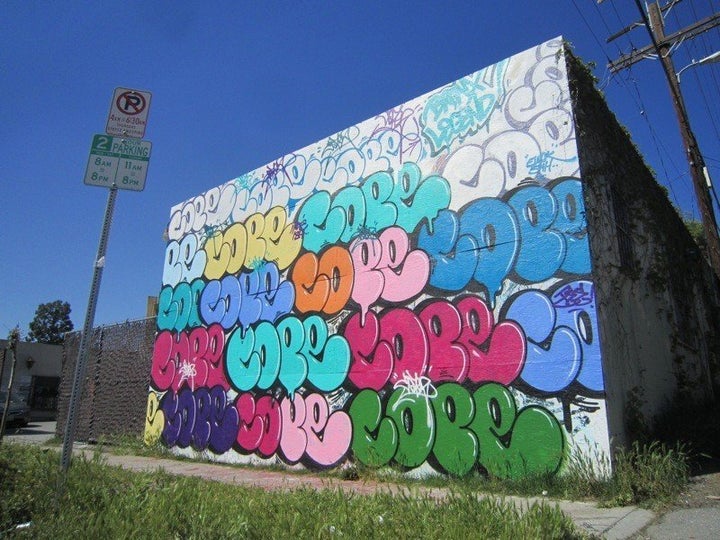 It has been said that a camel is a horse designed by a committee, and that seems to be exactly what is happening with LA's new Mural Code Ordinance.
Los Angeles made a name for itself as the mural capital of the world between 1986-2002, when murals were encouraged and celebrated in the city. But after a lawsuit from a billboard company claiming that banning advertisements while allowing art murals infringed on the billboard company's right to free speech, in 2002 the city instituted a city-wide moratorium on both ads and murals. The moratorium has been hugely unsuccessful. Despite the ban, hundreds of 'illegal' art murals have popped up in Los Angeles during this time period, and over 4,000 illegal billboards.
Recently, the Los Angeles City Council began working on plans to put in place some new guidelines that will allow for some murals in the city. The proposed guidelines are modeled after the city of Portland, Oregon. Some mainstream news outlets, like the LA Times, have been heralding the new mural regulations as a victory for art, but the artists in the art community are far less happy with the proposed guidelines.
LA forming its mural ordinance after Portland is like Leave It to Beaver wanting to emulate Eddie Haskell -- it is the wrong role model. Portland is not a city that is known for murals. Friends who live in the Portland say that it is a place full of artists, but with very little public art. An Internet search for murals in Portland pulled up a page full of rules and lists of what is required for a mural, but no pictures of any murals themselves. It seems that the mural regulations in Portland effectively keep most murals off the walls.
For some unknown reason, the Los Angeles City Council is trying to lock down blanket rules emulating the mural regulations in Portland. These proposed regulations include prohibiting sponsorship (no money can be received), content regulations (murals must be paint-based and no advertisements or corporate branding for murals), and term limits (a mandatory five-year time limit for the mural).
These might sound like good ideas at first, but each is fraught with complications. Some of LA's current top walls for murals are paid for with sponsorship from corporate companies. The money is used to buy wall space and fly in big name artists from all over the world, things that couldn't happen without the sponsorship. As for the content, sometimes it is a blurry line between corporation and artist, and excluding murals that are not hand-painted and have no corporate relationship would essentially ban artists like Shepard Fairey, who puts up many murals under his 'Obey' artist name, because it is also the same name of Shepard's thriving corporate clothing brand. Furthermore, the requirement for paint-based murals would prohibit LA's flourishing wheat paste community from doing legal murals, a thriving medium which is also Shepard's method of choice. But perhaps the biggest hump in this camel is the proposed five-year minimum mandatory time limit for any mural. A five year contract is good for some murals, but in our opinion, the best walls change regularly to showcase the current hot and hip artists. And the five-year contract would most likely dissuade many property owners who would otherwise want a mural, but balk at the time commitment.
It is admirable that the city is moving in the right direction and trying to form guidelines to allow for art. Even camels have certain attributes. But all the rules and regulations just get in the way of art. Sometimes, less is better. LA's art community wants to be able to create art without jumping through the bureaucratic hoops. More murals. Less red tape.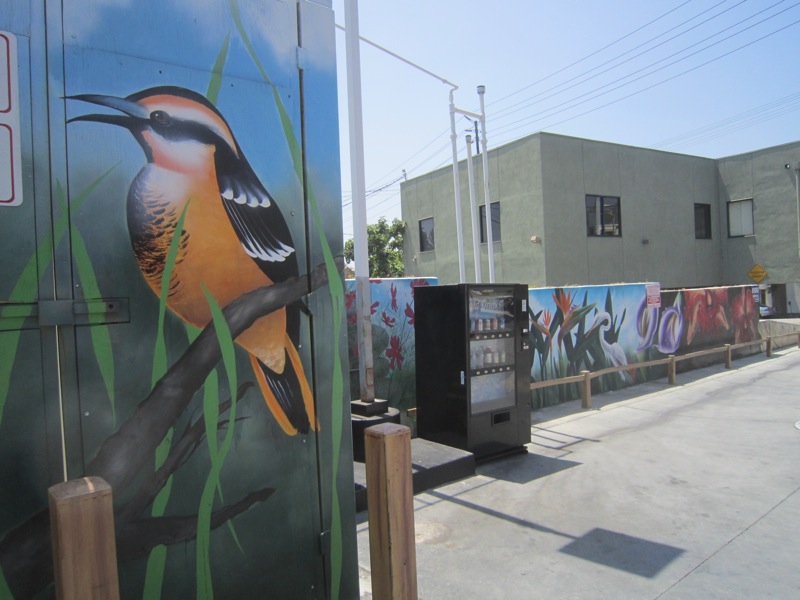 Gorgeous bird mural in Los Feliz. Unknown artist.

Cache and Eye One paint a beautiful mural along Sunset Blvd. in Los Angeles.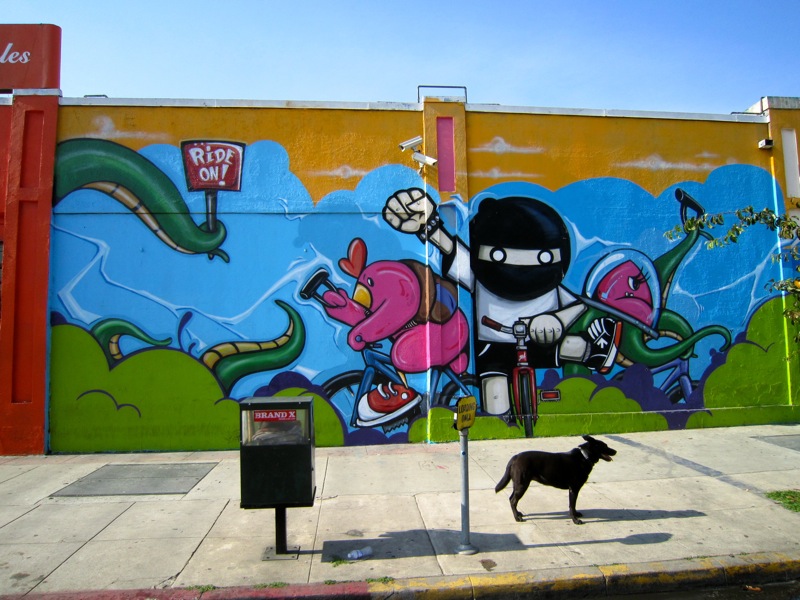 Cache and Eye One team up to paint a brightly colored mural on Melrose.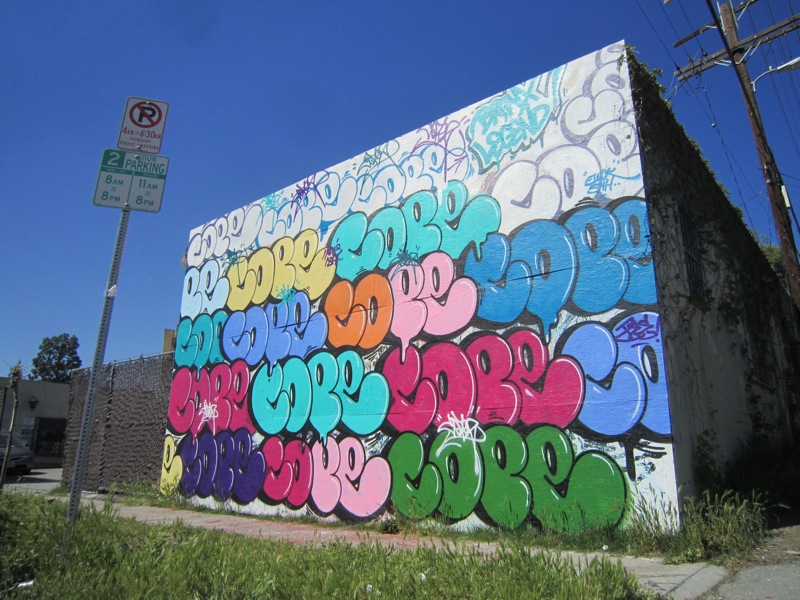 New York graffiti legend Cope2 painted a gorgeous mural on Melrose. This mural lasted unmolested for five months until it was replaced.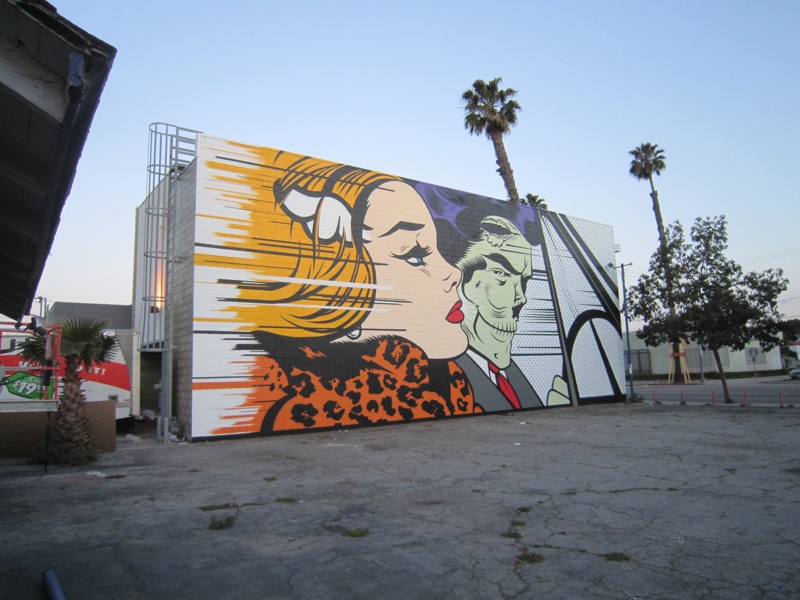 UK artist Dface painted this gorgeous mural in Culver City.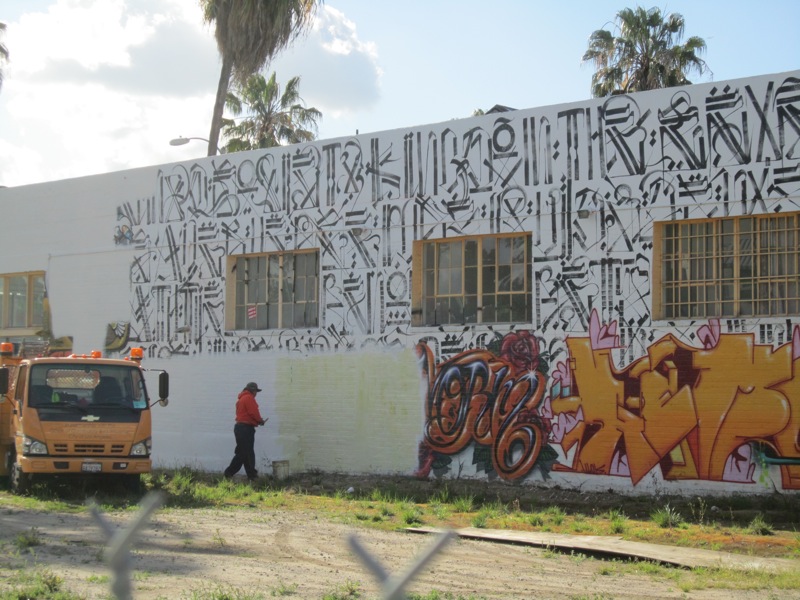 This is an interesting story. A private company hired by the city to paint over graffiti broke an entering and actually removed a gate from its hinges to access this property without the owner's permission. When the owner heard they were buffing the mural, the owner called the police on the buff squad. The next day the buff squad came back and removed their paint from the mural. The mural survived, damaged, but intact. The mural includes work from Retna, Revok, Saber, Norm, Rime, and Os Gemeos.

German based painting duo Herakut painted this gorgeous mural in Culver City with a little girl next to the word and question, 'Art?'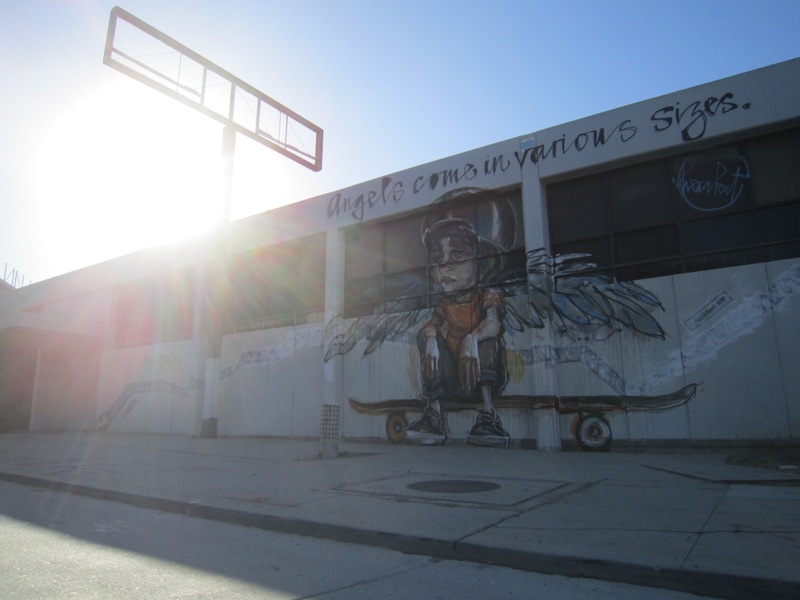 German artists Herakut paint a tribute to the city of Los Angeles saying 'Angels Come In Various Sizes'.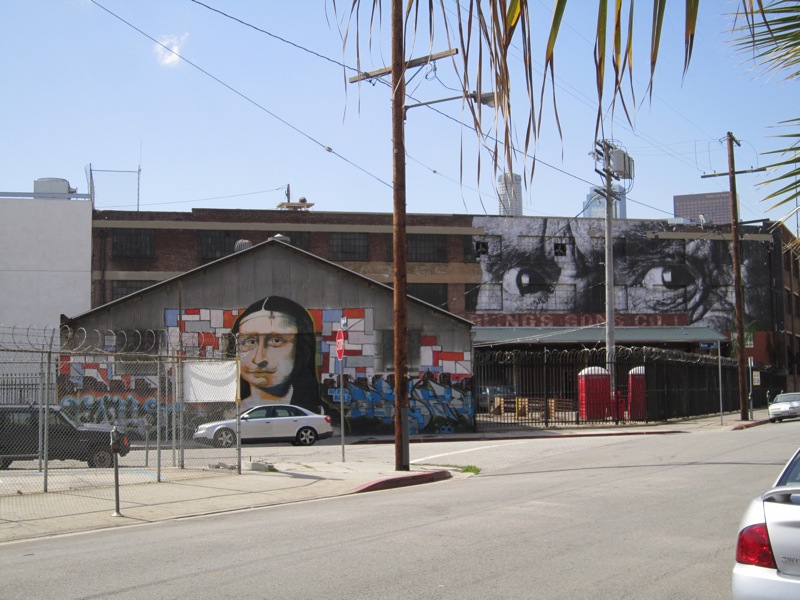 Gorgeous mural from TED Sponsored French street artist, JR. Next to a graffiti version of Mona Lisa in downtown Los Angeles.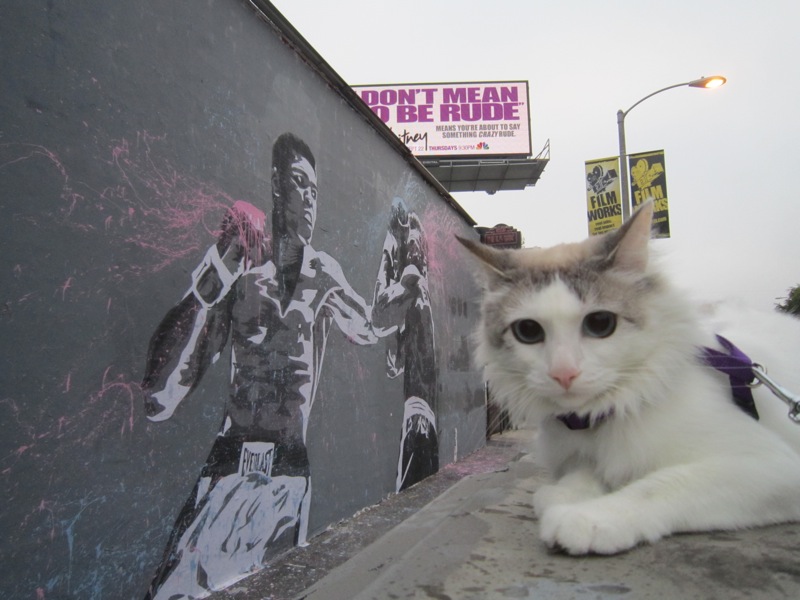 Melrose and Fairfax's very own 'graffiti cat' Qtip posing in front of a Muhammad Ali themed mural from Mr. Brainwash on Melrose.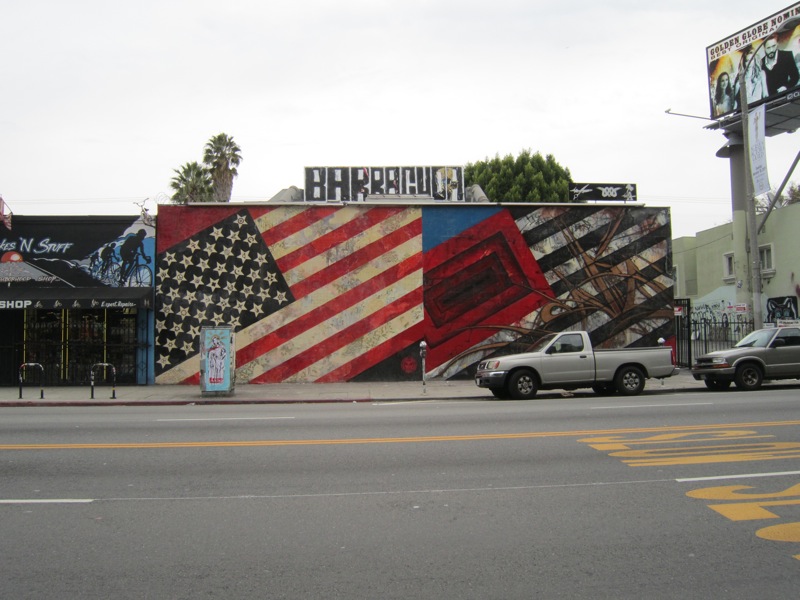 Artists Obey (Shepard Fairey) and Saber each paint their interpretation of the American flag on this corporate-sponsored art mural on Melrose, which would make it illegal according to the proposed guidelines.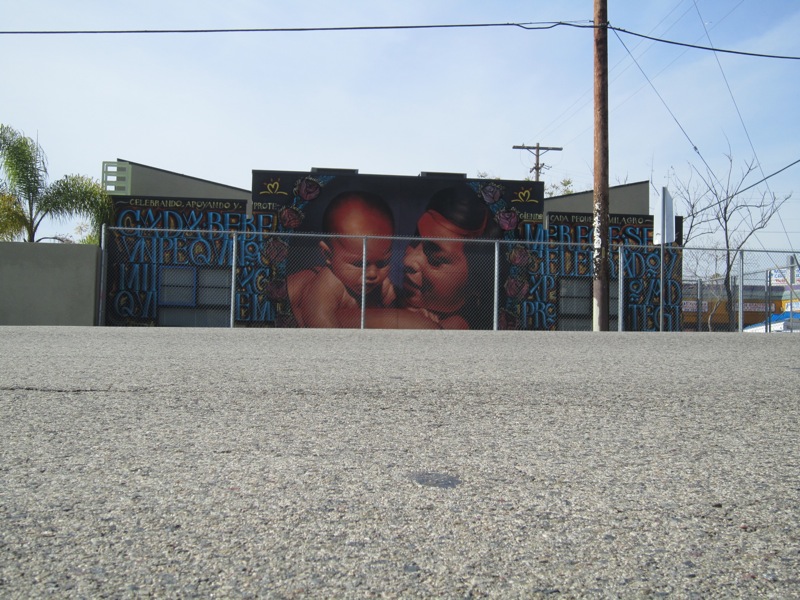 Retna and El Mac team up on this gorgeous mural on an elementary school building in Los Angeles.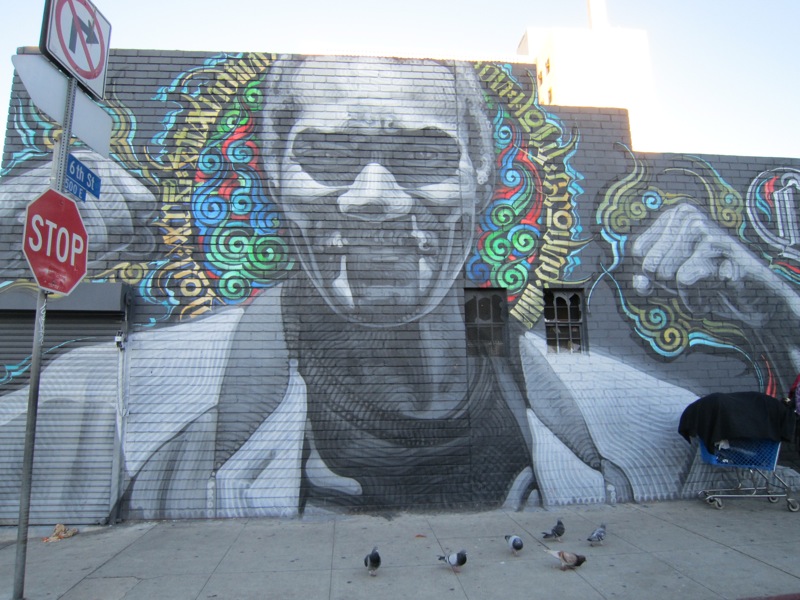 Retna and El Mac team up on this gorgeous mural on an elementary school building in Los Angeles. The LA-based artists have travelled all over the world painting murals.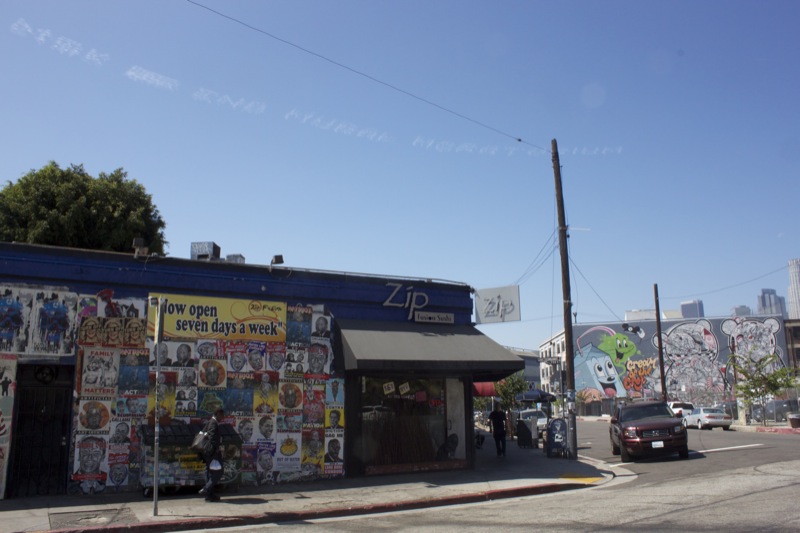 Some sky 'bombing' from graffiti artist Saber saying 'End the Mural Moratorium'. In front of a community mural spot and an impressive mural from two duo's, How and Nosm alongside Dabs and Myla in downtown Los Angeles.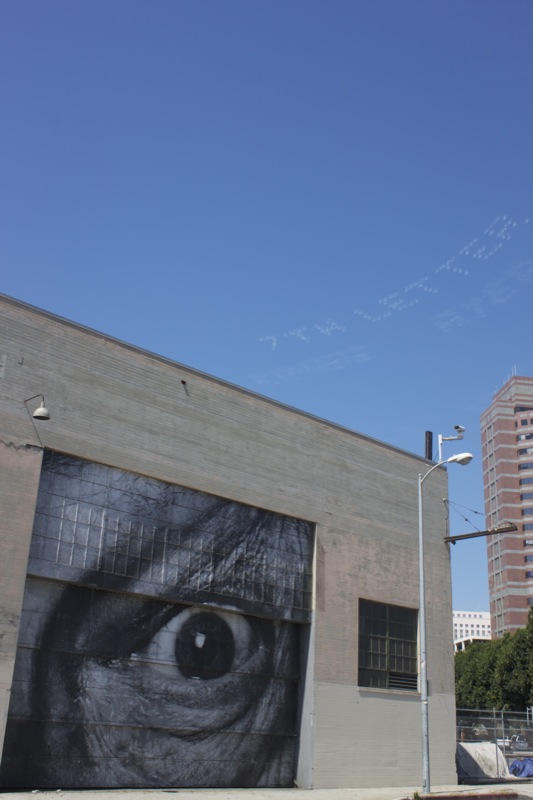 The 7th Letter skywriting above a mural from JR on the MOCA building.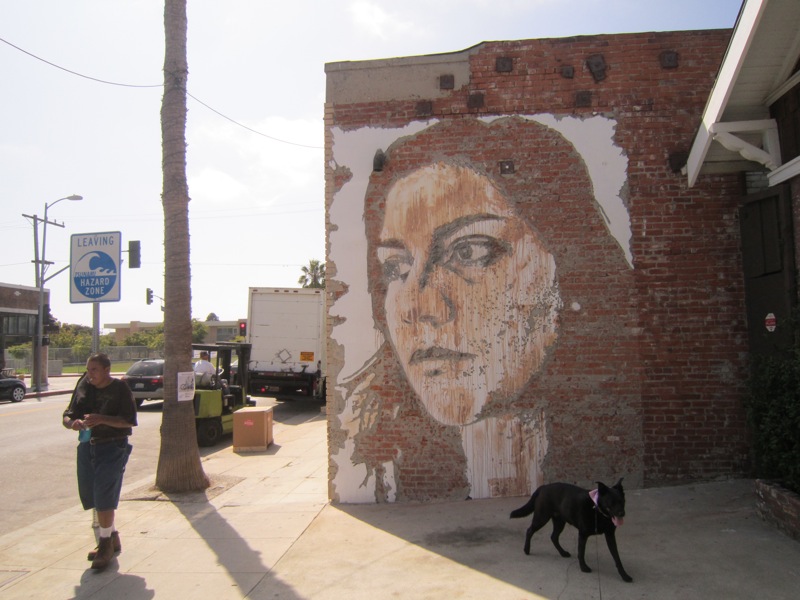 A portrait mural by Vhils in Venice Beach. This mural would technically be illegal since it was both sponsored and etched, not painted. Still, it is a beautiful piece of art.