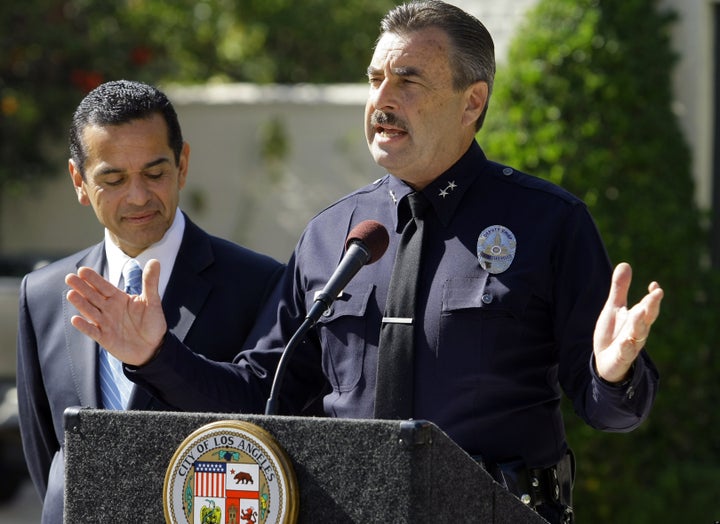 Charlie Beck, Los Angeles's newly appointed chief of police, is a cop's cop.
For a city that's lived through seven years of his rock star predecessor, Bill Bratton -- whose outsized abilities came with an ego to match -- it's a definite change of pace. Beck, 56, is about as rooted in Los Angeles and its police force as a man can be. A 32-year LAPD veteran whose father retired from the force as a deputy chief, he's married to a retired LA County Sheriff, has a daughter serving as a patrol officer out of the department's Hollywood station and a son about to graduate from the Police Academy.
Unlike most ambitious LAPD commanders, Beck doesn't have a graduate management degree from USC or Pepperdine -- he majored in vocational arts at California State University Long Beach -- and, for most of his career, has avoided prestigious staff assignments for command jobs in the field.
Still, when Bratton needed somebody to clean up the department's corruption-riddled Rampart Division, he tapped Beck for the assignment. Later he dispatched him to South Los Angeles, where Beck actually made the LAPD popular with African-American community leaders -- while suppressing crime to record levels. When the LAPD's forensics and DNA lab fell years behind in its work, particularly the testing of rape kits, Bratton asked Beck -- by then chief of detectives -- to straighten the mess out and put the lab back in working order, which he did.
When he decided to leave, Bratton made it clear to Mayor Antonio Villaraigosa, who would name his successor subject to City Council confirmation, that he thought Beck should be the new chief. Watching the Villaraigosa-Beck relationship develop will be a matter of some interest in Los Angeles's political circles. Bratton's success with LAPD has been Villaraigosa's biggest political asset. If, as many expect, he runs for the Senate when his second mayoral term is finished, Villaraigosa is going to need an equal performance from Beck -- something that won't be easy in an era of restricted budgets and growing civic financial distress.
Even when he's fighting off a cold and interview fatigue, as he was when he sat for a conversation with the Huffington Post on a recent afternoon, Beck is low-key, funny and warmly personable.
When people call you chief, what do you think?
It's an amazing honor, but it's also daunting. This city depends on the police department more than most others.
So, what's the most pressing issue?
Well, on the administrative side, it's obviously the budget and organizing the department the way it should be. On the law enforcement side, the goal is to continue reducing crime with a focus on gangs. Gang violence in LA is the vast majority of the violence.
It's been a problems since this place was a pueblo. How do you reduce it?

Generally over the last eight years we've been very successful in reducing gang crime. In the last two years, we've cut gang homicides in half. So it can be done. You do it by not just using suppression, not just using cops. You do it by using a broad band of solutions that includes prevention, intervention, suppression and then also re-entry. All those things combined make a difference. Any one of those things by themselves, won't stand alone.
Can you do all that with less money?
We've lost the ability to pay overtime this year, so all overtime will have to be compensatory. It's not a great way to run an organization, but it's understandable. I understand that everyone is suffering this year. So we'll be able to hire to compensate for attrition, which means we won't loose any people. If that continues then I can work with that.
If the police force starts getting smaller, than it's going to be a huge issue for Los Angeles.
Do you think that's a possibility?
It's always a possibility. The budget straits are dire.
What's left to do on the federal consent decree?
We've been the released from the responsibility of the consent decree, and now we're working on the transition agreement. The vast majority of the pieces of the consent decree have been met. And we will continue to do that. The consent decree has been in place for eight years now. It's how the majority of officers in the organization have been raised. About 60 percent of our field force has been hired since then.
If you could have a private chat with every officer in the city, what would you tell them?
Police in a constitutional manner, be open, be direct, treat people with respect, do your job. Remember that police work is the one profession where process trumps results. You have to do things right.
You can't let the end justify the means. So if they do that, if they're well led and they're well equipped and they're well-staffed, then the city gets the kind of policing that it deserves.
I heard you made a very popular decision by telling the officers they didn't have to wear their ties anymore? Was that a fashion statement?
(He laughs) You used to have to wear your tie every time you wore a long-sleeve shirt. So I just made it optional with the exception of ceremonial events. In normal day-to-day policing they don't have to wear a tie.
How did you decide to be a police officer? I heard the other option was dirt bike racer?
It wasn't an option because I wasn't good enough. Just like many people who had athletic aspirations as a young man, I wasn't good enough. And that was the bottom line. So I started looking for other things to do. My dad was a cop, and he was a really good one, so I became involved with the department and I found out how much I loved it.
What do you love most about it?
It's a job where you can make a tremendous difference in people's lives. You can live a life of significance. You can have a huge effect on not only society but also on individuals, and that's what I like about it. It's a job that's action oriented; there's a physical challenge to it. There's the thrill of the hunt, of course. So all those things appeal.
What's it like coming in after a rock star like Bratton?
You know what? Bratton was the exact right guy for his time. And I think I'm the right guy for my time. Whether I'm a warm-up act or not, it's for history to judge, not for me.
How is policing in LA different than any other city?
First of all, there's a huge need for policing in LA, the gang issues and all that. But also because the police force is so small relatively. Everything you do is amplified. You can't hide behind huge numbers like you can in New York where you can just throw resources at a problem. I can't always do that. I have to try to be clever rather than overwhelming. So that's one piece.
The other piece is the history of the city is so tied to its police department. The history of LA is about the history of LAPD. And I think that's a huge piece.
So, I heard you love Langer's?
Yeah, I do love Langer's.
No. A half of a number 10 (pastrami with swiss cheese) on rye toast. Ask anybody there. They all know.
Calling all HuffPost superfans!
Sign up for membership to become a founding member and help shape HuffPost's next chapter