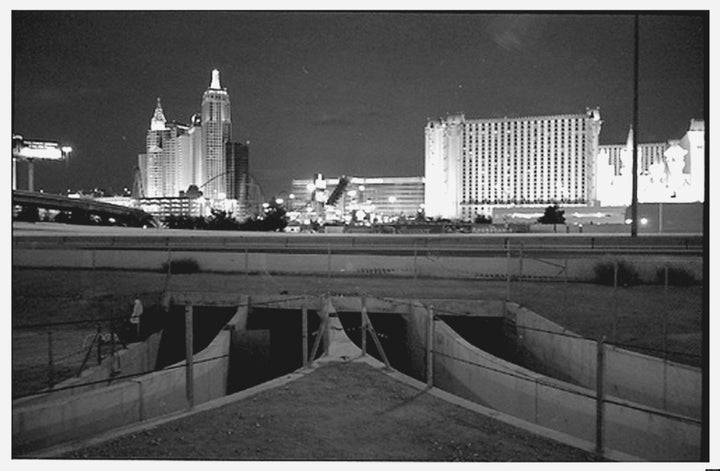 Below the flashing neon, imagine an underground Las Vegas of winding flood channels, drippy and dark. The channels seem inhabitable if not for the threadbare mattresses and some out-of-place artwork on the walls. People actually live here.
And Las Vegas author Matt O'Brien writes about them -- real, raw stories of the desert homeless who were drawn to the Strip's intrigue but now live unseen, below the surface of the city.

O'Brien, a 14-year Las Vegas resident, is an advocate for the homeless and others who are systematically ignored in Las Vegas. He says he fights for the "losers" versus the "winners," documenting their stories and running a nonprofit to help the homeless get out of the tunnels.
He recently released his second book, "My Week at the Blue Angel: And Other Stories from the Storm Drains, Strip Clubs, and Trailer Parks of Las Vegas", a nonfiction novel describing his ethnographic experience living with those who make their home at the battered Blue Angel Motel.
"All those dancing lights. All those dead-end dreams....All those tumbleweed dice...This city takes so much...and gives so little."
Originally O'Brien began giving voice to the homeless who live in the flood channels that rumble beneath the Strip. He wrote his first book, "Beneath the Neon: Life and Death in the Tunnels of Las Vegas", four years ago after spending time in the 200 miles of channels spread throughout the Las Vegas Valley.
O'Brien writes about his experience wading through the tunnels' desert monsoon rain, which at times builds enough height and speed to wash away the makeshift homes. Always curious but also cautious, he describes precariously exploring the tunnels.

"A graffiti face -- wide eyed and tight-lipped glanced downstream, as if it knew something I didn't. What's it warning me about, I wondered? A madman lurking in the shadows? A dead body wrapped around a divider? A whirlpool that sucked milk crates, mattresses and homeless men into its indiscriminate vacuum?"
But he wasn't content to just share stories of the conditions these homeless endured. He turned his advocacy journalism into action by joining forces with homeless crisis center HELP of Southern Nevada and founded Shine a Light two years ago. The group has drawn out and housed nearly 100 homeless from the flood channels, providing mental health and drug counseling.
We talked to O'Brien about quitting his job to focus on his books and grassroots nonprofit. He also gave us an insider's view of the tunnels.

It seems risky to live down in flood channels. Who's actually doing this?
Vegas only gets 4.5 inches of rain a year, allowing people to live there, and it's not as hot in summer or cold during winter. The population down there varies quite a bit. You have some teenagers living and hanging out, middle-aged men and Vietnam veterans. And people who came out to Vegas looking for the American dream -- you know, the $60,000-a-year job even though you don't have a college degree, the house, pool and family. Instead, they're living beneath the hotels and casinos that lured them out here in first place.
What are the physical conditions like?
Most people live near the inlets and outlets and set up camps, which can be as simple as a cardboard mat. Or, they'll have a milk crate as a coffee table, a king-sized bed with a frame and headboard and artwork on the walls. They're reclusive and like privacy, but we also found communities with 10 to 15 people living together, sharing food and money and drugs.
After you wrote "Beneath the Neon", what kind of reaction were you hoping for from city and state officials? And did that come to pass?
Part of reason I wrote it was to draw the attention of the the politicians and nonprofits to the channels. There was no coordinated response to help the people in the tunnels after the book came out. So I reached out to HELP of Southern Nevada to form Shine a Light.
So you started Shine a Light as a sort of response to their non-response. What does the organization do for the homeless exactly?
Basically I escort the social workers from HELP into tunnels and show them the terrain. They offer not so much water and blankets but more a way to get people out of tunnels with mental health and drug counseling. It's been really successful. We've helped hundreds of people and housed 80 or 90 people from the tunnels. We'll help them get ID and food stamps. There are a lot of ways to help them besides getting them into housing...But we don't want to do anything that would make them want to stay in tunnels longer than they need to.
So why not just help these people -- why also tell their stories by writing books?
A lot of voices you hear commenting on Las Vegas generally are so-called "winners" -- CEOS, real estate moguls or success stories of Vegas. I find it interesting to talk to "losers" -- to give voice to a different segment here. They've never been asked their opinions on certain subjects.
Have you had to give up a lot to really make this your life's work?
As a staff writer at CityLife, I was doing a lot of first-person advocacy work, which was a great experience, but at times I struggled with worrying about conflicts of interest and becoming too involved. When I left in early 2008 and began working as an independent author and journalist, I felt like I could be more involved, not covering them as news stories...I wanted to be more involved in the community.
You're also telling stories of struggle with "My Week at the Blue Angel." The book expands the issue of homelessness beyond storm drains. In what types of ways are these characters down and out?
It's a collection of creative nonfiction set in trailer parks, weekly motels, sewage plants and storm drains. For instance, when developers cleared out trailer parks in anticipation of high-rise condos years ago, low-income people were being forced out of homes on short notice with nowhere to go. I wrote a story about the trailer parks here and what was happening to people who were being forced out of these long-term homes.
Will you develop another nonprofit based on what you've learned and seen through your "Blue Angel" writings?
"My Week at the Blue Angel" is a lot of the history of Vegas. I've been thinking of doing something related to historic preservation. There's not a lot of activism in that arena. Las Vegas is just seen as a disposable city.
To see what O'Brien experienced in documenting the homeless of Las Vegas, click the slideshow below.
To help the homeless of Sin City, visit HELP of Southern Nevada by clicking below.
Popular in the Community