Vegas Uncork'd by Bon Appetit just wrapped up a fabulous extravaganza, which once again proved that Las Vegas is more than just a gambling town with bargain all-you-can-eat buffets sporting semi-tepid food. The gastronomic stars aligned this year with activities abound. Bigger than ever, the celebration included more Las Vegas resorts, more world-acclaimed chefs, more culinary events, and more guests. Acclaimed chef Daniel Boulud launched the eighth annual spectacle by sabering a bottle of Mionetto Prosecco at The Venetian while surrounded by a cadre of unbelievable chefs.
A total of 31 incredible events took place at ARIA, Bellagio, Caesars Palace, MGM Grand, and The Venetian. The festivities kicked off with "A Twist on Dinner," as Chefs Pierre Gagnaire and Shawn McClain teamed up to create signature fresh-flavor twists on classic French cuisine. Guests enjoyed a unique dinner featuring chilled pork head terrine and cured loin, mi-cuit ora king salmon and wagyu beef perfectly paired with thought-provoking wines. Sumptuous offerings at other Vegas hot spots included stuffed lamb chops with walnut gremolata from Bobby Flay and Giada De Laurentiis, a multi-course Neapolitan feast at Rao's, pastries and savory fare at Payard Patisserie & Bistro, a multi-course dinner from Guy Savoy, timeless steakhouse-style dishes at The Old Homestead, an intimate meal at the famed Nobu, and A Scot's Tale - a once-in-a-lifetime menu at Gordon Ramsay Pub & Grill.
In a unique cross-cultural culinary exchange, a team of acclaimed chefs from Japan, China, Singapore and Australia teamed up with American culinary luminaries Mario Batali, Thomas Keller, and Buddy Valastro to create The Night Market: East Meets West, an authentic Asian-inspired outdoor food and beverage festival at The Venetian. Two students from the Le Cordon Bleu College of Culinary Arts in Las Vegas vied alongside celebrity mentors for $20,000 in scholarship funds during the Chase Sapphire Preferred Grill Challenge. Chef Mario Batali hosted an after-party with gourmet burgers, house brews and boozy Averna milkshakes. And that was just the first day!
On Friday, Chef Nobu Matsuhisa hosted an innovative sushi-making seminar, Chef Thomas Keller curated a special lunch at Bouchon, Chef Michael Mina hosted an outdoor pig roast and beer garden spectacular, libation fans learned to pour like a pro with master bartender Craig Schoettler, the Cake Boss put on a live baking demonstration at The Venetian, Picasso at Bellagio hosted a dynamic pairing of fine works of art and an array of wine varietals, and attendees' senses took a trip to Sicily during a Stemmari winery seminar.
That evening was The Grand Tasting, featuring more than 50 award-winning chefs and more than 100 of the best wines and spirits from around the world. Guests kept the cheer going with an after party at Caesars Palace's brand-new champagne club, Fizz Lounge.
Guests kicked off Saturday by teeing up on Cascata golf course with Chef Mario Batali, Bon Appetit Editor-in-Chief Adam Rapoport, and other celebrities in an ultimate gastronomic golf event to benefit the Mario Batali Foundation. The most-starred chef in the world, Joel Robuchon, hosted an incredible lunch and cooking demonstration at MGM Grand, Sage at ARIA threw a chic Celebrity Chef Brunch for Mother's Day weekend featuring Santa Barbara shrimp and scallop ceviche, and Executive Chef Paul Lee created a spectacular four-course lunch at Le Cirque at Bellagio.
Attendees became pastry savvy at a special seminar at Payard Patisserie & Bistro at Caesars Palace, sommeliers and guests united at Bellagio Convention Center for a "Family Feud" style game show, and Chef Roy Ellamar treated guests at the Bellagio Pool Garden to a smothering flame-grilled feast. At the Chefs' Counter: All-Star Feast ARIA's stellar lineup of A-list chefs put a gourmet spin on self-serve style by serving dozens of must-taste specialties. That evening celebrated Chef Joel Robuchon created a one-of-a-kind, six-course menu at his eponymous restaurant in the MGM Grand, while guests at the Hakkasan Restaurant & Nightclub feasted on a specially curated modern Cantonese dinner by Michelin-starred Chef Ho Chee Boon. Carnevino at The Venetian hosted a walk-around tasting in its acclaimed Italian Steakhouse to benefit the Mario Batali Foundation, featuring the restaurant's exclusive brand of organic, super-prime beef in a delicious menu.
Those who stayed until Sunday had an opportunity to enjoy "Little Italy from City to Strip: Italian Rao's Brunch with the Pellegrinos at Caesars Palace. Although the kitchen is closed until 2015, it's never too late to sign up to receive information about next year's bigger and even better event!
While this is an event not to be missed, have no fear as Vegas is open all year for your dining pleasure. It now offers the most comprehensive collection of celebrity chefs, world-class restaurants and Master Sommeliers in the world.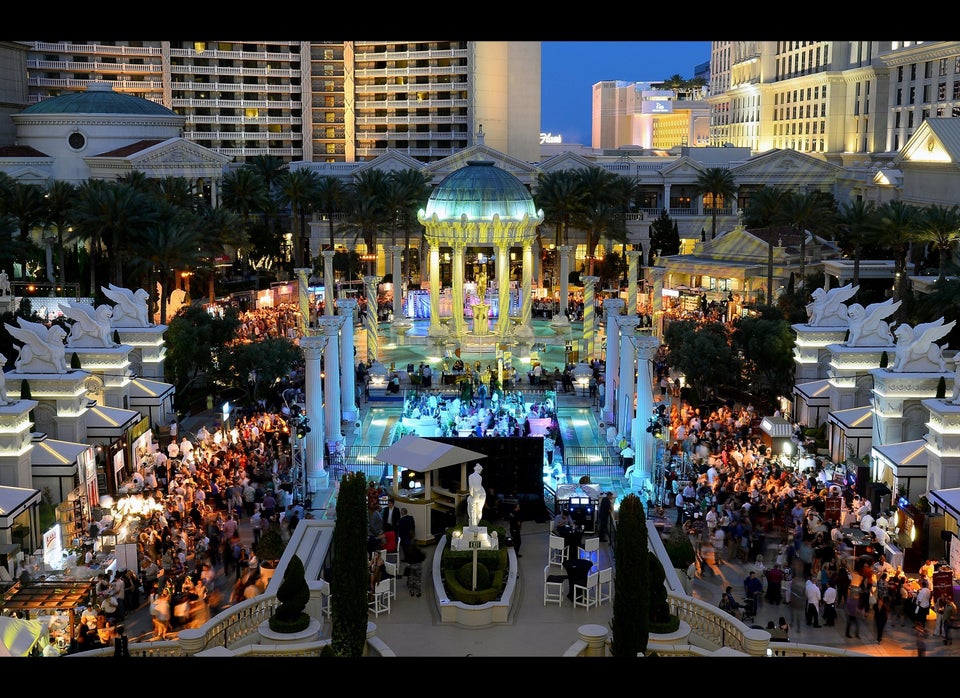 Las Vegas Is Officially Uncorked
Photo Credit: Ethan Miller
NOTE: In the spirit of full disclosure, I have no affiliation with any of the brands or commercial entities in this piece nor was I paid to write it.