Stephen Paddock, 64, opened fire on 22,000 concertgoers from his room at the Mandalay Bay Hotel in Las Vegas around 10 p.m. on Sunday night.

At least 58 people were killed, plus the gunman, and over 500 were injured.

Paddock, who had no serious criminal history, died of an apparent self-inflicted wound. Police could not immediately determine a motive for the attack.
LAS VEGAS ― At least 58 people were killed, plus the gunman, and more than 500 wounded after a gunman unleashed a storm of bullets on an outdoor country music concert in Las Vegas late Sunday. It was the deadliest mass shooting in modern U.S. history.
Singer Jason Aldean was performing in the final act of the Route 91 Harvest Festival, a massive three-day country music event, when his set was interrupted by rapid gunfire around 10 p.m. Stephen Craig Paddock, 64, was shooting at the approximately 22,000 concertgoers from a room on the 32nd floor of the nearby Mandalay Bay Hotel, police later said.
Hordes of panicked fans rushed to flee the scene, hiding under cars and bleachers to escape the bombardment. SWAT team members stormed the hotel and found Paddock in his room, dead of apparent self-inflicted wound and surrounded by at least 20 firearms, including "long rifles," police said. The windows of his room were smashed open.
Police later found 18 additional firearms, "some" explosives and several thousand rounds of ammunition at Paddock's home in Mesquite, Nevada.
Victims, including some in critical condition, were taken to five nearby hospitals. Police said they expected the death count to rise in the coming hours and days.
The Mandalay Bay casino was largely empty Monday afternoon with a heavy security presence throughout the casino floor. Guards blocked exists to the famed Las Vegas Strip. The tense feeling hovering over the main casino floor was offset by friendly staff ready for gamblers to resume their usual activities. The main casino floor bars, still at low capacity but busier than all other areas of the casino floor, were serving the guests who remained. Occasional applause and cheering trickled out of the casino floor, celebrations of those still gambling.
Some staff said the lack of guests in the casino was normal for a Monday afternoon, but others said they saw an unusual number of guests with luggage checking out. Some nearby shops were closed; others remained open for business as usual.
Officials are still investigating the motive behind the attack. Paddock, a white male who was described as the "sole aggressor," had no serious criminal record, police said. He lived in a retirement community in Mesquite, Nevada, with a female companion, Marilou Danley, but he had been staying in the Mandalay hotel room since Sept 28. Authorities said that Danley, 62, was not a suspect.
Eric Paddock, the suspect's brother, said Stephen Paddock was a retired accountant with "no religious affiliation, no political affiliation," and no history of mental illness. Family and friends described the suspect an an avid gambler.
The owner of the gun shop that recently sold Paddock a shotgun offered a similar assessment.
"He didn't set off any of my alarms, anything than I felt like there's a problem in any way shape or form with him," he told an ABC affiliate. "He was a normal, everyday guy."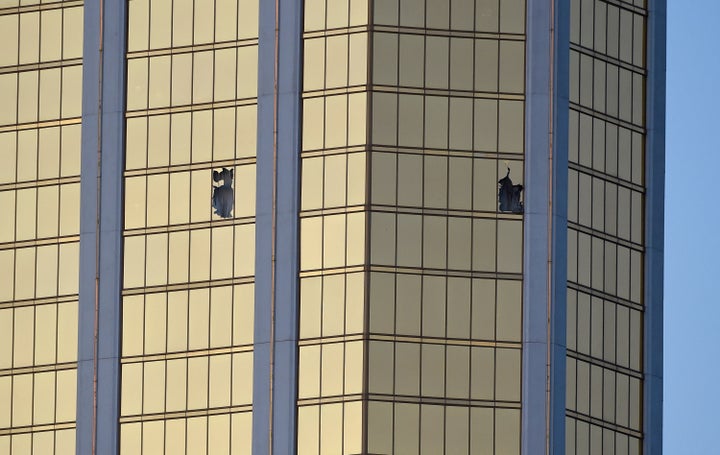 ISIS on Monday claimed responsibility for the attack through its Amaq News site, but an FBI spokesman said that authorities had found "no connection to an international terrorist group."
"We don't understand what's happened... but as we move on we'll learn more" Nevada Gov. Brian Sandoval (R) said Monday at a press conference. "It was a cowardly despicable act that I am very angry about. There is not much we can do but learn."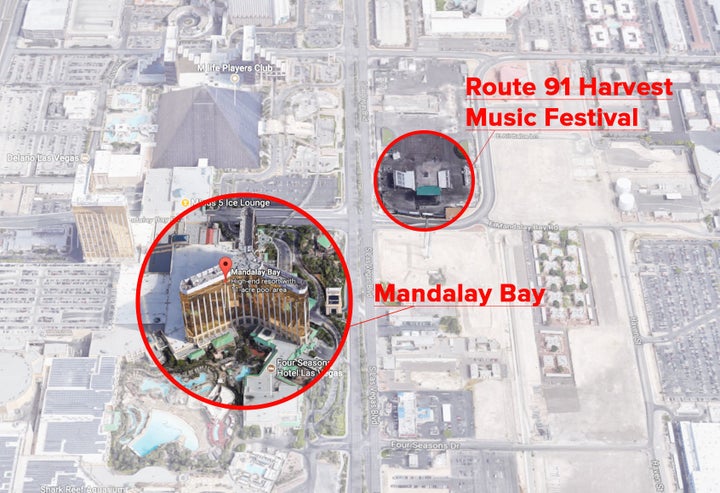 Witnesses to Sunday's attack described frantic concertgoers running for their lives as intermittent rounds of bullets rained down on the crowd. Many thought the pops were coming from fireworks.
"The concert was going on and we heard what sounded firecrackers going off," witness Megan Kearny told NBC News. "All of a sudden we heard what sounded like a machine gun and people just started screaming that they were hit and to get down, and about every 20 seconds after that you would hear a round of machine guns, and people just dropping, hundreds of bodies over the ground."
Ostunio said he realized something was wrong after Aldean abruptly left the stage.
Justin Leyva, a 22-year-old graphic designer from Riverside, California, was at the concert with his girlfriend, Jenna Newton, and her family when he heard the initial gunfire.
"I look back to my girlfriends father who just yells to get down ― and we did," Leyva said. "My instinct kicked in and I knew I had to get myself as far away from the firing as possible. I grabbed my girlfriend as she was staying down for cover and began throwing chairs out of our path until we finally decided to make a break for it."
Aldean and his crew were unharmed, he said in an Instagram post, calling the incident "beyond horrific."
One off-duty police officer was killed and multiple others were injured, including one from the Bakersfield Police Department in Bakersfield, California, authorities said. The Bakersfield officer's injuries were not life-threatening. Police said that two on-duty police officers were also injured in the shooting, one critically.
President Donald Trump called the shooting an "act of pure evil" and said he would travel to Las Vegas on Wednesday.
"This was a day I wish I had never had to see here in my 27 years of law enforcement," Las Vegas Police Department Undersheriff Kevin McMahill said. "Seeing that scene was probably the most disturbing thing I have had to see in those 27 years."
The shooting was the third attack on a major music event in recent years. Earlier this year, 22 people were killed at an Ariana Grande concert in Manchester in the United Kingdom. And 90 people died in 2015 during a suicide attack at a performance by the Eagles of Death Metal at the Bataclan theatre in Paris.
Several videos posted online contained what sounded like rapid gunfire:
Footage from someone who said he was at the Mandalay Bay hotel appeared to show people running from the event:
Some of the festival's performers tweeted about the incident:
Mandalay Bay said in a statement that it was "grateful for the immediate actions of our first responders."
CORRECTION: A previous version of this story reported that an Ariana Grande concert in Manchester was attacked last year. That incident occurred in May 2017.
Dominique Mosbergen, Rebecca Shapiro, Hayley Miller and Willa Frej contributed reporting.
Support HuffPost
The Stakes Have Never Been Higher
Related
Before You Go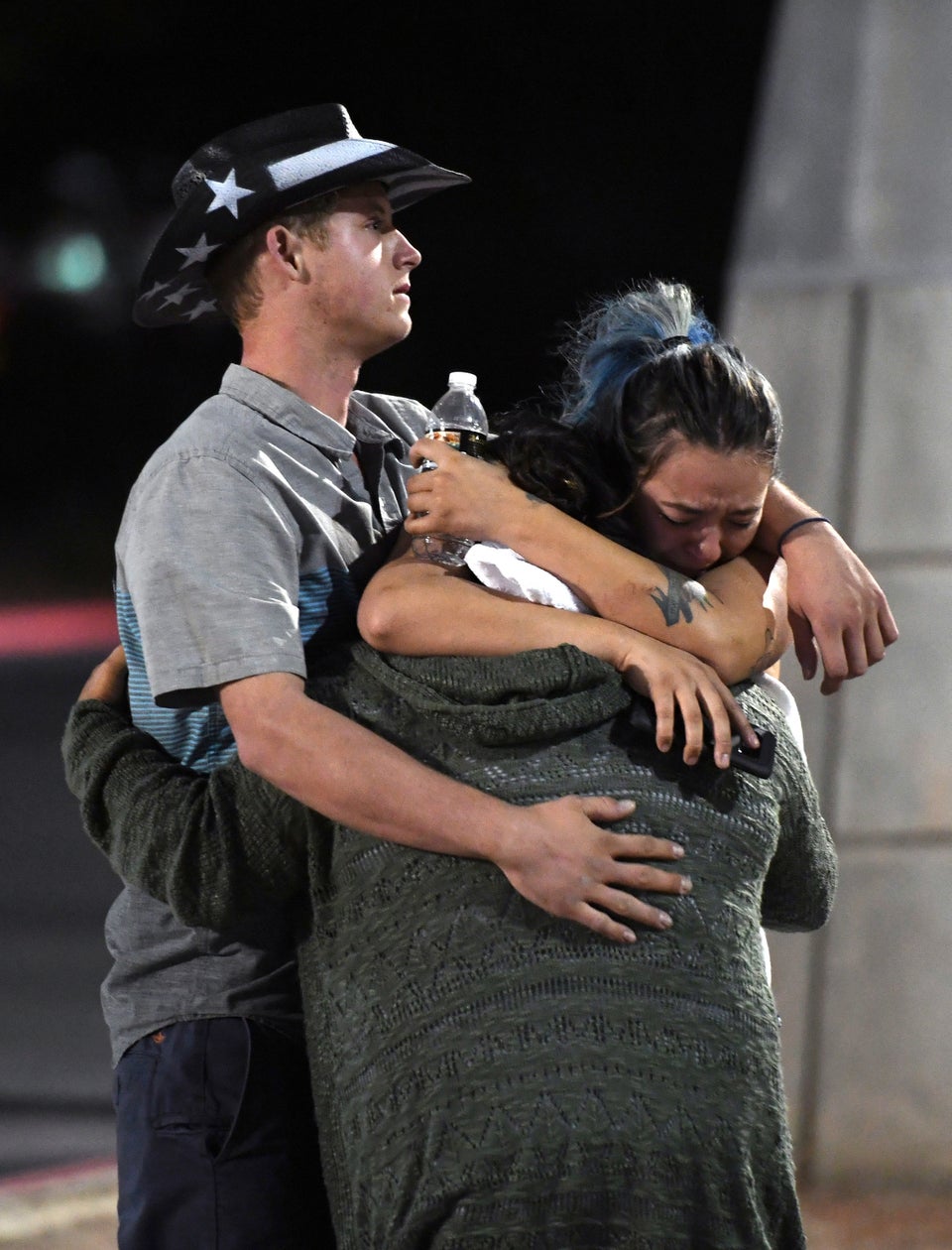 Shooting At Route 91 Harvest Festival In Las Vegas
Popular in the Community