Soon after, Vice President Mike Pence tweeted similar sentiments.
In a statement to reporters, White House press secretary Sarah Huckabee Sanders affirmed that Trump was being briefed on the situation.
"All of those affected are in our thoughts and prayers," she said.
Nevada lawmakers, including the governor and U.S. senators, expressed their sympathies and affirmed that they were working with local officials to respond to the violence.
"My thoughts and prayers are with the families of those killed and wounded in last night's vicious and senseless attack outside the Mandalay Bay Resort," Sen. Catherine Cortez Masto (D-Nev.) said in a statement, before thanking first responders and offering support to local officials.
A few lawmakers, mostly Democrats, noted the need for more than just thoughts and prayers. Sen. Kirsten Gillibrand (D-N.Y.) was among them:
Former Rep. Gabby Giffords (D-Ariz.), who was wounded in a mass shooting in 2011, said that "no person should endure the horror Las Vegas experienced last night."
Giffords and her husband, Mark Kelly, who have become prominent gun control advocates, held a press conference on Capitol Hill later in the day, imploring Trump and members of Congress to take action.
"What we're hearing today at the Capitol and the White House are thoughts and prayers. Thoughts and prayers are important. We send our thoughts and prayers, too. But they are not enough," Kelly said. "Your thoughts and prayers aren't going to stop the next shooting. Only action and leadership will do that."
Sen. Bob Casey (D-Pa.) wrote in a series of tweets that "it is not sufficient to just offer thoughts and prayers," and he criticized his colleagues' refusal "to take real, meaningful action to curb gun violence."
And Sen. Chris Murphy (D-Conn.), who became a fierce advocate for gun control following the Sandy Hook massacre in 2012, did not mince words.
"The thoughts and prayers of politicians are cruelly hollow if they are paired with continued legislative indifference," he said in a statement. "It's time for Congress to get off its ass and do something."
Yet Sanders insisted that it was "premature" to discuss policy changes regarding guns and urged people to wait for "all of the facts."
"There's a time and place for a political debate, but now is the time to unite as a country," Sanders said Monday during a White House press briefing, before also offering her "thoughts and prayers."
See more politicians' reactions below.
This article has been updated with additional lawmaker responses.
Before You Go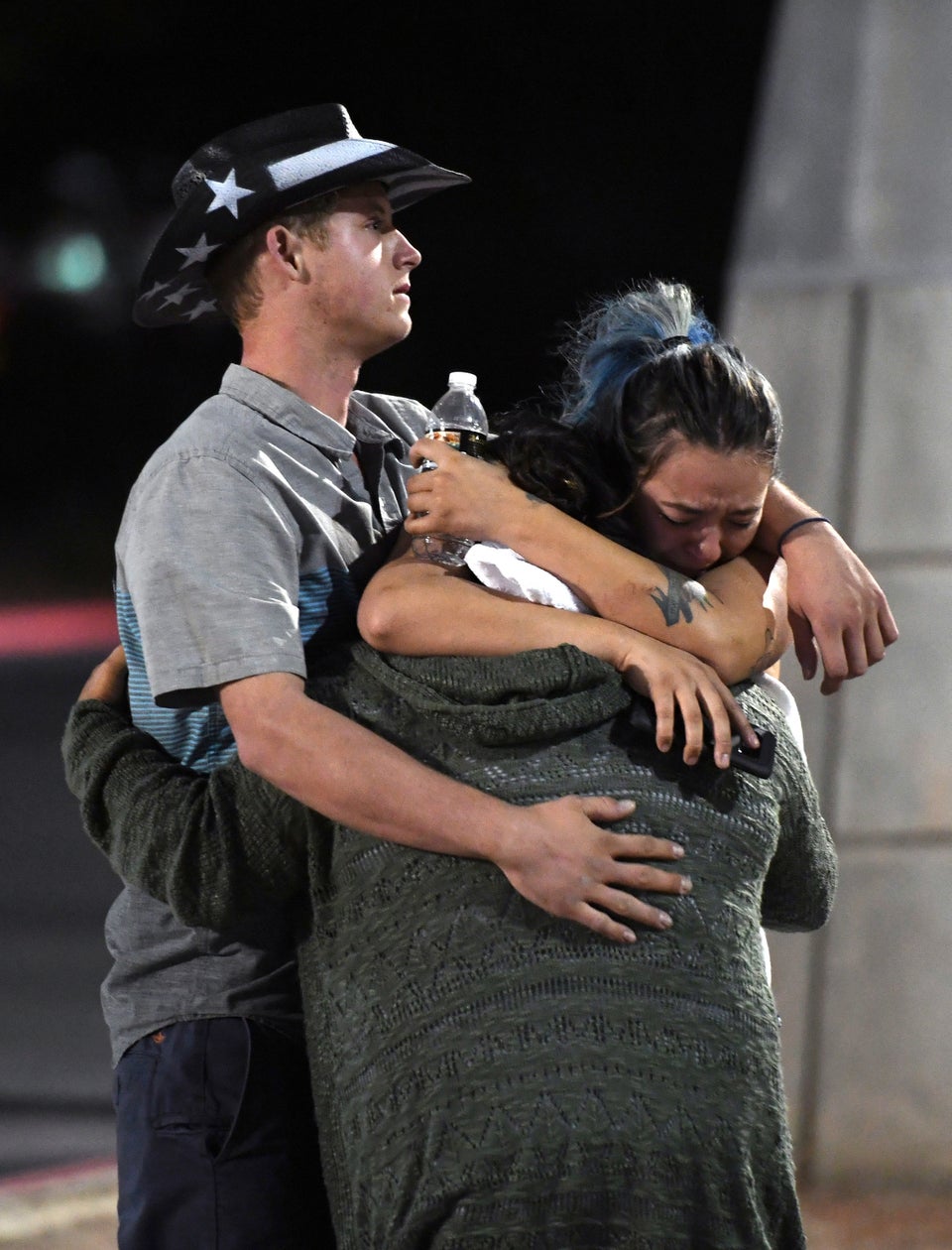 Shooting At Route 91 Harvest Festival In Las Vegas
Popular in the Community