At least 58 people are dead and more than 500 wounded after an apparent lone gunman sprayed a hail of bullets into a concert crowd in Las Vegas on Sunday night. But as Americans from the White House to the Strip are linking arms and offering their thoughts and prayers to the victims and their loved ones, experts say that unless the public prioritizes funding for gun violence research, nothing is ever going to change.
Like any threat to public health, gun violence affects different groups of people in very different ways, and understanding the nuances among victims and perpetrators can help lawmakers craft targeted policy to prevent another massacre from happening again, says Dr. Joseph V. Sakran, a trauma surgeon and director of Emergency General Surgery at Johns Hopkins Hospital.
"I'm hoping that after this incident, we can finally come together and promote more research on this topic and more importantly, allocate greater funding for such studies," Sakran said. "Because only through better understanding of this issue will we be able to pass policies to make sure we're not back here and having the same conversation a year from today."
Aside from studying gun violence, Sakran is himself a victim of gun violence. At the age of 17, Sakran was hit in the neck with a .38 caliber bullet, which ripped through his trachea, carotid artery and vocal chords. He almost died, but the experience helped inform his eventual work.
"Data is power," Sakran continued. "If you really want to make a change that's appropriate and that actually makes a difference, you have to have an evidence-based approach."
That evidence has been hard to come by these last few decades, however.
A 1996 amendment restricting the U.S. Centers for Disease Control and Prevention from promoting research about the public health implications of gun ownership has had the effect of throttling almost all federally-funded research on how gun violence affects Americans. Researchers are just now playing catch up ― even though the CDC has yet to receive any funding for gun violence prevention studies.
Sakran published his latest contribution to that effort on Monday in a study published in the journal Health Affairs, not knowing that it would go public the day after one of the largest mass shootings in U.S. history. In his analysis of data representing 700,000 gunshot patients across the U.S., here are some of the things that he found.
The cost of gun violence is staggering
From 2006 to 2014, Sakran found that each gunshot victim, on average, racks up about $100,000 in hospital charges ($5,254 in the emergency department, $95,887 for the inpatient admission). Over half of these victims were either uninsured or paid out of pocket, which means that poor people were saddled with enormous bills or that hospitals ended up eating a large portion of these costs. Annually, the cost of gun violence comes out to about $2.8 billion a year, but this estimate does not include the approximately $44.5 billion lost every year in workplace productivity as victims recover.
Despite the costs, both financial and personal, gun violence research gets comparatively little funding, especially when compared to other medical conditions that take a similar number of lives every year, Sakran notes.
"For example, while gun violence is responsible for about as many deaths as sepsis is, funding for gun violence research is equivalent to 0.7 percent of the funding allocated for sepsis, and for every hundred articles published on sepsis, only about four are published on gun violence," he and his colleagues write in the study.
Gunshot victims are most likely to be young men
Men were nine times more likely than women to be the victim of a gunshot, and people aged 20 to 24 were most at risk of sustaining a gunshot, from 2006 to 2014. However, over the course of the study, the victims have gotten older, Sakran said.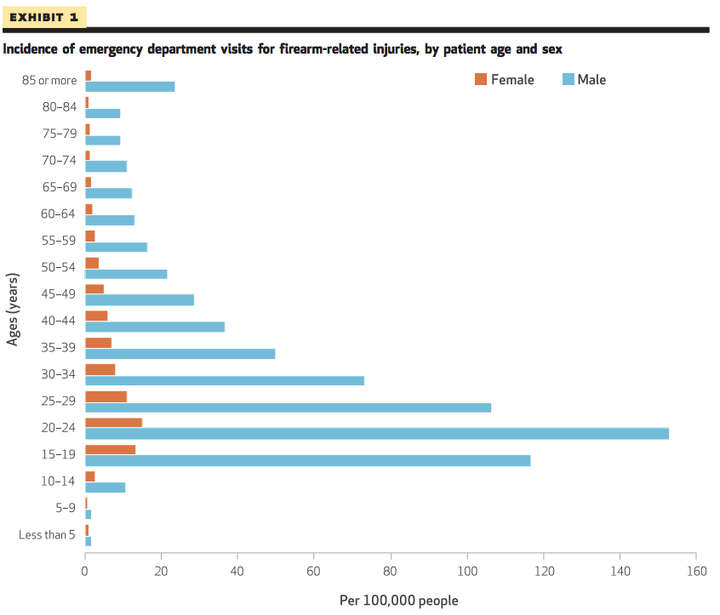 People who attempted suicide tend to be older, richer and have a mental health disorder
Most of the people who were shot were victims of assault (49.5 percent) or unintentional injury (35.3) percent, while attempted suicides made up 5.3 percent. However, the proportion of deaths was higher among suicide attempts. People who were most likely to commit suicide were those over age 65 and earning in the highest income quartile.
People who attempted suicide had, at 40 percent, the highest rate of mental health disorders. This is an important point to emphasize, Sakran said, as people tend to link mental illness to gun violence specifically in the context of a mass shooting like in Las Vegas.
In fact, the data shows that mental illness is highly correlated to suicide by firearm, and those incidences are increasing. The proportion of victims with a previously diagnosed mental disorder grew over the course of the study, from 5.3 percent to 7.5 percent.
Even with Sakran's groundbreaking study, however, the research may in fact be undercounting the burden of gunshot wounds, as the data doesn't account for people who died before reaching the hospital, or who simply didn't go to a hospital for treatment.
Despite this, he hopes that it can paint a more accurate picture of where we are as a nation in terms of firearm injuries and deaths, and where we need to go.
"It really breaks my heart to see such unnecessary injury and death," he said. "At what point do we say enough is enough?"
Related
Before You Go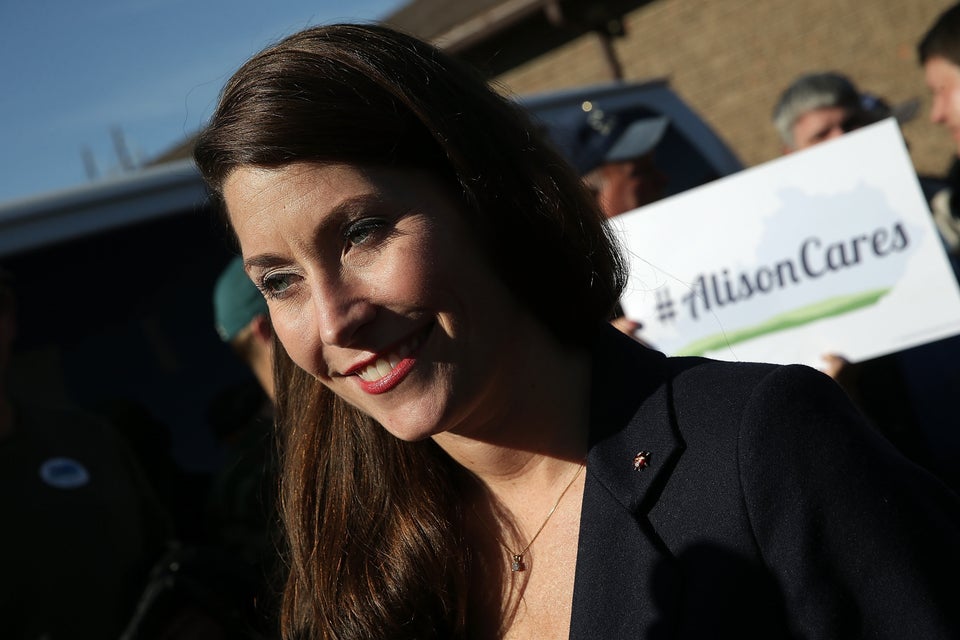 Guns In Campaign Ads