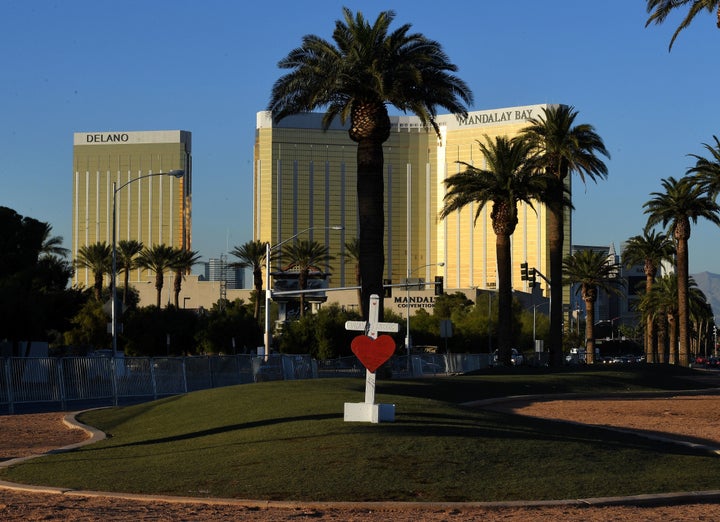 More than a month after 58 people died and more than 500 were wounded in the worst mass shooting in modern U.S. history, the mother of one of the survivors of the Las Vegas massacre is reminding local lawmakers that part of the solution lies with them.
In a gut-wrenching letter to her local representative, Illinois Rep. Ryan Spain (R-Peoria), Anne M. (as she asked to be named) described the harrowing trauma her daughter Hannah suffered following the Las Vegas tragedy. Without stronger gun laws, Anne M. warned, tens of thousands of Americans are set to suffer the same fate.
"As you are gathering with your family during these holidays, I ask that you remember us and all the other families who have suffered losses due to gun violence," she pleaded. "Reflect on the power and responsibilities that your office entails and be prepared to act for positive change when the new legislative session begins."
"Anne M." told HuffPost her story and that of "Hannah" on the condition of anonymity. She lives in a region of Illinois that she describes as anti-gun control and is fearful for her family's safety following the shooting. Additionally, her daughter is employed by one of the companies involved with the music festival and was not authorized to speak publicly about the incident. We've identified them both by the pseudonyms they used in the letter to the state lawmaker.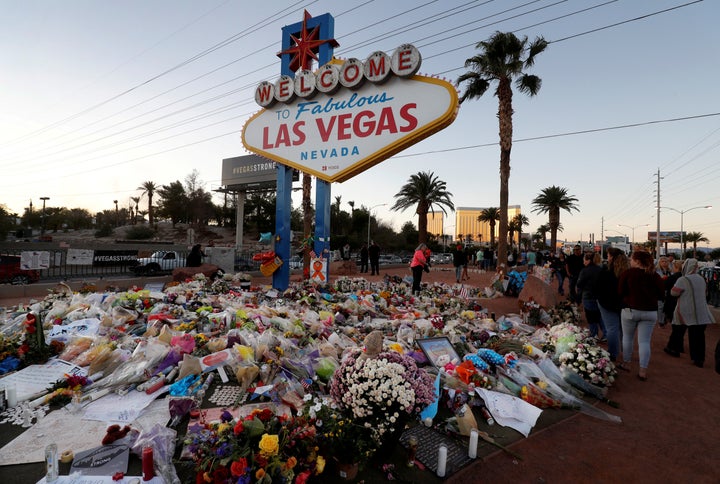 Hannah had been preparing for the Route 91 Harvest Festival, a three-day country music fest that drew tens of thousands to the Las Vegas Strip, for days. On Oct. 1, she was working from a trailer near the stage when gunman Stephen Paddock unloaded hundreds of rounds into an unsuspecting crowd listening to Jason Aldean perform. At first, Hannah thought the popping sounds were the sound system experiencing problems. Then it dawned on her she was hearing rapid gunfire blasting overhead.
Hannah barricaded the doors of her trailer, turned off the lights, computers and audio equipment. She huddled under the tables, fervently texting her colleagues to see if they were safe. Outside she heard crying and screaming as dozens lay dying.
"I am safe. Many dead," she texted her family from the trailer.
Hannah stayed hidden in the trailer for about an hour, eventually making her way out of the venue with the help of law enforcement. She was later released and escorted to another hotel to rest. As morning broke in Las Vegas, she took a photo of the sunrise from her hotel room and texted her mother.
"I never thought I'd live to see this day."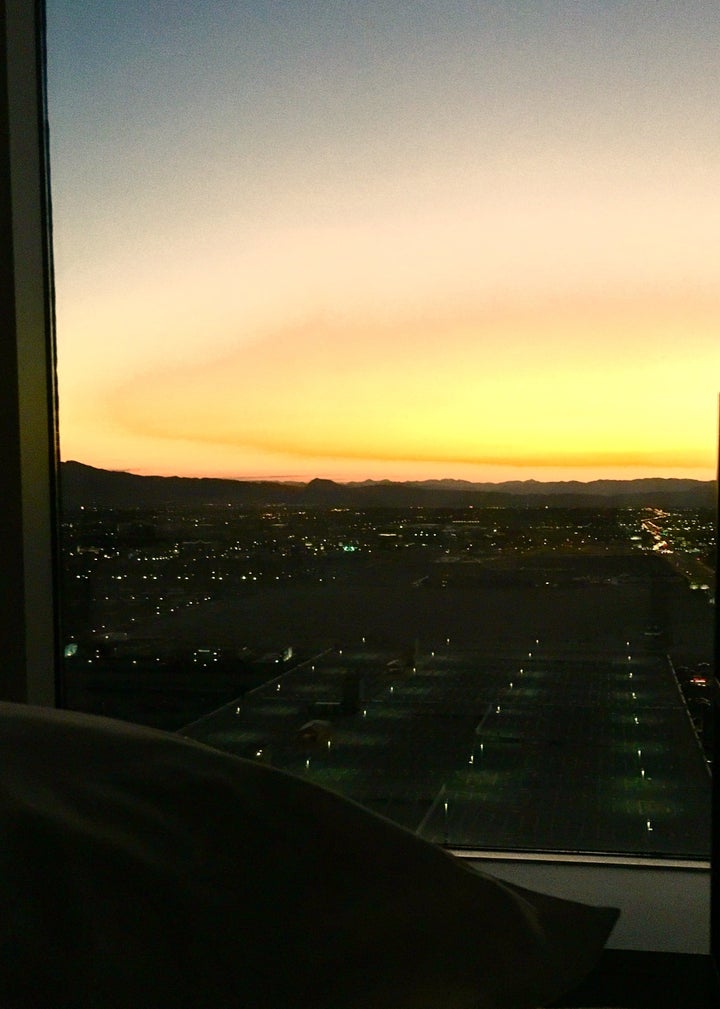 By the following afternoon, Hannah was on a plane back home. But once back in Illinois, she had trouble picking up her life.
"In many ways I feel like every bullet that didn't physically hit me, because none of them did, all hit me mentally and emotionally," she told HuffPost. "If you could do a fictitious scan of my head, it would look like Swiss cheese, because they all went through me on some level."
Profoundly haunted by the killings, Hannah would come home from work and collapse in her mother's arms, recounting the details of the shooting, over and over again. She'd complain of chest pain and had trouble breathing. Being in public became stressful, and being near strangers frightened her. The sounds of dogs barking and children laughing were too much to bear.
One evening shortly after the shooting, as fireworks popped off during the halftime show of a school football game nearby, Hannah burst into tears and became panicked ― she didn't hear fireworks, she heard gunfire, and she was instantly pulled back to her trailer at the festival hearing instead the bullets flying. Anne had to pull Hannah into the bathroom and turn on the exhaust fan, to drown out the fireworks, and hold her daughter as tight as she could.
Anne, a former therapist, recognized her "bright, happy, spunky girl" was suffering from severe trauma and found her a therapist who specialized in treating post-traumatic stress disorder.
Watching her daughter suffer the effects of the shooting made Anne keenly aware of the trauma that tens of thousands of Americans ― gun violence survivors and the members of their families ― go through.
The only way to prevent the trauma is to stop the shootings, she argues. "We can no longer deny that mass shootings are a terrifying, nearly daily part of American culture," Anne wrote in her impassioned letter to Spain. "We have allowed assault rifles to become weapons of mass destruction in our everyday lives."
"Our schools, hospitals, concert venues and churches are now all battlefields," Anne wrote.
Despite numerous high-profile massacres involving firearms in recent years, from Aurora to Sandy Hook to Orlando, Congress has not passed meaningful legislation that could prevent another mass shooting. And while lawmakers briefly voiced support for a restriction on bump stocks following the Las Vegas shooting, the devices that facilitate rapid firing are still legal. Any hope for a legislative fix was dashed when the National Rifle Association issued a statement urging the Trump administration to address the matter via existing regulations and not new laws.
Gun rights activists consider gun laws in Illinois to be strict. Gun owners are banned from carrying handguns that are visible to the public, and those with concealed carry permits are banned from bringing their firearms into schools, public parks and government buildings. Still, bump stocks remain legal, and the semi-automatic firearms that Paddock used during his rampage are as well. The state's legislature has adjourned for the year without passing any new gun control legislation.
Anne is trying to change that. She's starting locally, with her state representative. "Until and unless stronger gun laws with thorough background checks are in place, our country is not safe," Anne told Spain. "Not for my Hannah. Not for [Spain's daughter] Eleanor. Not for any of us."
Rep. Spain told HuffPost in an email that he received Anne's letter and found it to be "heartfelt and impactful" and that it gave him an opportunity to take time before the state's next legislative session to find common ground on gun laws. "Out of strong respect for what her family has been through, I am looking for opportunities to work together toward addressing the scourge of mass-shootings on our society and that is what I told [Anne M.]. She asked me to take time to think about this issue and I am doing so."
Hannah hopes that, at the very least, making her story public will remind the nation of what she and the thousands of other people ― numbers that are growing ― who have been been hurt by gun violence are living through and to keep remembering it. And in doing so, perhaps Americans will decide they've finally had enough and fight for safer gun laws.
"Nobody should have to experience this. Whether you're 7 years old at Sandy Hook or 55 years old at a country music festival, there's real action we can take. Somebody's right to a gun should not be more important than anyone's piece of mind."
Before You Go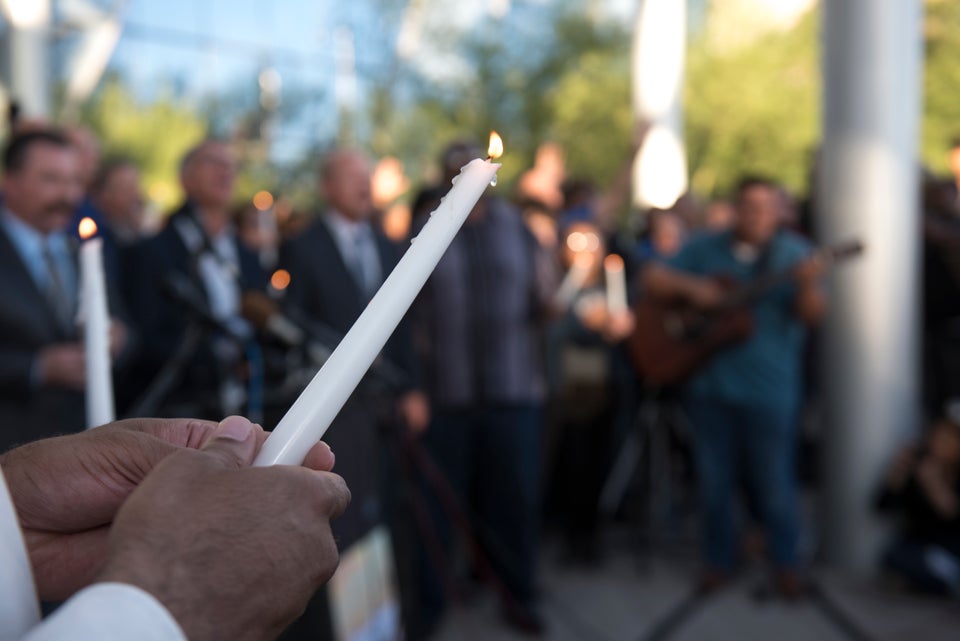 Las Vegas Vigils
Popular in the Community