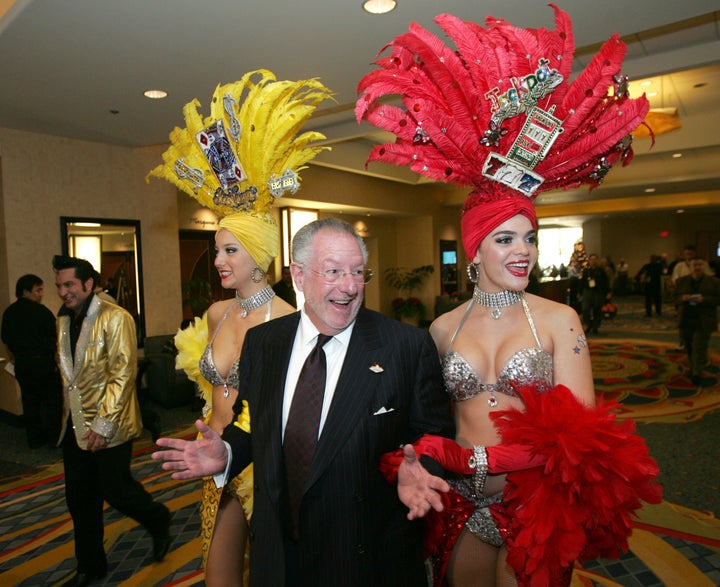 Day Twenty Nine: Monte Carlo ($76)
Oscar Goodman doesn't approve of my new shoes. "You always wear sneakers?" he asks, peering across his over-ornamented desk at my bright orange Chucks. "I only own one pair of shoes," I explain. And I do: the price of living permanently out of hand luggage. But Goodman isn't satisfied: "You can't dress up for the mayor?"
"I can't dress up for funerals."
I could have picked a better comeback, and a less well-connected person to be snarky to. This is, after all, the man who once suggested that an unsympathetic news producer should have her legs broken, and who sat by as a columnist critical of one of his friends was chased from a Four Seasons by the mob.
The fact that the mayor was drinking with the mob in the first place is a less remarkable aspect of the story: before becoming mayor, Goodman was a high-profile defense lawyer, representing old school characters like Meyer Lansky, Anthony "Tony The Ant" Spilotro and Frank "Lefty" Rosenthal. If you've seen the Scorsese movie Casino, you've seen Goodman: He played himself, defending a mobster played by Joe Pesci Robert De Niro.
"So what made you turn your back on that life and become mayor of Las Vegas?" I ask.
"I ran out of clients," he explains, with a shrug -- "they all died or went to jail."
Still, sitting in his wonderfully over-the-top Las Vegas office, Goodman looks like a man who was born to be mayor of Las Vegas. His desk, the floor, and any other available surface are packed with memorabilia of the town, from life-sized showgirls, to mayoral poker chips to a curious little shine celebrating Zappos' Tony Hsieh. It's a mayoral office, as designed by TGI Fridays.
"Oh please, says the mayor, "it's better than TGI Fridays... "
"Bennigans?" I suggest -- I'm flying slightly blind when it comes to the hierarchy of American restaurants.
"How about PJ Clarke's?" he suggests.
Deal. Although feigning offense over dress codes and the classiness of his office is a bit much coming from Goodman: This is, after all, the man who accepted $100,000 from Bombay Sapphire Gin to be its spokesman (he donated the money to charity) and then told a group of schoolchildren that his hobbies include "drinking Bombay Sapphire gin" and that the item he would take to a desert island would be "a bottle of Bombay Sapphire gin."
Whether schtick or genuine irreverence, Goodman's personality does the trick for Vegas voters: He's nearing the end of his third and final term -- a term he won with 84% of the vote -- and is only calling it a day due to Las Vegas' term limits. The lead candidate to replace him? His wife. "We're a team, and there's a lot I still want to achieve -- her becoming mayor will allow us to finish what we started."
"So you think she'll win?" I ask.
"Yes," he laughs, predicting she'll get 65% of the vote. The polls seem to bear out his confidence.
Less verifiable than his -- and his wife's -- popularity are Goodman's actual achievements over the 12 years he's been in office. On the face of it, his seems to have been a mayorship as written by Aaron Sorkin: getting nothing done in a highly entertaining way, leaving behind a proud legacy of soundbites. In 2003, the readers of the Las Vegas Review Journal voted him "Least Effective Public Official" (that same year he was re-elected with 86% of the vote) while Chris Giunchigliani -- who is rivaling Carolyn Goodman in the mayoral elections -- "defined Oscar Goodman's legacy as two blocks of new nightclubs on Fremont Street and the beginnings of a club scene in the downtown Arts District."
In response, Goodman points proudly to the regeneration of downtown Vegas and the city's emerging arts scene, both of which began during his time in office. And yet he is quick to credit the likes of Michael and Jennifer Cornthwaite -- and other members of Vegas' "creative class" -- for much for the work, which echoes what Jennifer Cornthwaite told me last week: that those regenerating downtown don't want too much involvement for the city, lest everything get bogged down in red tape. Goodman takes credit only for providing "a little leadership," including waiving liquor fees for some venues in the Freemont East and Arts districts.
So, if that's the finished business, what does Goodman consider unfinished?
"I'd like Las Vegas to have a major league sports team," he says. Goodman has tried a couple of times to attract a big team to the city -- including making a formal offer to San Diego Chargers to relocate -- but so far he's been rebuffed. "I have three weeks," he says "and it still might happen -- I have a couple of meetings lined up."
Another as-yet-unrealized Goodman proposal is for the creation of a red-light district in Las Vegas, to provide a safe place for the prostitution, which everybody knows exists in the town.
"What?" says the mayor in mock horror -- "prostitution in my town?"
"Let me guess, you're... "
"...I'm shocked, shocked... "
Goodman is hard not to like. "Ok," I say, "but you are at least proposing a red-light district."
"I'm saying it's something we should discuss."
Goodman's unwillingness to admit to the town's reputation for paid-for sex is curious, but unsurprising. One of the things that puzzles -- or perhaps amuses -- me the most about Las Vegas is its tangled web of moral contradictions. This is a town in which anyone can get married in an hour, but in which the law demands that even the tackiest chapel must have a formal religious affiliation. It's also a town in which you can drink 24-hours-a-day, or watch girls get naked for money, but not at the same time.
"Aren't all the contradictions a bit weird?" I ask.
"Yes they are. Las Vegas is a tale of two cities. Along with the fun side, as mayor, I'm the advocate of two million squares."
I laugh. "And yet they still vote for you, these squares. These people you call squares."
"Being a square isn't a bad thing," the mayor insists, "it's a compliment to be called a square."
"It's hip to be square?" I ask.
So the chances of getting a red-light district built in the city are roughly zero, then? "It won't happen in my lifetime -- even though it's safer [than the current blanket ban on prostitution, and denial that it exists], it will bring in revenue... "
It might even get rid of the card-flickers from the Vegas strip, I suggest. "They're not my problem," Goodman points out. "I'm the mayor of Las Vegas [most of the strip is not actually in Las Vegas, but rather neighboring Clark County] -- in fact I didn't even know what was on those cards until Piers Morgan told me."
He is keen to draw the same "not-my-problem" distinction when I ask him about the city's financial woes: "You can't argue with the fact that hotels aren't getting built, that people are broke and unemployed... " I suggest when Goodman waxes bullish on the city's recovery. "Actually, I can argue with that," he says, "the hotels not being built are on the strip, and the houses... have you been out to Tivoli [a shopping, office and dining development that opened last month]?"
I haven't. And of course I've made the classic mistake of the rookie public prosecutor coming face-to-face with the veteran defense attorney; arriving at the argument woefully unprepared. I knew that unemployment and foreclosure rates in Las Vegas were high -- but I didn't have the hard numbers to hand. Goodman, on the other hand, was able to list half a dozen examples of how Las Vegas is pulling out of recession.
And so then it was the mayor's turn to cross-examine me. Did I go to school in the UK or the U.S.? Which school? What did I study? Law! His face lights up.
The English legal system seems to be a minor obsession for mayor Goodman, mainly for the showmanship of it all.
"I went to the Old Bailey in London," he says, "I wanted to put on a wig. I think I'd have looked good in a wig in Casino." I promise to try to get him a barrister's wig when I'm next in London.
For all he enjoys being mayor, Goodman clearly spends a lot of time reliving his past courtroom glories. "Do you miss the mob?" I ask him. He doesn't hesitate.
"I do. I miss the old ways, when a man's word was his bond and you could go to sleep at night over a handshake.
"The corporations had taken over by the late 1980s -- now you can have a file of contracts this big," -- he raises his hand chest-high -- "and they still mean nothing."
It's safe to say that the mob also appealed more to Goodman's sense of theatrics than any corporation ever could. On my way out, I spot a big brown lump, lying on his couch. "Holy shit, is that a horse's head?"
"Yes it is," -- he's beaming now -- "it was a gift. Originally it was covered in fake blood -- I had to use my wife's nail polish remover to clean it up."