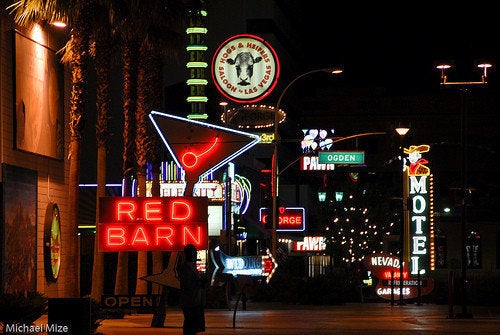 Hey, big spender. Think a weekend in Vegas means blowing your life savings at the blackjack table? The glittering Strip may conjure up images of slick card dealers, Dom Perignon, and Demi Moore rolling around on a hotel bed covered with hundred-dollar bills, but you can live it up in Sin City on a low-roller's budget.
Cheap sleeps on the Strip
There's no way around it: a suite at the
or one of the impossibly hip hotel rooms at the
will cost you. But right next door to the high-end resorts are affordable casino-hotels where "standard" rooms are surprisingly spacious and come with above-average amenities from flat-screen TVs to soaking tubs. Our picks for value lodgings along Las Vegas Boulevard? At the family-friendly
, steeped in old-school Vegas history and featuring a gorgeous pool complex, high-season rooms range from $67 to $150 per night. Over at one of the largest hotels in the world, the
, you can take advantage of the fact that the property is undergoing a multimillion-dollar style overhaul: just ask for an "unrenovated room" and you'll pay a mere $65 per night, plus tax and the dreaded resort fee (see below).
Savvy clubbing
Don't be fooled by inflated cover charges: you don't have to shell out all your hard-earned cash to strut your stuff on the dance floor at Vegas' most happening nightclubs. Contact a club promoter like Chris Hornak of
by phone, text message or e-mail. Depending on the night and the number of people in your party, he'll arrange for free or discounted VIP passes and expedited entry for your party. Women in particular can benefit from the insiders' know-how: clubs often run promotions inviting women to drink champagne for free from 9 p.m. to midnight. Too dazzled by the neon lights to plan ahead? Keep an eye out for more club promoters hanging around the resorts' casino floors: If you're well-dressed, they'll offer you free passes to the clubs they represent.
Downtown deals
You can always go downtown -- especially if you're looking to soak up some vintage Vegas vibes (and save some cash). Once glamorous and later a sleazy, booze-soaked quarter where you wouldn't want to be caught after dark, Las Vegas' downtown is making a comeback. In addition to the brand-new
and the sustainably built
, downtown is home to stylish but inexpensive ethnic eateries and budget-friendly hipster dive bars. After a stroll through the campy (and free) Fremont Street Experience, go for drunken noodles at the new Le Thai, then have a $5 cocktail at Fremont East's fireplace-lit Griffin's or the retro Beauty Bar. Hotels within stumbling distance include the sophisticated
, where rooms run from $49 to $159, and the charming
, where rooms start at just $36 a night and Buffalo Bill's one-time stagecoach is parked outside to help you get into the Wild West spirit.
Happy hour
Instead of splashing out for full-price dinner or drinks, take advantage of generous happy hour specials at the resorts' bars and restaurants. At Red Square at
, for example, where a headless Lenin statue marks your arrival and the main bar is a huge block of ice, killer vodka cocktails and Russian-inspired small plates go for just $5 each during the "Five for Five" happy hour (4-7 p.m. Mon-Fri, 2-7 p.m. Sat and Sun). Elegant restaurants nearby offer similarly wallet-friendly specials: at Aureole, cocktails are two-for-one in the wine lounge everyday from 5:30-7 p.m. and at the poolside Verandah at the
, Italian-inspired hors d'oeuvres and wines by the glass cost just $5 from 4-7 p.m. daily.
Thrifty theater tickets
You came all the way to Vegas to see Cirque du Soleil, Penn & Teller, or -- guilty pleasure -- Celine Dion. But don't drop your poker earnings on full-price tickets until you've stopped by one of the Tix4Tonight kiosks around town: the discount ticket purveyors offer same-day sales on most of the big production shows.
Extra tips for penny-pinchers
The bad news: on the Strip, resort fees run from $15 to $25 a night at most hotels. The good news: parking is free. Save further by opting out of pricey breakfasts and in-room internet access: You can't go wrong with a $2 coffee and free wi-fi at Starbucks.
If you're gambling, drinks are free. Just be sure to tip your cocktail waitress, or she won't come around again.
Related