For both his children and millions of his fans, the dedication of Sammy Davis Jr. Drive in Las Vegas on Tuesday, September 29, 2015 is a fitting commemoration of the legacy of the legendary entertainer and a living reminder of the lasting contributions he made to the city he loved. The intersection of the newly named avenue (formerly known as Industrial Road) with Frank Sinatra Drive and Dean Martin Drive also pays symbolic tribute to the historic "Rat Pack" that did so much to build Las Vegas into a thriving destination.
Known as "Mr. Show Business," Sammy had a storied career beginning in vaudeville at age 3. His major credits include the hit songs Candy Man and What Kind of Fool Am I, Broadway plays Golden Boy and Mr. Wonderful and the Rat Pack film Oceans 11.
"My father was the true American dream," explains Manny Davis, Sammy's son and administrator of his estate. "He had little education and had enormous adversity to overcome. He put himself through the fire because he had something to prove to himself and to society that nothing could keep him down. Some people were not as courageous to stand up to the oppression of his time. But Sammy did, and he gained the respect of all of his peers, white and black, men and women."
"The dedication means a lot to our family because Vegas wasn't always town that was tolerant of African Americans. Dad had to go through the back doors and got substandard treatment at all times. Frank Sinatra saw the dehumanization, and the Rat Pack all took a stand. Thanks to their courage, Sammy helped integrate the city, and the impact on the Civil Rights Movement reverberated throughout the country."
Manny also sees his father as a trailblazer not only in civil rights but also as an artist and a style maker. "The glamorous lifestyle that is so familiar in the lives of entertainers and movie stars of today was all but forbidden and uncool for African American artists before my father's time. It started with Sammy Davis, Jr., and I love the fact that he did it. He showed that an African American superstar could work with anyone. The sky was the limit. His music is timeless and will always speak to me and millions of others because he came from a time when the words to the music actually meant something. Every time I listen to a song of his, I feel the truth in the words, and it makes me cry. It seems like it applies directly to my life."
Manny believes the timing of the Las Vegas ceremony twenty-five years after Sammy's death coincides with a new surge to bring his life's work to new audiences. A feature film, a Broadway musical, documentaries and a new biography are on the drawing board. "We get offers but not all deals are good deals, so we have to be selective. There's always talk of a movie based on his life. I think it would be a tremendous challenge for an actor because Sammy was so talented at so many things, singing, dancing, acting, comedy and more. I'm glad that no one expects me to be like Sammy Davis, Jr. because it's damn near impossible. Anyone who is going to play his role is going to have to do his homework. He'll have to be really good."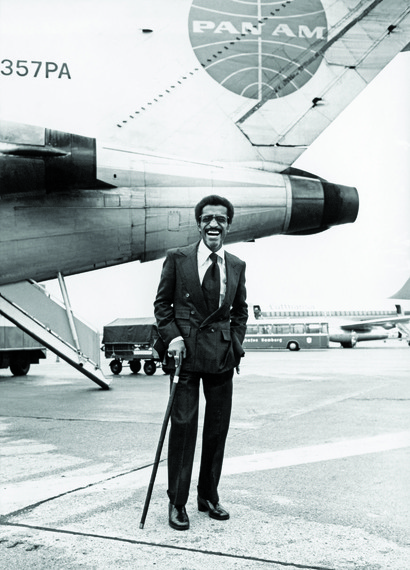 Calling all HuffPost superfans!
Sign up for membership to become a founding member and help shape HuffPost's next chapter