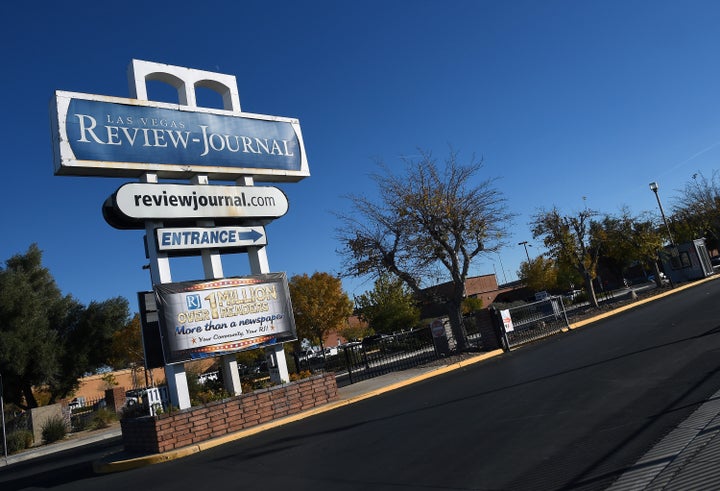 Around 1 p.m. Wednesday, reporters at the Las Vegas Review-Journal believed they had nailed down the identity of the person who secretly bought their newspaper a week earlier for $140 million -- a mystery that had captivated media watchers across the country. They learned that Patrick Dumont, a Las Vegas Sands Corp. executive, had orchestrated the deal at the behest of his father-in-law, Sheldon Adelson, the billionaire casino magnate and Republican power broker.
The problem was, they couldn't publish it.
At least not yet. If the story had been about any other company, it would've been quickly posted online. But given the in-house sensitivities, editors continued working on the story and sent it to the publisher around 3:30 p.m. local time to get his clearance. The publisher was flying at the time, so the reporting team had no choice but to wait, along with much of the newsroom that congregated around the city desk in anticipation.
For nearly four hours, staffers told jokes, like how the new owners would probably pay them in poker chips. They watched as Fortune magazine reported Adelson was the buyer, though without the details of the arrangement their story included. They looked at the speculation streaming on Twitter about what Adelson, the 82-year-old Las Vegas Sands chairman, planned to do with Nevada's largest media outlet. They considered what they'd tweet when they finally got the publisher's go-ahead.
"I was going to turn off my cellphone for a while," Howard Stutz, an 11-year veteran who covers the gaming industry, recalled of that anxious period. Stutz said he and his colleagues already had the buyer's name and information ready to go. "We pretty much had to ignore at that point what the other outlets were doing," he said.
The Review-Journal published its blockbuster story -- co-written by Stutz, James DeHaven, and Jennifer Robison -- online at around 7:30 p.m. The report appeared on the front page of Thursday's print edition (along with a statement from the Adelson family inside the paper). Robison tweeted a picture of herself, holding a poker chip alongside giddy colleagues.
"Every day, we were like, we can't let someone get this first," Robison said, describing the mounting pressure to unmask the new owner. "We don't want to see this in the LA Times or The Wall Street Journal."
"We needed to be the one to report it," Stutz said. "It's about our journalists."
Though Review-Journal staffers believed it was their duty to reveal the new owner, a representative for the Adelson-controlled secret entity that bought the paper saw otherwise.
On Thursday afternoon, Michael Schroeder, a Connecticut-based publishing executive identified as manager for News + Media Group LLC, told Review-Journal staff members in a meeting that the undisclosed backers wanted them to focus on their jobs. "Don't worry about who they are," he said.
As journalists, of course, their jobs require uncovering new information.
"That's when our reporter caps came on," Robison said of Schroeder's remarks. "That's a challenge. That's a dare. We shifted modes into finding out who owned us at that point."
Stutz and Robison wrote a story the night of the sale that included Schroeder's comment, along with concerns from editor Michael Hengel about the lack of transparency under the secret ownership setup. The Review-Journal published the story online, and the presses were running for the print edition when publisher Jason Taylor ordered those quotes from Schroeder and Hengel to be removed. The publisher's command prompted concerns in the newsroom that reporters would be blocked from actually breaking the news of who owned the newspaper. (Taylor has not responded to requests for comment since Saturday).
Deputy editor James Wright said Taylor's decision was "problematic," but "well within his rights as the publisher." Wright said he believed the remarks Schroeder made in a public setting were "fair game" to be quoted.
"There was never any doubt that we were going to report the story and do so as fully and and independently as we possibly could," Wright said. "The question was going to be how much we could actually get published. We still have stuff we want to get published that we're not able to. At the same time, that's the way it goes. We don't own the press."
The Review-Journal team had reason to believe Adelson had owned the press since Friday, though they had been unable to confirm it. They knew that Adelson had tried buying the paper before, and they had discovered business ties to Schroeder, who they also learned was staying in a suite in Adelson's Venetian hotel last week.
DeHaven reported Friday night that the unknown buyer spent $140 million on the Review-Journal and several small papers -- a sum nearly triple what the flagship paper had fetched in a sale just nine months earlier. DeHaven followed up Monday with more details pointing to Adelson, but still not confirming him as the buyer. (That same day, about two-dozen Review-Journal staffers tweeted the Society of Professional Journalists' "Code of Ethics" in protest of their new owner's lack of transparency).
Wright said it became stressful in recent days as competitors pounced on the mystery, which had become a hot topic on social media as Republican presidential candidates headed to the Venetian Tuesday night for a debate on CNN. Former Florida Gov. Jeb Bush visited the Review-Journal editorial board that day and joked that maybe rival Donald Trump was the buyer.
"Obviously we wanted to report this first," Wright said. "It was our paper and our story. When you don't know who your owner is, there are questions about your ability to do your job, be objective. We felt like we had to have that first to maintain our credibility.
"We pushed and pushed and pushed and got the story," said Wright, who added that the Adelson family, to its credit, didn't squash the report.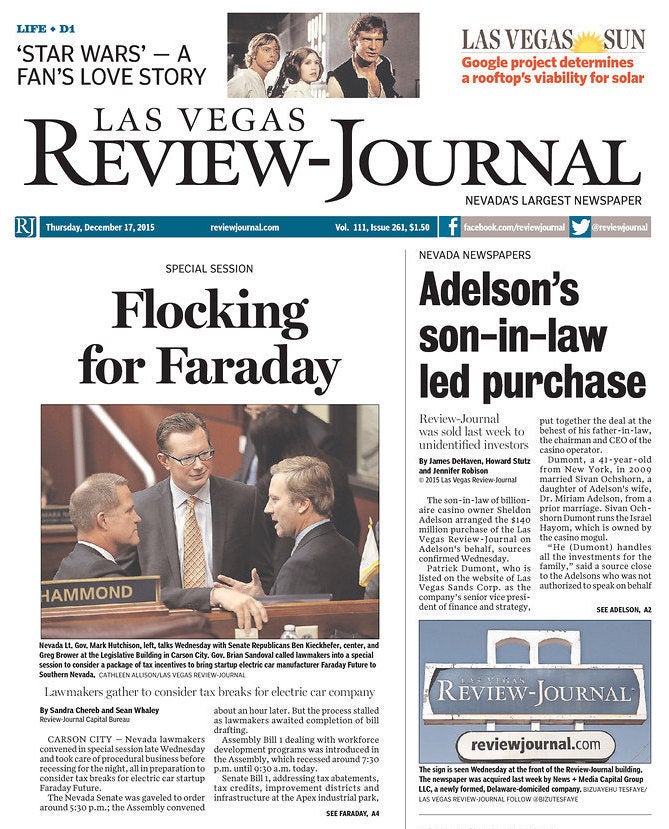 Robison said "there's really no way to compare" the past week to her previous 10 years at the paper. "It was incredibly stressful, incredibly tense," she said. "In the end, we did our jobs and we did them the right way."
For DeHaven, the Adelson story will be his last at the Review-Journal. He recently accepted a statehouse reporting position in Helena, Montana. In a Nov. 30 note to the staff, DeHaven praised his soon-to-be-former colleagues' journalistic chops.
"You might not know what a relief it was to have landed here," DeHaven wrote. "This place is a refuge for real journalism. In a world of still-shrinking newsrooms and ever-expanding opportunities for 'native ad content,' you guys have curated a thriving habitat for reporters and editors who do not kowtow to advertisers and do not mind upsetting the status quo."
Wright said he doesn't intend for the newsroom to have an adversarial relationship with the Adelson family. But in this instance, covering the newspaper's purchase was "just doing what journalists do."
"We hope Mr. Adelson understands that what he bought was not an extension of his public relations office, that he bought some pretty independent-minded journalists who are not going to simply take no for an answer, are not going to roll over, and are going to stand up for the ethics of our profession," Wright said.