 (Repeats story first sent on Friday)
By Joseph Menn and Peter Henderson and Farah Master
SAN FRANCISCO/MACAU, Aug 24 (Reuters) - Las Vegas Sands allowed a man identified by the U.S. Senate as an organized crime figure to move a $100,000 gambling credit from a Las Vegas casino to one of its Macau casinos, according to documents that emerged in the wake of a lawsuit filed by a former Sands employee.
The cooperation with an alleged crime boss could draw the attention of Nevada gambling regulators, who are charged with stopping casinos from bringing "disrepute" on the state, at a time when Sands is the focus of several government investigations.
Sands, controlled by billionaire and prominent Republican party donor Sheldon Adelson, is under investigation by U.S. and Nevada regulators for payments that raised bribery concerns under the Foreign Corrupt Practices Act. Evidence in a wrongful termination lawsuit by a former Sands China chief executive spurred the probes.
An internal list of customer accounts reviewed by Reuters shows a $100,000 credit moved from Sands' Venetian Las Vegas to the Sands Macao on Jan. 31, 2009, for Charles Heung Wah Keung.
Heung, a film executive and successful businessman, is the chairman of China Star Entertainment, a company listed in Hong Kong.
A 1992 U.S. Senate subcommittee probe into Asian organized crime identified him as an officer of Sun Yee On, one of the triads, the Chinese organized crime groups known for everything from racketeering to loan-sharking to prostitution.
His alleged triad links were also cited by a member of Nevada's Gaming Control Board at a 2007 hearing about an employee of another casino, according to sources familiar with that board investigation.
A former actor, Heung has been candid about his family's links to triads in the past but has staunchly denied personal involvement. He has corporate interests spanning entertainment, tourism, gaming and film production. He has never been convicted of being a triad member.
His secretary said on Friday that he was "not accepting interviews for the rest of the year."
Sands in court papers described such customer lists as bookkeeping credits rather than actual transfer of funds.
In the court papers, Sands said its practice was to advance credit to a customer in one location to reflect funds that the customer had deposited at another property. Money did not move overseas, but credit was made available overseas, it said.
While the transfer of a credit for a client might not in itself raise problems, it could have regulatory repercussions if the client in question is linked to organized crime, since Nevada regulators have broad authority to take action against casinos whose associations bring the state into "disrepute."
Court papers show that Sands had conducted its own investigation of Heung, but a spokesman for the casino declined to discuss the reason for the probe or what it found and would not comment on Heung at all.
"Protecting the privacy rights of our guests is an important customer service function, so we have no plans to disclose, confirm or deny the names of any of our customers," a Sands spokesman said in a statement on Friday, adding that the company reviewed the suitability of customers with public and private databases.
People familiar with Sands noted that Heung has regularly gambled at other casinos in Macau, as well as Sands.
In an interview with Reuters earlier this year, Manuel Joaquim das Neves, director of Macau's Gaming Inspection and Coordination Bureau, said he had read press reports alleging Heung held high status in a triad but said they were "only rumors."
Still, the $100,000 entry shows Sands was involved in the United States with a man whom U.S. authorities have identified as an organized crime figure.
"This is not good," said Nelson Rose, a Whittier Law School professor who has advised casinos and state regulators. "With people who are known associates of organized crime you shouldn't be doing any business with them, but at the very least you shouldn't be transferring any money for them."
He said the Nevada Gaming Control Board, which has the power to seek management changes or even local license suspension, would be compelled to take some action because the transactions originated in the state. A Gaming Control Board official didn't respond to a request for comment.

LEADING THE WAY INTO MACAU
Sands' controlling shareholder, Adelson, led the charge by U.S. casinos into Macau in the past decade with a vision of building an Asian Las Vegas that is coming true.
A key partner in Adelson's effort was Steve Jacobs, who was hired to run the Macau operations in 2009. He was credited by management with turning around faltering operations and then was fired in July 2010 after clashing with Adelson.
Jacobs, the former president and chief executive of Sands' Macau operations, exceeded his authority and conducted "improper acts," Sands says.
Jacobs sued Sands, charging that he was unfairly dismissed. He said that Adelson wanted him to hire a government official, something that Jacobs said risked breaking U.S. anti-bribery law. Jacobs also said Adelson wanted to have local officials investigated for information that could be used against them. A hearing in the case is scheduled for next week.
The trove of internal documents and testimony Jacobs has released have spawned official investigations and industry speculation.
Jacobs obtained a list of $68 million of transfers or credits for customers from Macau to Las Vegas, and he presented the list as part of his argument that his case could be heard in the United States, since the operations were linked.
Jacobs blocked out client names, but Reuters obtained the list with client names and a further list of $40.5 million of credits in the other direction -- Las Vegas to Macau -- from a casino industry source.
Jacobs' lawyer did not respond to a request for comment.

The list of customer accounts also shows Sands cooperating with local Macau gambling industry companies in the United States, an extension of the relationship that has not previously been reported.
There are several entries for so-called junket operators, which find and offer credit to VIPs in Macau, on behalf of others. At least one junket is tied to Heung, former Sands employees say.
It is not clear from the papers what role the junkets were playing in Las Vegas, and Sands would not discuss it.
The former Portuguese enclave of Macau is the only legal place to gamble in China and has rapidly become the largest casino market in the world, with gambling revenue topping $33 billion last year, several times more than that of the Las Vegas Strip market.
In some ways Macau seems like the Vegas of decades ago. U.S. casinos privately have complained of the influence of organized crime on the money-lending junket operators who bring high rollers to Macau.
"Casino operators regret the growing power of 'junket' operators in mainland China that account for most of the Macau casinos' earnings," one U.S. consulate official reported in a 2008 Wikileaks cable obtained by Reuters through a third party. "They believe the operators are directly or indirectly involved with organized crime in Macau and the mainland," it said. It did not mention Heung.
Despite such misgivings, junkets are an integral part of gambling in Macau, including Sands' U.S.-based rivals Wynn Resorts and MGM Resorts International, because gambling debts are not legally enforceable by courts on the mainland. Junkets bring in gamblers from the mainland and then find their own ways to collect debts.
Former Sands operatives told Reuters that Heung served as a guarantor of debts for one junket named Sat Ieng Sociedade Unipessoal Lda. Guarantors play a critical role because casinos won't do business with the junkets without a backer, and in both Macau and Nevada such backers are supposed to be free of criminal ties.
The identities of guarantors are not ordinarily publicly disclosed, and Macau regulators said that the key backers of the junkets can be hard for them to discern.
Sands itself declined to comment on the extent of its relationship with Heung.
A $1 million credit for Sat Ieng was moved from a Sands property in Las Vegas to one in Macau on Feb. 1, 2009, the day after Heung's $100,000 transaction, the new records show.
According to Sands' explanation of the credit transfer process in the court documents, Sat Ieng's transaction may have been on behalf of junket customers who played in both countries.
Sands has been doing business with Sat Ieng in Macau since 2006, according to financial analysts and media accounts. The South China Morning Post reported in 2006 that it controlled eight high-roller tables at the Sands' private Shanghai Room and accounted for 35 percent of the casino's $17.95 billion in VIP chips. Sat Ieng could not immediately be reached for comment. (Additional reporting by James Pomfret in Hong Kong; Editing by Claudia Parsons and Leslie Adler)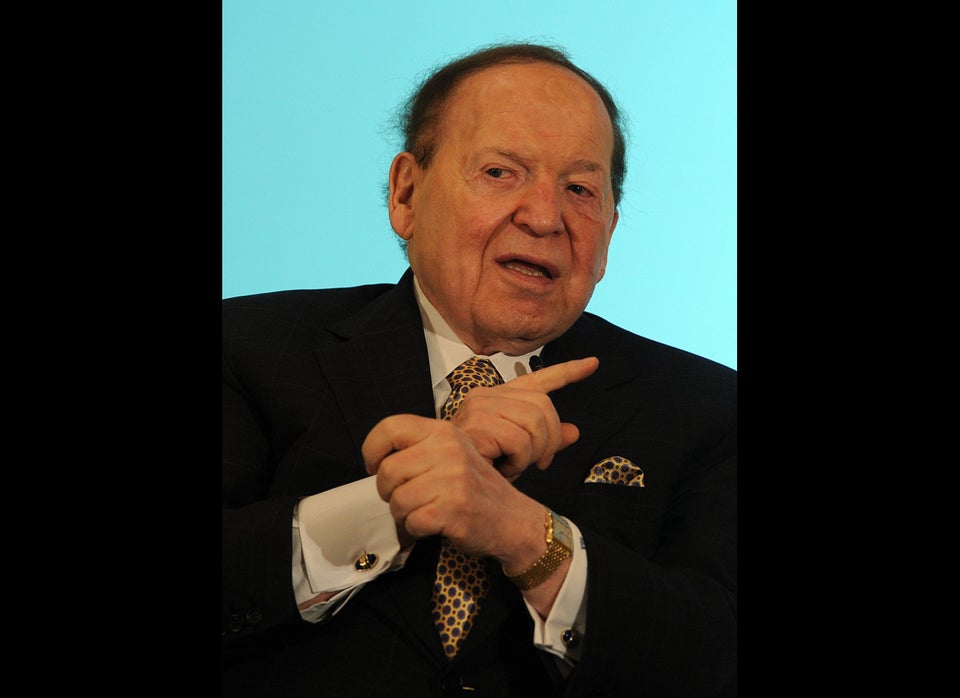 Donors Giving $500,000-Plus To Super PACs