Names: Hannah Ching & Nina Thomasian
Occupation? Hannah: writer / copywriter, Nina: visual designer / art director
Preoccupation? Coffee, design and travel.
How long have you lived in Las Vegas? Hannah: forever! Nina: six years
What is the best thing about Las Vegas? This is a city that never sleeps. There are always places to grab an awesome taco or a drink with friends pretty much any time of day!
Can you sum up Las Vegas? The moniker "Sin City" is really based on an illusion. Real people actually live here in Las Vegas, beyond the glitz and glamour of The Strip. This is a city built on big dreams by even bigger risk takers, and that's what makes it such a dynamic and interesting melting pot.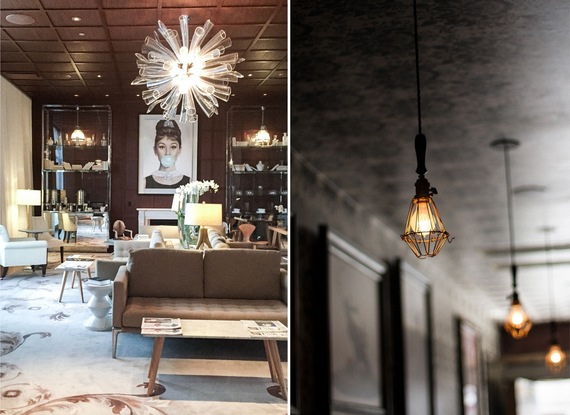 What is a perfect day in Las Vegas? We get some pretty spectacular sunsets here in the desert. A perfect Vegas day would kick off on a Friday during the spring or fall, right around dusk when the sky is lit up in majestic pink, purple and orange, the promise of a relaxing weekend on the horizon.
What are the people like in Las Vegas? One could say that this town is full of hustlers and dreamers. People from all over the world move out here in the middle of the desert to take their chance with Lady Luck, to stake their claim on their own version of the American Dream. It's a town of communities - from Green Valley to Summerlin to Downtown Las Vegas; residents here are truly making this city whatever they dream it to be.
If Las Vegas was a person or character, who would it be? Hmm... that's a tough one. Vegas represents so many things, depending on who you ask. If we were going off of the "Sin City" persona of Las Vegas, then this town would be personified as someone who is over the top, open to explore new things and isn't afraid to bet big to win big. Las Vegas would be that daredevil friend who lives in the moment and is always the first one to take a dare head on--completely bold and unapologetic. There's definitely still an element of the Wild West that is alive and well here in Las Vegas.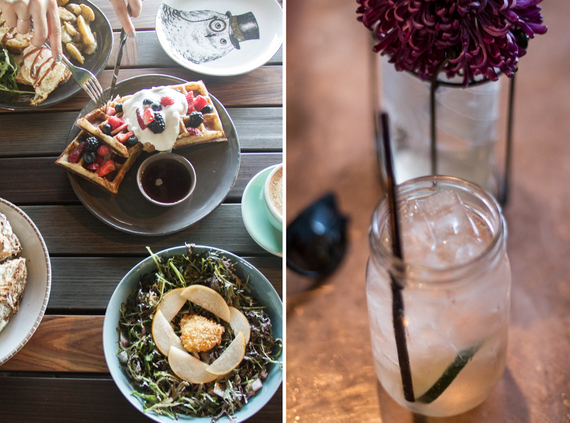 What was your impression of The SLS Las Vegas Hotel? As soon as you enter the SLS, you're greeted by the charm of Vintage Vegas with a unique twist on classic Vegas glamour that resonates throughout the property. From the truly distinct and authentic design elements to the bright and uniquely decorated rooms, SLS Las Vegas certainly feels very stylish and contemporary - a refreshing addition to the iconic North Las Vegas Strip!
What was your experience like staying at The SLS Las Vegas Hotel? The VIP Lounge staff were very friendly and accommodating. They made us feel welcome from the second we arrived. Our room was spacious and gorgeous, making the stay super comfortable. We dined at a couple of the restaurants in the hotel, our favorite being Cleo, a unique, Mediterranean-inspired eatery where the flavors are enhanced by an atmosphere of Old Hollywood charm.
If your best friend was visiting Las Vegas for 24 hours what would you have them do?
Morning: Start the day off right by treating yourself to a luxurious spa treatment. You're in Vegas, might as well go all out right off the bat! The Ciel Spa - known for being chic yet comfortable - at SLS Las Vegas is a great option. Make an appointment prior to your stay and treat yourself to an indulgent poolside cabana massage or a relaxing facial.
After the spa, you've probably worked up a nice appetite. Brunch is something us Las Vegans take rather seriously. There are lots of great options on The Strip but if you're up for a local fave, head over to DW Bistro, 20 minutes west of The Strip. Their chilaquiles and bottomless mimosas are perfect for kicking off a Saturday or Sunday in Vegas.
Afternoon: Head back to the Strip and enjoy a little retail therapy at the Fashion Show Mall. It's a great way to spend an afternoon, especially in the summertime when it's far too hot to walk around outside!
Evening: Just a short drive from The SLS Las Vegas Hotel, Downtown Las Vegas is the place to be for a chill and low-key night out with friends or to meet new ones. Head over to Park on Fremont for happy hour cocktails ("The Unicorn" is a refreshing choice) or check out the seasonal signature cocktails at the Arts District's Velveteen Rabbit.
Late Night: After a night of imbibing downtown, a late-night snack is definitely in order. Tacos el Gordo is a local favorite when it comes to after-hours grub. Since Vegas is a 24/7 city, you can indulge in pretty much anything your heart desires. Have a hankering for breakfast at two in the morning? Grab steak and eggs for cheap at one of our local casino cafés before heading back to the hotel.