The Las Vegas Metropolitan Police Department has once again changed its timeline of the tragic mass shooting carried out by Stephen Paddock from a corner suite at the Mandalay Bay Hotel and Casino on Oct. 1.
Clark County Sheriff Joe Lombardo said during a Friday night press conference that Paddock shot at a hotel security guard around the same time he was firing on the music festival ― not six minutes before firing at the concert, as was previously believed.
This is the second time this week that police announced a change to the timeline of events for the shooting.
Lombardo had announced another revision on Monday that police believed that Paddock shot hotel security guard Jesus Campos at 9:59 p.m. and began shooting at the festival six minutes later at 10:05 p.m. That timeline replaced the original belief held soon after the shooting that Paddock stopped his attack on the festival because Campos approached the door to his 32nd-floor hotel suite.
MGM Resorts International, Mandalay Bay's parent company, publicly rejected Monday's revised timeline, arguing that the police had based their revision on a report manually created by the hotel "after the fact without the benefit of information we now have."
MGM offered their own timeline on Thursday, saying that "shots were being fired at the festival lot at the same time, or within 40 seconds after" Campos first reported shots fired over the radio.
Lombardo said on Friday that police investigators now agree with MGM's timeline after reviewing additional information.
"The information was obtained via security logs, Officer Campos himself, body worn cameras, hotel cameras...LVMPD dispatch, hotel and private cameras and interviews," Lombardo said on Friday.
In order to gain access the 32nd floor, Campos had to go up the stairwell one more floor, then head back down one floor. He approached Paddock's suite at about 10:05 p.m., which was when police believe Paddock shot Campos through the door. Paddock then fired at the festival for 10 minutes, according to Lombardo.
Lombardo also said Friday that Paddock checked into a free room offered by the Mandalay Bay hotel on Sept. 25 and he stayed there until Sept. 28, when he moved to a corner suite which he paid for. He added his girlfriend's name, Marilou Danley, to that reservation.
Paddock also attempted to shoot nearby aviation fuel tanks, likely to distract first responders during an attempted getaway, Lombardo said.
Officials are still looking for a motive in the devastating shooting, which killed at least 58 people and wounded hundreds of others.
Lombardo appeared defensive and emotional during Friday's press conference.
"There is no conspiracy between the FBI, the LVMPD and the MGM. Nobody is trying to hide anything in reference to this investigation," Lombardo said. "The dynamics and size of this investigation requires us to go through voluminous amounts of information in order to draw an accurate picture."
The sheriff held back tears toward the end of Friday's news conference as he spoke of the police officers who were wounded substantially during the shooting.
Lombardo said he believed that Paddock targeted police officers as they arrived on the scene to protect the public.
"The response of those individuals, I believe, saved lives," Lombardo said after describing the injuries that Officer Brady Cook had sustained. "And the reason I bring this one up, he asked me if he could go back to work today."
Before You Go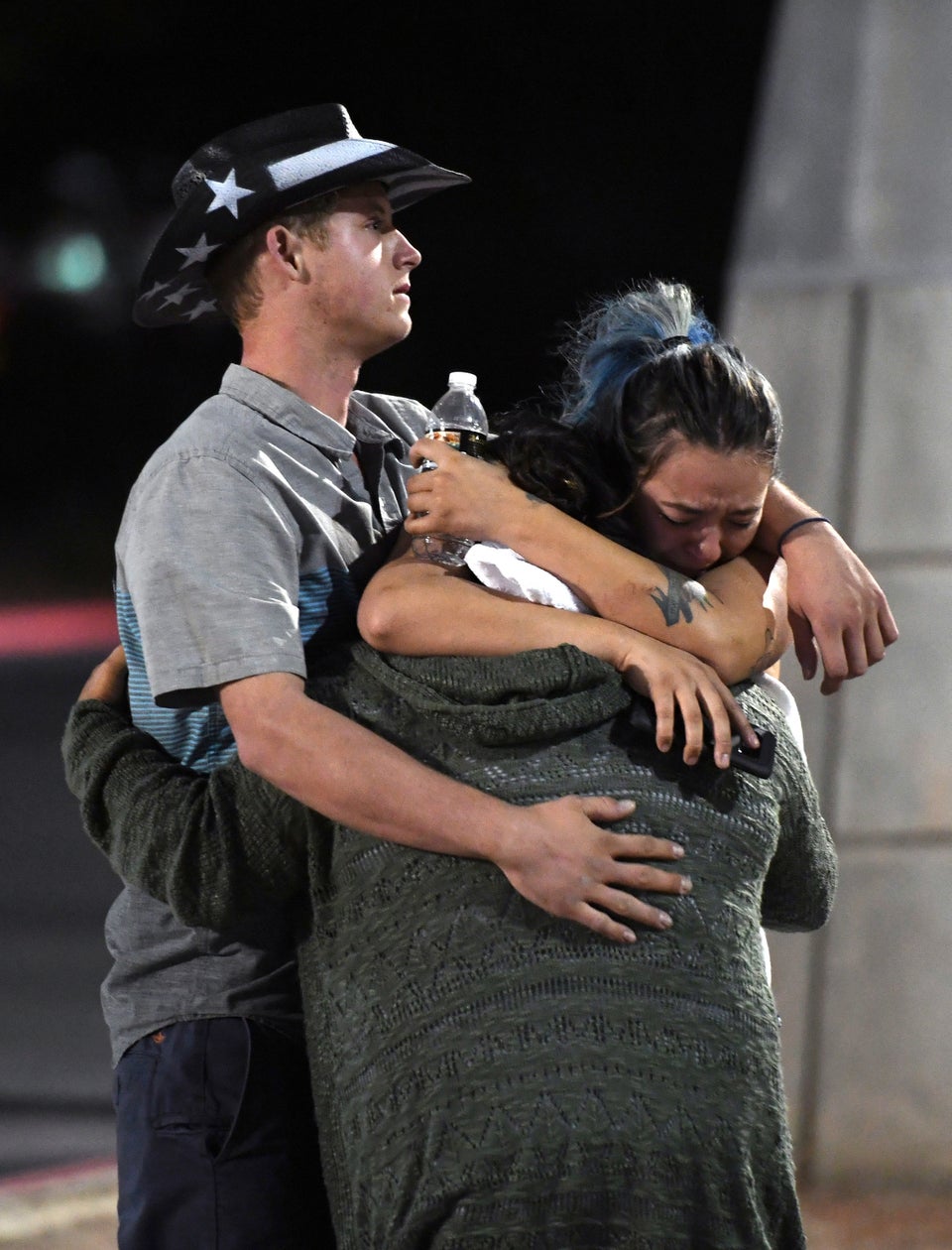 Shooting At Route 91 Harvest Festival In Las Vegas
Popular in the Community