LAS VEGAS ― It was just after 9:40 p.m. when Donny Lee, his wife and some friends watched country superstar Jason Aldean take the stage to close out the Route 91 Harvest festival, a three-day country music celebration that drew fans from around the country to the famed Las Vegas Strip.
Lee's group was among the 22,000 people packing the 15-acre open-air venue for three days of country-tinged revelry in the nation's most prominent party city. Held in a former parking lot near the Luxor and Mandalay Bay resorts, the festival known as the "neon sleepover" billed itself as a relatively intimate chance for country fans to see some of their favorite artists in one place. For many attendees, the early fall gathering — this year celebrating its fourth anniversary — had become an annual tradition. It was the last night of the festival, and the grounds were packed.
"When Jason Aldean came up, we were at our seats, standing there, singing, dancing," Lee, who works as an investigator in the Orange County Sheriff's Department and who was off-duty at the time, recalled. "As we're standing there, we hear the first few gunshots."
Around 10:15 p.m., a few bars into Aldean's 2012 hit "When She Says Baby," a rapid series of pops echoed across the festival grounds. The first few were muted, nothing like the rapid sounds many would have immediately recognized as gunfire.
"My wife looked at me and asked me what it was," Lee said. "I didn't think it was gunshots, because it was too subdued and if it was gunshots it was something small and farther away."
For a brief moment, the bangs went silent.
Cassie Burgoon, who has traveled from Rancho Cucamonga, California, each year to attend the festival with her mom, heard the initial shots as well. "Out of nowhere, everyone heard about five pops and saw a little bit of smoke, and we all looked around thinking maybe it was a firecracker."
"I thought to myself, 'That's weird, why is someone lighting off fireworks in a big crowd like this? That's so dangerous,'" said California-based concertgoer Michaela Gallo.
Aldean continued to play for a few moments before abruptly running backstage. It was then the crowd began to realize something had gone horribly wrong.
"There was a little bit of a pause, I would say 10 seconds, a short pause," Lee remembered. "Then you heard some rapid fire, the first barrage of rapid fire."
″We heard guys behind us say 'Run,' and that's when we knew," Burgoon said. "It just kept going and going. The shots never stopped after those first five."
A chaotic scene on the festival grounds
Chaos broke out as fans scrambled to escape the shots raining down on them from seemingly all directions. Stephen Craig Paddock, 64, had opened fire on the crowd from his suite on the 32nd floor of the Mandalay Bay hotel, roughly 400 yards from the festival's main stage.
Police believe Paddock, who checked into the hotel on Thursday, smashed two of his room's windows with a hammer or similar object, positioned two rifles with scopes on tripods in front of those windows and began firing. He set up cameras inside and outside of his hotel room, possibly to monitor who was entering the hallway. Equipped with more than 20 guns and a large cache of ammunition, Paddock fired off hundreds of rounds in a span of roughly nine minutes. After some time, Paddock is believed to have turned one of his guns on himself, taking his own life before authorities could reach his room.
Down on the festival grounds, people screamed as they fled the stage area, some throwing themselves to the ground to avoid the bullets. Some people crawled, looking for anything they could use to shield themselves. Others made a run for the fences, hauling themselves and others over the barriers separating the grounds from the rest of the strip.
Lee, the off-duty cop, started yelling at people: "We need to go, we need to start moving." Other concertgoers were telling people in the crowd to stay down, but 18 years of experience told Lee he had to keep moving.
"My wife was behind a trash can, and as she's behind it, the trash can got hit by what I can only assume was a bullet, because there was nobody around and the trash can gets jolted away from her," Lee said. "You hear the bullets hitting the bleachers and all around you."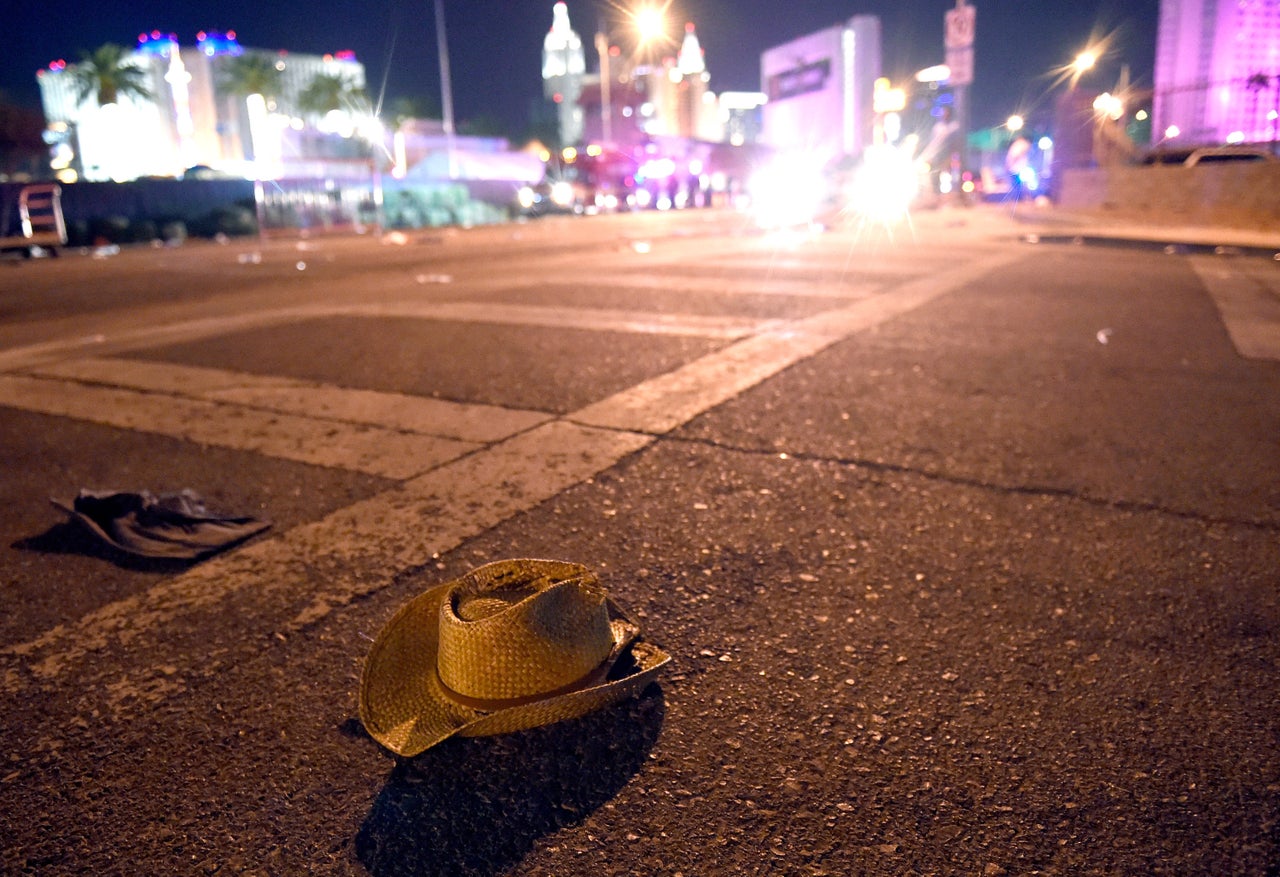 "It was so loud and it just kept going and going," said Shauna Vasquez of Midland, Texas. "We saw a guy behind us drop down and he was shot in the head, so we just all dropped to the ground. His wife was screaming at him to wake up."
"We crawled over people and everything," she continued. She lost her shoes, she said, and her husband had someone's blood on his shirt. "I just remember the faces of the people who were lying there lifeless."
At one point, everywhere Lee looked, he saw people down, bleeding out and severely wounded.
"There were people carrying a female who had obviously been shot and looked like she was deceased," he remembered. "There was another person who was down and had been shot. There were people who were deceased all around us."
"At one point, I thought, 'Why isn't he dead yet? Where are the cops? They should be shooting at him and taking him down!'" Brandi Klemme Quan of Rossmoor, California, told HuffPost. "I had no idea or even thought for a second that [the] gunman was up in his hotel room, shooting at us as we were sitting ducks in that wide open space with nowhere to hide."
Backstage was just as confusing and chaotic. Gallo, who was there to see friends play in the band Big & Rich, was hanging out in the backstage area when she moved to the side of the stage to see some of Aldean's set. After Aldean left the stage, Gallo and her friends sought shelter behind a tour bus.
"We couldn't tell where it was coming from, if it was multiple people shooting," she said. "At times it sounded really close, [at] other times far away. It was very confusing."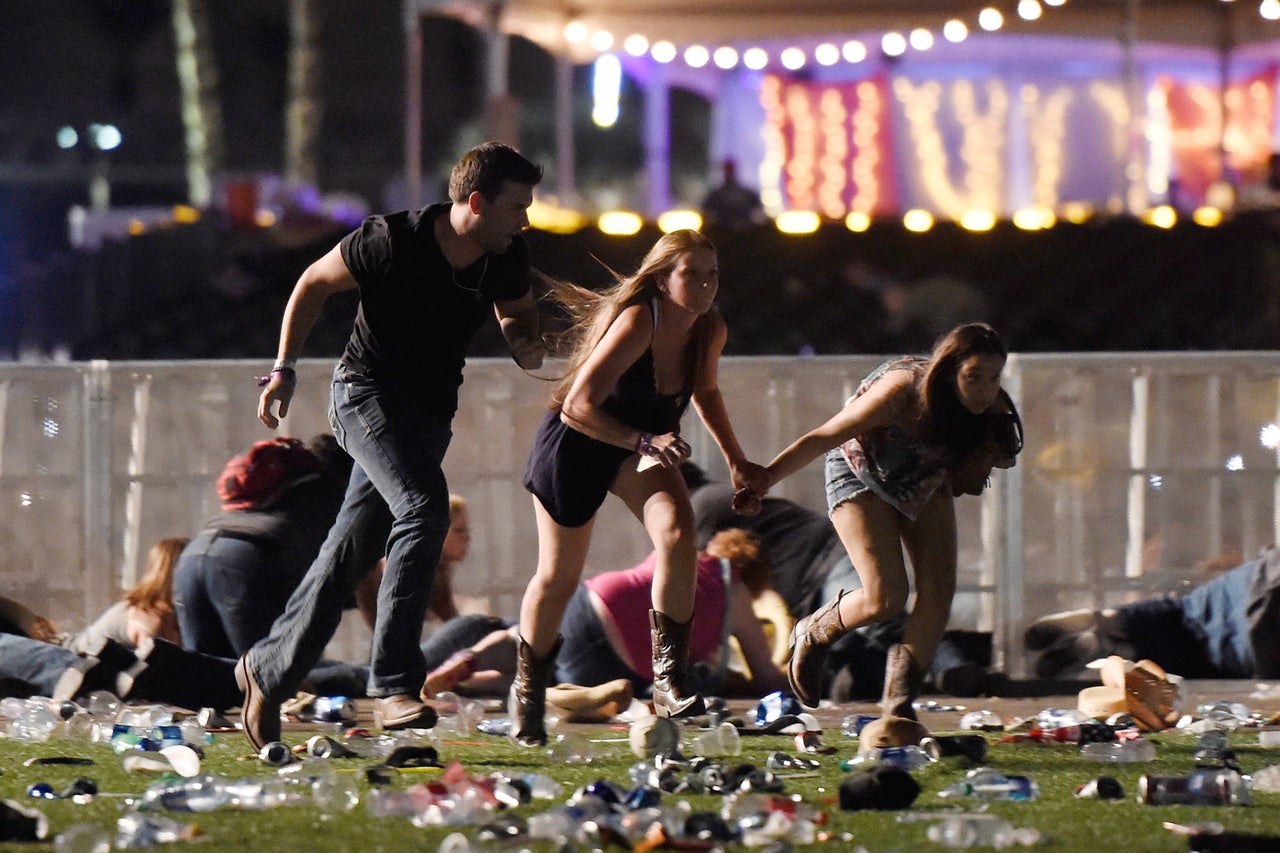 The escape
Police, meanwhile, began to piece together and respond to what was happening.
"It's coming from upstairs in the Mandalay Bay," one officer said on the police scanner. "I see the shots coming."
"Las Vegas Metro Police Department, their officers, were absolutely heroes through this whole entire thing," Lee said. "While everyone was running way, they were running towards that, even though they knew they were outgunned."
Between bursts of gunfire, Lee and his friends were trying to find an escape route, but exits were bottlenecked with mobs of people trying to escape the venue.
"People are running all over the place. No amount of training prepares you for something like this," Lee said. At one point, he and his friends crawled under the bleachers for safety, but he quickly realized they had to keep moving if they were going to survive.
They kept moving, but he wasn't going to head out without some protection, Lee said. He found a two-foot piece of pipe under the bleachers and took it with him "so that I had something in case we ran into somebody as we came around the corner."
Exiting the venue would prove extremely difficult for many. Survivors spoke of entry gates that appeared to be blocked off as the chaos grew, and openings in fences too small for more than a single person to fit through.
Brent Poppen of Paso Robles, California, who uses a wheelchair and was watching the concert from a raised platform reserved for accessible seating, said a "wave of thousands of people" rushed toward where he was sitting when the gunfire broke out.
"You'd hear popping going off with guns, and every time there was a pop it would just cause an influx of hysteria," he said.
With the help of a friend and his wife, Poppen made his way down a ramp, across the rubble of garbage, folding chairs and downed fences strewn about the venue, through a walkway, and eventually back to his hotel, the Hooters Casino Hotel, where other victims also fled to.
"There's literally blood all over the carpet, on the walls," he said. "When you open the elevator doors, the floor was full of blood."
By the time Paddock stopped shooting, he had killed at least 58 people and injured more than 500 others.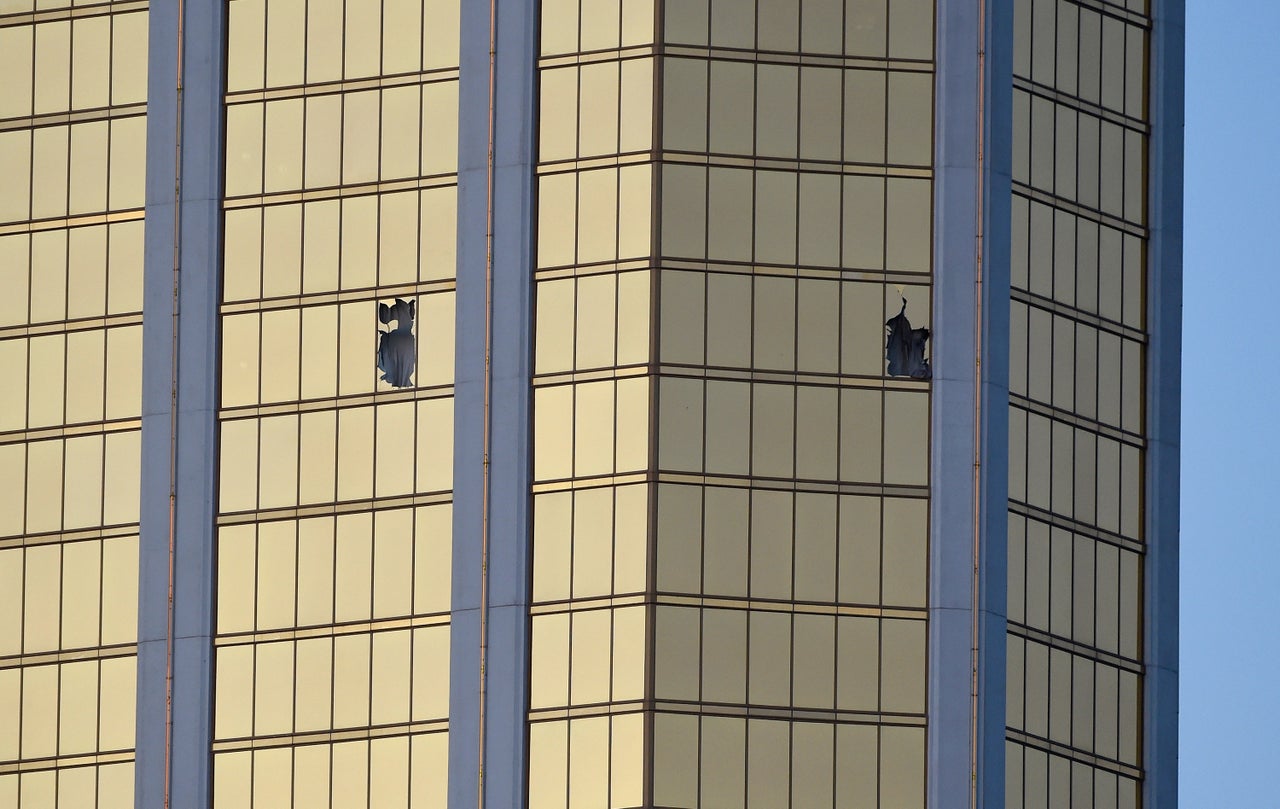 Hotel guests on lockdown
As the shooting unfolded, Mandalay Bay guests were placed under lockdown and given few details about what was going on.
Brian Buonassissi of New York was in his room on the 27th floor when the gunfire began. He and other guests received an automated call on the hotel phones telling them to stay in their rooms with the doors locked.
"I put a chair against the door," he said. "I didn't really know what was going to happen."
By 10:25 p.m., police had figured out which room the shots were coming from and had surrounded the hallway. They breached the room nearly an hour later, and found the shooter dead from an apparent self-inflicted wound.
Those staying on the 32nd floor — the same floor from which Paddock carried out the massacre — were evacuated by SWAT teams.
Other hotels across the city also took in an influx of festival-goers fleeing the chaos on the strip. False rumors spread about multiple shooters across the city and bomb threats at nearby hotels.
"We had no idea what was accurate," Gallo said.
Survivors scrambled to get in touch with loved ones and post on social media to let their friends know they were OK.
"We were just up all night making phone calls," Poppen said. "You don't sleep."
Lee, meanwhile, had run with his wife to the nearby Tropicana casino, still unsure if there were multiple shooters or if the threat was ongoing.
"The information people were giving was all over the place ― security telling you to lay down, telling you to run," he said. "All I knew is we needed to continue moving. So we move through the Tropicana, yelling at people to move, move."
They eventually made their way into the MGM Grand, coming upon an exterior emergency door that an MGM security guard tried to block them from using.
"I sternly told him, 'No, we are going this way,' and I [opened] the door myself," Lee said.
They burst into a high-stakes poker room where no one seemed to know what was going on just down the strip.
"There's bloody people, muddy people, dirty people who are running for their lives, and the people playing slot machines are totally oblivious about what is going on," Lee said. "It was almost like you're running by and they're so entranced by the machines they're playing that they're like zombies, pulling the arms, totally oblivious. It was really a surreal feeling."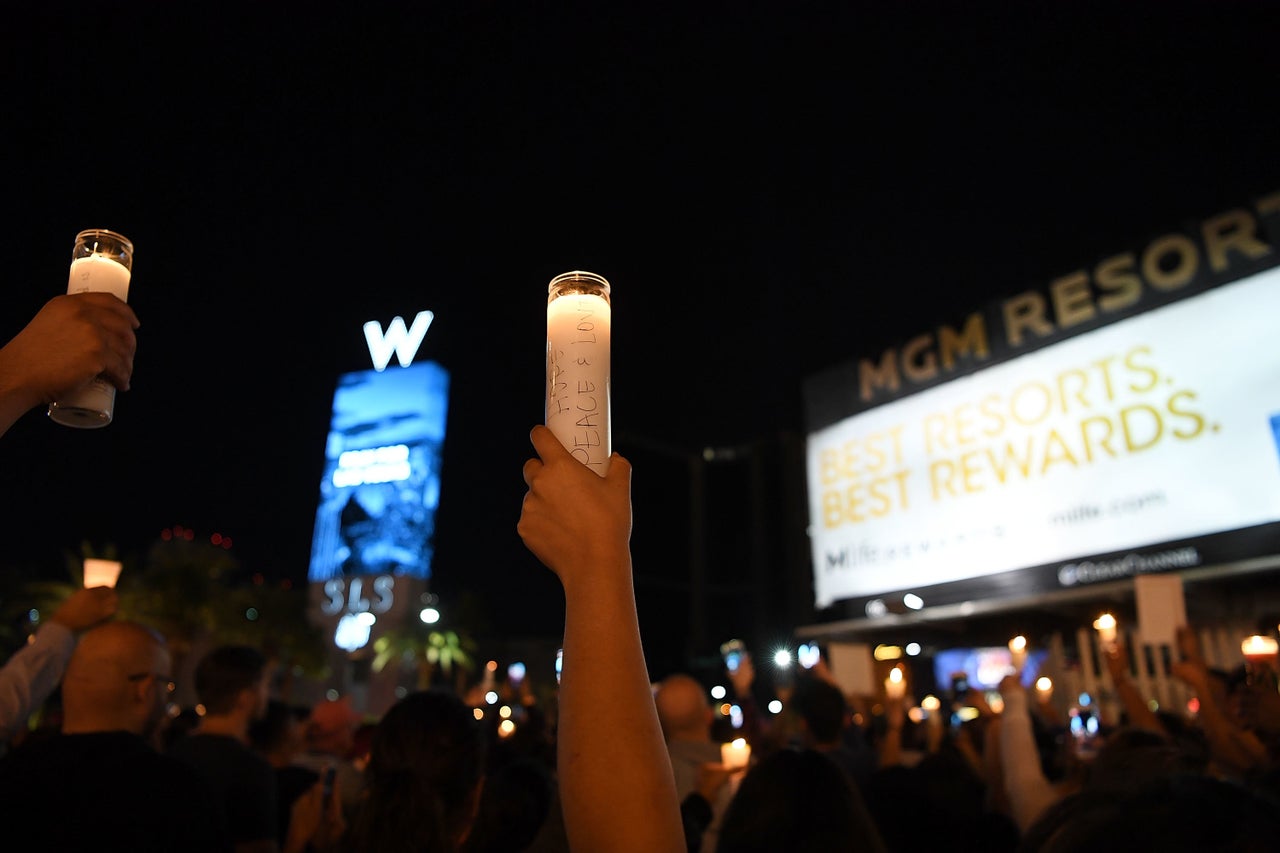 Details begin to emerge about what happened
As Sunday turned into Monday, initial details of the police's investigation emerged. At an early morning press conference, Clark County Sheriff Joe Lombardo said at least 20 people had been killed and 50 had been injured.
By 8:30 a.m., the death toll had risen to 58, while the number of people injured swelled to 515. Police offered more information on Paddock — he lived in an upscale retirement community in nearby Mesquite; he'd frequented Las Vegas hotels and casinos; he had more than a dozen firearms and thousands of rounds of ammo stockpiled at home — but had no answers as to why he decided to carry out the deadliest mass shooting in modern U.S. history.
Police began to identify some of those killed in the massacre. One victim was an off-duty Las Vegas policeman. Another was a grandmother of five.
Some Las Vegans gathered at City Hall Monday evening to hold a vigil, lighting candles to represent each victim.
"Everybody in this community has been so touched by the loss of these lives and the horror of the mentally sick, horrible human being who has taken into his hands devastation and imprinted in our minds forever a day that really doesn't belong in our fabulous, beautiful city," Las Vegas Mayor Carolyn Goodman told the crowd. "We know that we have the resilience to move forward."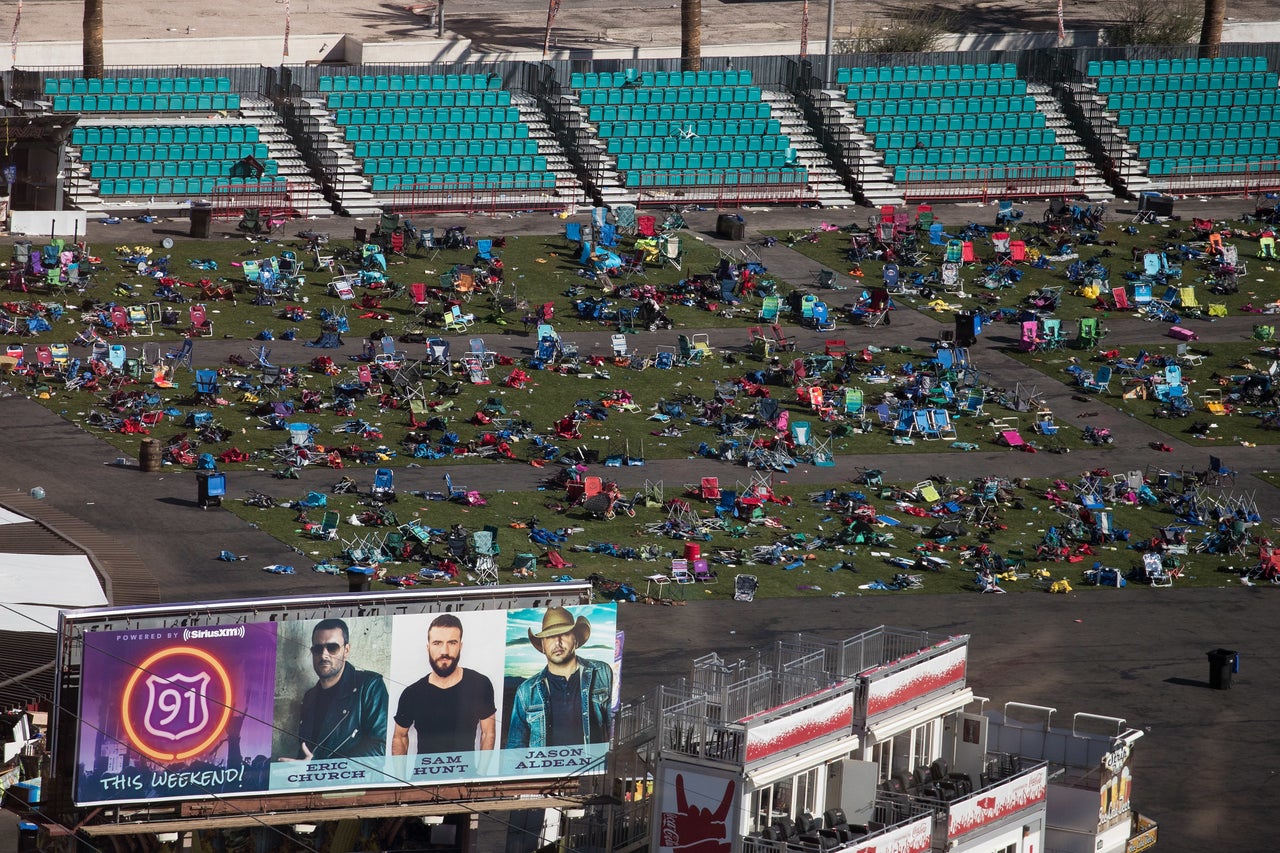 Hospitals quickly overwhelmed by hundreds of patients
At least five area hospitals took in hundreds of victims, calling in reinforcements to help treat scores of traumatic injuries.
Ashley Juste, a trauma nurse who used to work at Sunrise and went to the hospital to help Sunday evening, told CBS News of horrific injuries and frantic family members. According to doctors, the hospital had 30 operating rooms working at once.
"All gunshot wounds. Extremities, ankles, hands, chests, arms, some people who were more severe were taken to the operating room right away because they were very, very critical," Juste said. "A lot of people frantic, asking for their family members, people asking for their spouses... but there's so many people there, no one has a name. Everyone comes under an alias, because there's just too many patients to get names down, so that was very hard."
"There were about 190 people taking up every single bed possible, every single room possible, every single hallway possible," Rep. Ruben Kihuen (D-Nev.), who visited Sunrise Hospital Sunday night, told NPR. "Every single nurse, every single doctor from all over the city came and are assisting a lot of these victims."
Over at University Medical Center, every bed was full. "We had people in the hallways, people outside and more people coming in," Dr. Jay Coates told ABC.
Karissa Barcelo, who lives nearby on the Strip, heard news of the shooting and set off for Sunrise Hospital to see how she could help. When she arrived, the medical center was in "pure chaos," she said.
Barcelo offered to help in any way she could, but was turned away due to the sheer number of people flooding the hospital.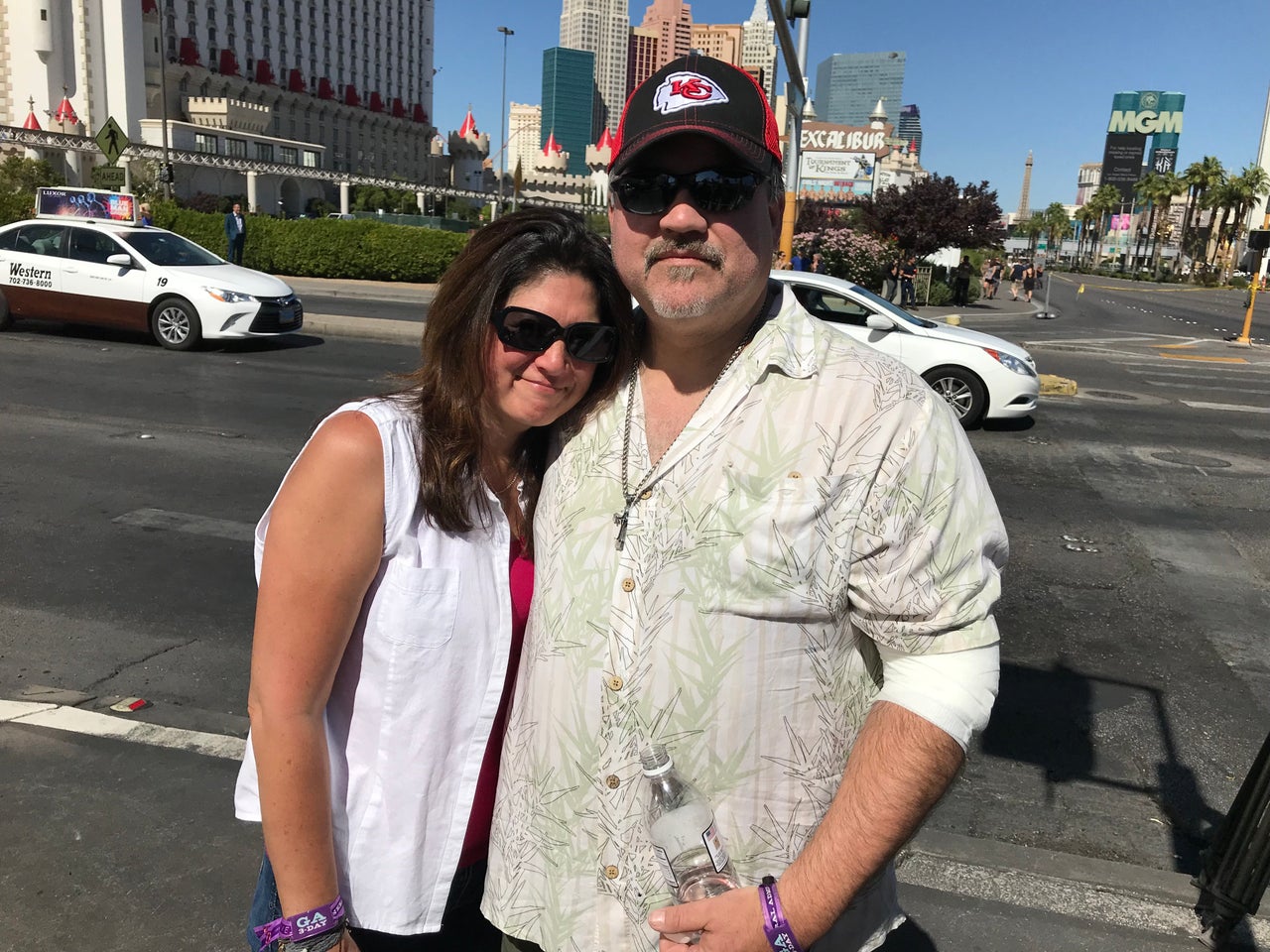 Life in Vegas carries on
On Tuesday, security tightened further at Mandalay Bay and around it. Staff barred reporters and other media from the casino floor. Police and federal investigators surveilled a crime scene consisting of multiple city blocks, leaving some businesses closed and apartment complexes cordoned off within the affected area.
Tourists gathered on Las Vegas Boulevard and on a bridge that crosses it, gawking at the closed-down blocks of the strip. Some visitors took selfies in front of the Excalibur's faux-castle exterior, the throng of media and police, or the towering Mandalay Bay itself, with its two gaping window holes from which Paddock had opened fire. Balloons and bouquets of flowers peppered the streets that remained open. Tourists roamed the boulevard with beers and novelty cocktails. A couple in a rented convertible, phones held aloft, snapping selfies in front of the cordoned-off zone, pulled into a parking lot and shouted, "What happened?"
Among those walking around on the strip Tuesday afternoon were Johanna Ernst and George Sanchez, two survivors of Sunday's shooting. Sanchez was shot in the arm while diving for cover near the sound booth at the festival stage.
The two were eventually reunited outside the venue. The bullet that hit Sanchez is still in his left arm, he said.
"This puts everything into perspective, most definitely. You can't pinpoint one emotion, you cannot," Sanchez said. "We've gone through anger, we've gone through pain, being grateful for being alive of course, the sorrow for all those that are not with us. It's a range of emotions. But most of all we're grateful to be here."

Hayley Miller and Nick Robins-Early contributed reporting.
Before You Go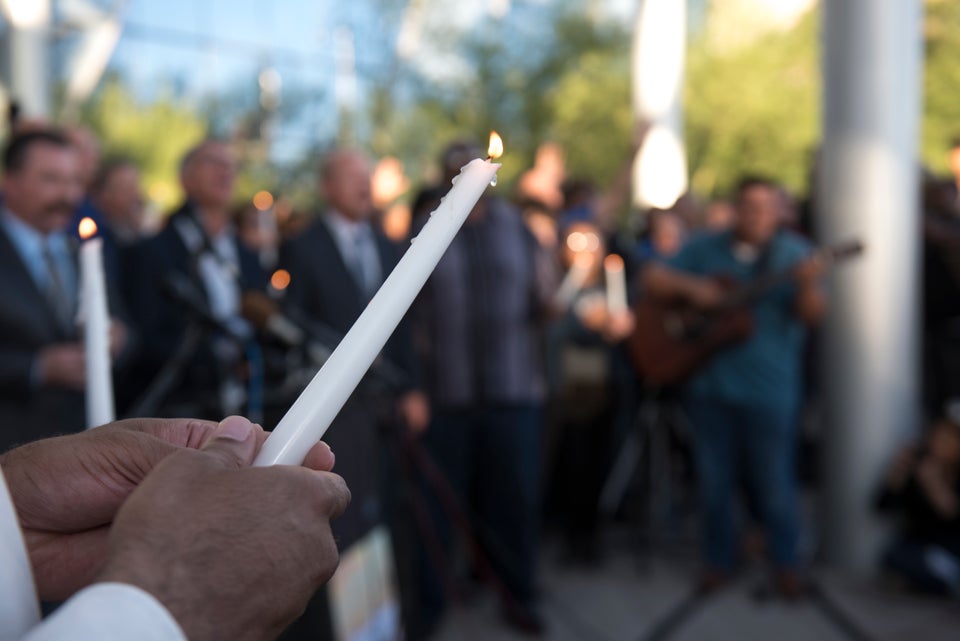 Las Vegas Vigils
Popular in the Community