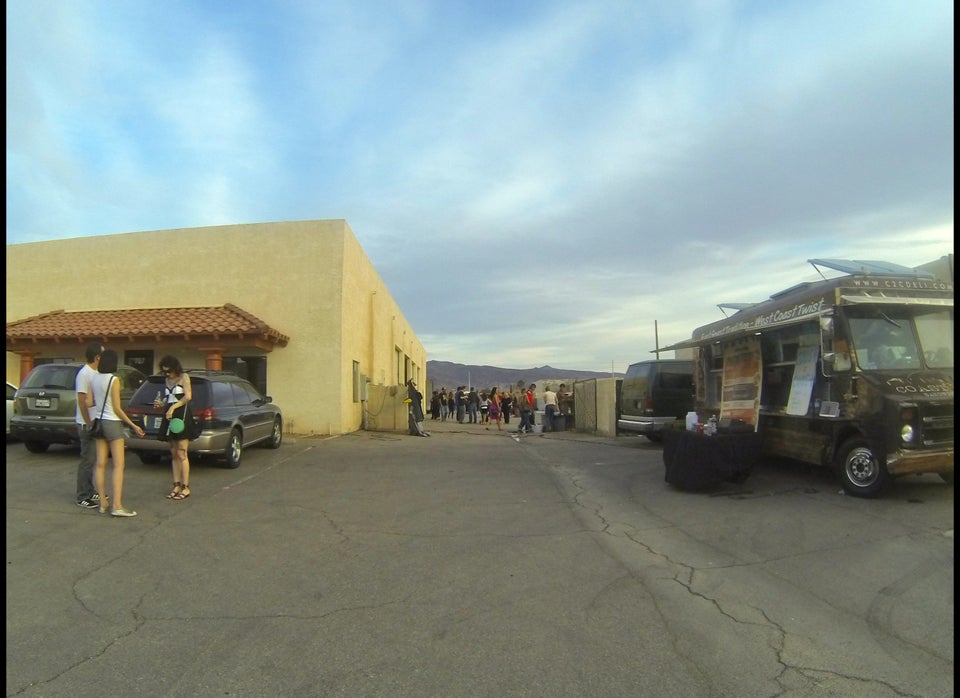 MAS Vegas
A small cul-de-sac in the industrial area of Henderson may seem an unlikely place to encounter a large-scale contemporary art event, but Las Vegas can be full of surprises. As the sky begins to tinge with mauve on this mid-May Saturday evening, a stream of people enter the gates to a sprawling sand-colored warehouse. Through a raised roller door, large canvases can be glimpsed behind a towering wooden sculpture topped with a world globe encircled by small plastic canisters. This sculpture by UNLV graduate Mike 'Vegas' Dommermuth, now residing in Los Angeles, is titled "Orbit".
In geographical art-centric terms, this sculpture could represent the cultural hub of Los Angeles at the center, with Las Vegas and other surrounding cities caught in its gravitational pull. But on this particular evening, Las Vegas is at the center of the universe, with nearly fifty artists having traveled from Los Angeles to install their work at Henderson's VAST Space Projects, in one of the largest ever collaborative ventures between Los Angeles artists and their Las Vegas counterparts.
The MAS Vegas event was conceived by Artra Curatorial, an organization that aims to implement new modes of artist-centric community-building exhibitions. Previous MAS (Mutual Admiration Society) one-night events have been held at the Torrance Art Museum in Torrance, CA and Studio 17 in San Francisco, CA. Artra selects half of the exhibiting artists and the venue curators select the other half, with the actual artworks shown being selected by the artists themselves.
Before investigating the interior, I head towards a small table covered by a red checkered tablecloth, piled high with barbecued brisket, beets, bread and freshly sliced watermelon. Artist Brent Holmes shares out this southern texas-style barbecue that replicates his experience at reunions on his family's cattle ranch in Egypt, Texas, which previous generations have owned and worked for almost 200 years. The video work projected on the container wall behind Holmes, juxtaposes idyllic family scenes on the ranch with a voice-over of Nevada rancher Cliven Bundy reciting his now notorious views on slavery.
As I enjoy the tender brisket, I'm greeted by a yellow and pink painted apparition wearing a blonde wig and red stilettos. I finally realize I know this person, and follow her into a room where body painting is taking place. Artist Wendy Kveck is bringing to life her colorful drawings of ravaged party princesses in collaboration with designer Jennifer Henry of Flock Flock Flock who clothes the princesses in her signature style using repurposed materials. Over the course of the evening, the four princesses become even more tragic and smeared, with layers of painted frosting slowly dripping from their faces.
In the main warehouse space, paintings and video works line the brick walls, some balanced on paint cans and other paraphernalia, as befits the transitory style of the event. Although the artists and curators have brought the works together in only hours, there are also large-scale sculptures and complex installations in the center of the space. There is a raw energy present and an excitement level that is rarely found in traditional art institutions that by necessity are bound by administrative policies and slow-moving processes.
Artist David Sanchez Burr sits down at an electric organ and begins to play. As the music becomes louder and more strident, delicate structures on a light table before him begin to shake and slide as if in an earthquake. Then as the sound reaches a crescendo, they finally topple over the edge and shatter on the floor below. This is pure experiential art.
Later I come across Brent Holmes, who having shared out all his barbecued, is now engaged in conversation with Los Angeles artist Stephen Wolkoff. They are standing around Wolkoff's work -- a large mirror on top of a plinth, supporting a pile of white material. Holmes holds out a small white object to me and jokes "He just gave me cocaine. Don't tell the police!" I now see that the object is a word and the white pile is made up of extruded acrylic paint spelling out 'cocaine' multiple times. Immediately I think of a VICE article I read recently, which asserted people only come to Las Vegas for "Money, free drinks, cocaine, and those nudie flyers they hand out in the street." I ask Wolkoff for his impression of the MAS Vegas event. He replies "I haven't known of Las Vegas as an art city, but there is very cool work here".
VAST Space Projects director and co-curator of MAS Vegas, Shannon McMackin, describes her interest in hosting the event. "The programming of the gallery has focused heavily out of state, particularly LA, so this was a chance to reach out and meet new artists and finally work with the local ones I've forever wanted.... The BYOB spirit of MAS reminded me of the early LA art days of the '90s. This art stuff should always be fun".
At the end of the night I find Artra curator and artist Max Presneill elated by the conversations he witnesses going on around him. The potential of long-term relationship building has inspired him to develop the MAS events both nationally and overseas. He sums up the experience by tapping his chest above his heart. "I like it for this".
Popular in the Community