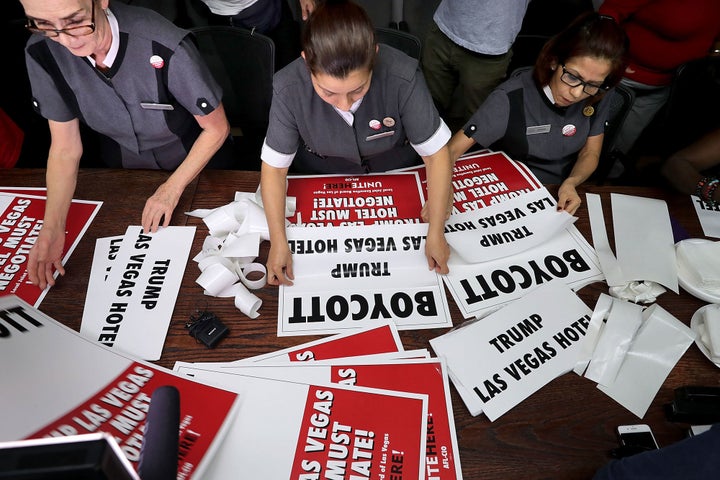 The Culinary Workers Union in Las Vegas is known as a kingmaker in Nevada politics. Their voter registration efforts ahead of Tuesday's elections help explain why.
The union has registered 10,300 new voters among its members and their families since the 2016 election, according to a spokeswoman. The Culinary, as it's known, also helped more than 650 immigrants in Nevada become citizens this year alone.
There is a lot going on in the Silver State that those new voters could influence. Republicans are in danger of losing the governor's mansion; Democrats could potentially win a supermajority in the state legislature; and Republican Sen. Dean Heller is in a neck-and-neck race with challenger Rep. Jacky Rosen, a Democrat who won the Culinary's endorsement.
A majority of the union's 57,000 members are Latino, many of them immigrants who work in hotels and casinos on the Vegas Strip and downtown. In Las Vegas, unlike just about any other U.S. city, the Culinary's organizing success has made union membership the norm, rather that the exception, for bartenders, servers and housekeepers.
As HuffPost reported in June, the union has wielded its size and reach not only to win middle-class wages through collective bargaining agreements, but to influence political campaigns and push for progressive causes on behalf of its members. Voter registration has been a key component of the union's long game.
The Culinary utilizes a rare leave-of-absence program to bolster its political activism: Under their union contracts, workers can take off several months from their jobs to focus full-time on registering new voters, helping immigrants gain citizenship, organizing new workplaces or negotiating collective bargaining agreements. The union pays the worker's typical wages and benefits during the leave, and the worker is guaranteed a job to return to.
The union has also negotiated contracts allowing members to access break areas inside hotels and casinos where they can talk to other workers about political campaigns and upcoming elections, so that the union can mobilize ahead of Election Day.
Geoconda Arguello-Kline, the union's top official, told HuffPost earlier this year that the leaves of absence have become a crucial tool in cultivating new leaders within the union and growing its clout in Nevada.
"We don't know any other way," said Arguello-Kline, a Nicaraguan immigrant and former Vegas housekeeper. "For us, it's a very natural way to survive here in Las Vegas: organize, organize."
The union's current political field team includes 350 union members who are engaged in full-time canvassing ahead of the election. Their motto is, "We vote, we win."
Popular in the Community