I've heard about Cirque du Soleil and wanted to catch one of their shows when I was in Vegas. However, I failed to realize that there are 8 Cirque du Soleil productions playing in Las Vegas showrooms on the Strip. I made my decision on the spot upon reaching the half-priced ticket booth with the help of the promoters. Here, I would like to share some insights of each Cirque du Soleil shows with you so that you won't have to make last minute decisions like I just did (although I am happy with my choice)!
Mystère @ Treasure Island
If you've never seen a Cirque de Soleil show, you would never go wrong with the classic Cirque show, "Mystere". As the first permanent Cirque du Soleil production in Las Vegas, it certainly doesn't disappoint! This show stresses on acrobatics: powerful, energetic and mind-blowing, alongside with some casual Chaplin comedy. If you are up for a fun show, Mystere should be your top choice.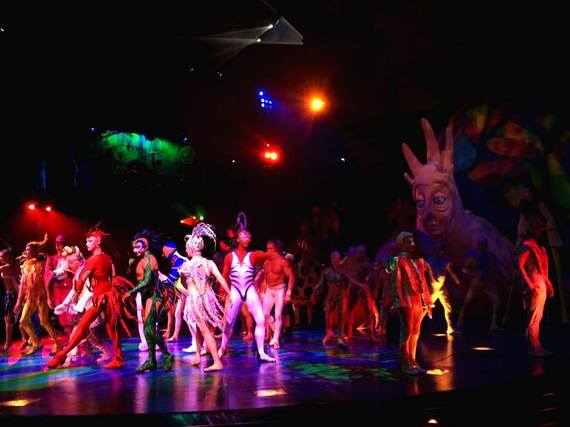 'O' @ Bellagio
'O' is the phonetic pronunciation of "Eau", the French word for water. This production is comparable to the motion of flowing water: flexible, pure, expressive, smooth, surreal, infinite and incredibly impressive. 'O' incorporates acrobatics into swimming and diving, performing in, on or above the Bellagio stage, which contains a 1.5 million gallon swimming pool. If Surrealism fascinates you, this show is perfect for you.
Zumanity @ New York-New York
If you are visiting Las Vegas with kids, cross this off the list. This is a production about love, physical, emotional and, some say, it is provocative. It is also the first Cirque production to challenge the theme "sex". This is the show for the open-minded: Be prepared to witness a variety of performing style, unfolding the art of sex in every possible way.
KÀ @ MGM Grand.
This unique show tells us the story of a separated twins on a heroic journey to fulfill their destinies. When compared to its other sister productions, KA is more theatrical, more dramatic with a concrete plot. The show focuses on the "Journey": a journey of love, strength, conflict, with a full-range of obstacles. Not to mention it has the most impressive stage of all productions: a movable one manipulated with pinpoint precision to revolve, tilt, raise and lower. This is the show you'll want to watch if you are the kind of person who exits theaters with this question: "so what was that about?"
Love @ Mirage
This is the show to go if you love pop songs. 'Love' celebrates the music by the legendary "Beatles". The Cirque production explores the meaning behind music and interprets the lyrics of "the Beatles"'s songs into flowing theatrical performance with relevant costumes. This is a big production with 60 cast members, performing aerial performance, freestyle dance, extreme sports.... All driven by the familiar legendary soundtracks of The Beatles.
Zarkana @ Aria
* This production will end on 30th April 2016.
This is a production about a long-abandoned Gothic theater that comes to life. It doesn't have a story line or plot. So instead of trying to catch up on the plot development, just sit back and enjoy the show. This show features a lot of individual segments. I searched it up on YouTube and found a short clip showing mesmerizing sand painting, energetic flat throwing and more. However the setting is a little too bizarre and spooky for me as I was looking for a lighthearted show.
Michael Jackson ONE @ Mandalay Bay
A music based Cirque du Soleil production paying tribute to the legendary pop idol Michael Jackson. This brilliant blend of gymnastics and timeless pop songs is received well by audiences from around the world. This show is loud and vigorous, with dancers performing to Michael Jackson's hit songs. It has less acrobatics, but more spirit, memories and energy. The show ends with a firework and a hologram of Michael Jackson.
CRISS ANGEL Believe @ Luxor
If you can't decide between illusion and circus, you thought this will be your choice for the best of both worlds: a little half of Criss Angel, and a little half of Cirque du Soleil. However, according to many reviews online, this is not the case: It is the Cirque du Soleil production with the lowest rating. However, is this show really that bad? I don't know. My opinion is, if you come to the show looking forward to Cirque du Soleil you will be leaving this show with a 2 star or even worst review, because it doesn't tell you that up front but Cirque du Soleil is actually a minor element of the show. If you are a big big fan of Criss Angel, then maybe you'll give it a 4-5 star.