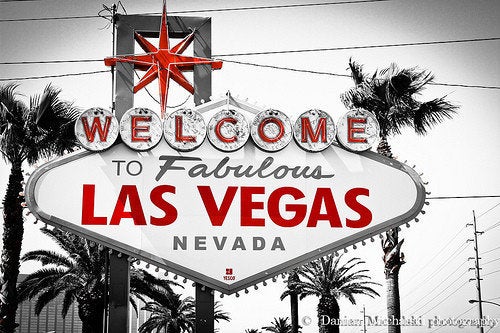 When I think of a family vacation destination, Las Vegas is not exactly the first place that springs to mind. But the response of a Las Vegas institution to an issue surrounding a breastfeeding mother has surprised me enough to consider it.
Jessica Martin-Weber is the founder of The Leaky Boob -- a breastfeeding resource blog that has been online for almost three years. She's the mother of six children, the youngest of whom she was nursing at a cafe in The Flamingo Hotel -- the site of a mom blogger conference that Jessica was attending as a speaker. In her post Fear And Breastfeeding In Las Vegas, she astutely points out the unusual choice of Las Vegas for such a conference, and also the irony of being asked to cover up by the restaurant manager while feeding her daughter over lunch, after apparent complaints from other patrons:
She looked around and I kept looking at her, still chuckling at the irony of this situation. She knows that just before walking into her cafe I walked past a platform where that very evening, like every night, a woman exposing far more than I was while feeding my baby, dances with moves intending to sexually entice. She knows that the sidewalks in front of the hotel are littered with photo cards of naked women with tiny stars on their nipples. She knows that this very hotel advertises a burlesque show featuring breasts (bare), butts and spread eagle moves on a video that loops endlessly in each guest elevator. She knows that the very people that complained have seen all that and probably more in the 10 minutes before they sat at their table. I know she was just trying to do her job. I know she had no idea that there was actually a law stating I had the right to breastfeed anywhere my baby and I were legally permitted to be. I know that in her line of work making the customer happy is a delicate balance when one customer may be making another uncomfortable. I know that in that moment she was wishing I had never walked into her cafe.
Jessica did what a nursing mother should do in that situation, continued to feed her baby, chatted with her friends and finished her lunch. And since she is a high-profile blogger attending a mom blogger conference in that very hotel, she and her friends shared their experience on social media. And here is where it gets surprising, and a very big social media win for The Flamingo Hotel. In a climate where large brands and companies either fail to respond, or offer a perfunctory apology, The Flamingo Hotel went above and beyond.
Director of Food Operations, Scott Farber, met with Jessica personally to apologize, and to let her know that he had already conducted a meeting with his staff informing them of Nevada's state law that permits a woman to breastfeed her child wherever she has the legal right to be, and that if they receive a complaint about a woman breastfeeding again, they should not address the mother but work with those who lodged the complaint. Jessica continues:
Kind and genuine, Scott laughed with me at the irony of being in Vegas and asked to cover. Scott offered to make it up to me with a free meal and more and was genuinely concerned about how I was after the experience. He shared that Estella, the manager, was horrified that she had misstepped in saying anything to me and he extended her apology as well as I didn't have time to meet with her. We discussed how the Flamingo could better welcome families and some changes that could be made to do so well. The possibility of me returning to train their staff and sister hotels to consult with them on how to be set apart in Las Vegas as a family-friendly destination came up. These weren't the actions of a company that wanted to embarrass their customer families, these were the actions of a company that cared to stand apart and understands the value of doing things right.
What most surprises me here is not only the hotel's sincere apology and seemingly genuine commitment to make things right, but also that a hotel in Vegas would care at all about attracting families. I recall a brief period in the '90s where Las Vegas attempted a re-brand to attract visitors of all ages, but ever since the campaign of "What Happens Here, Stays Here" and the subsequent revival of Sin City as documented in the TV show Entourage and capped off with The Hangover, it would never occur to me to bring kids there -- until maybe now.
I have no doubt my 7-year-old daughter would adore the lights and the glitter, but I'm not sure I want to have to explain why so many women aren't wearing clothes. At three, I can get away with pretending the nudity is nothing to notice with my son, and certainly he would love the flashy cars on the strip and the Bellagio fountains, but would I really get my money's worth at the all-you-can-eat buffets with a toddler-sized appetite?
If I do visit Las Vegas, I'm envisioning a grown-up weekend of high heels and cocktails with either my husband or some girlfriends, and truth be told, I think seeing children out and about might put a damper on my kid-free fun. Then again, every time I've traveled without my kids I always take note of the places we'll go if I return with them in tow. Would Las Vegas be the exception? I don't know. But I do know that if we go I'll make an effort to stay at The Flamingo. Nicely done.
Corinne McDermott is the founder of Have Baby Will Travel - inspiring, motivating, and helping families travel with babies, toddlers and young children since 2007. Offering tips and advice on eating, sleeping, and getting around while traveling with baby, she is also a travel agent and family vacation specialist. Connect with her via Facebook or Twitter.
Related