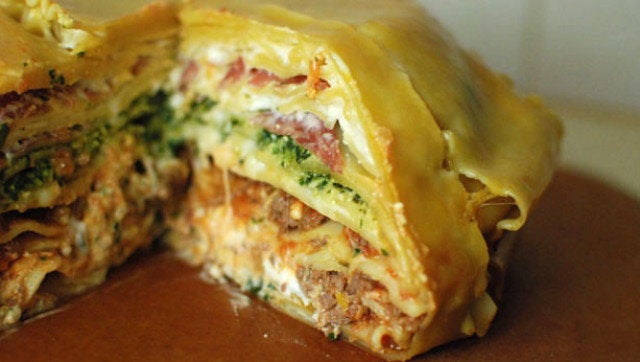 Lasagna is all about the layers. Every layer holds a new flavor, each complementing the other. It's what makes lasagna the comfort food of Italy. When it comes to the lasagna pie recipe by food blogger The Food In My Beard (which he refers to as Lasagna Timpano), the amount of layers present is double or maybe even triple what you'd find in an ordinary recipe -- and it's pure genius.
Dan of "The Food In My Beard" starts off simple with an Alfredo sauce and salami layer. He makes three layers with these ingredients and follows it with a layer of pesto. Next comes a plain mozzarella cheese layer, a meaty tomato sauce layer and, of course, a layer of ricotta. All these layers make for the deepest lasagna pie recipe we've ever laid eyes on, which only adds to its appeal. It's so deep, it had to be made in a bowl instead of a pan.
If during that description you were thinking "my life will not be complete until I try this lasagna," you can get the recipe on his blog. It's surprisingly simple to make.
Get more lasagna recipes.