Mabelline's iconic neon green and pink Great Lash Mascara has, over time, given way to faux strip lashes, lash extensions, vibrating mascaras and eyelash enhancement serums.
If this is any indication, women sure are obsessed with fluttery, come-hither lashes.
The newest trend? A semi-permanent mascara that gives you dark, sculpted lashes that last for up to six weeks with no smearing, clumping and flaking. Does this mean the end to traditional mascara?
LashDip, dubbed "the world's most perfect coat of mascara," adds volume, increases length, provides lift, curve and separation -- similar to that of traditional mascara -- but won't smudge or wash off for weeks.
The LashDip application consists of a trained "Dipper" cold-air-curing lashes with a black velvety gel that sculpts and curls each individual lash. LashDip shrink-wraps itself around each lash, giving 360-degree coverage; as more of the product is brushed on, the tube builds up and out.
The results are dramatic, offering longer, feathery lashes that are separated and clump-free -- application you can typically only hope for each morning as you sleepily apply cosmetics.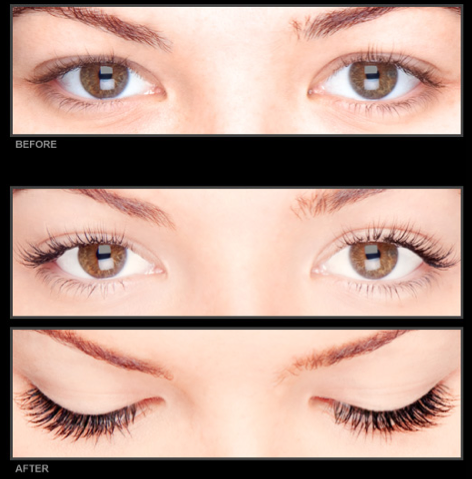 LashDip does "grow out" with your lashes, similar to extensions, but a LashRefresh three weeks in fills in that space to offer longevity to the service.
LashDip is a better option than traditional mascara for active women -- the waterproof formula means you can swim and sweat with them on. The only maintenance is applying LashSeal, a clear gloss provided by the technician, three times per week to extend wear and add shine. The service is safe for those with sensitive eyes, contact lens wearers, allergy sufferers and pregnant women. Technicians do advise against eye makeup removers and face washes with oils.
Still can't live without eyelash growth products? This semi-permanent mascara can be worn while using any type of growth product, such as doctor-prescribed Latisse or neuLash, a no-prescription-required alternative. It can also be applied in combination with eyelash extensions and, when applied together, locks in extensions, helping them to last a bit longer.
Another everyday perk? Mascara is typically the last step in eye makeup application, so waking up looking well-rested and alert tends to result in less eye shadow and liners, cutting makeup application time considerably.
What do you think of this trend? Want to get "Dipped?" Would you pay $200 to wake up doe-eyed sans smudged pillow?