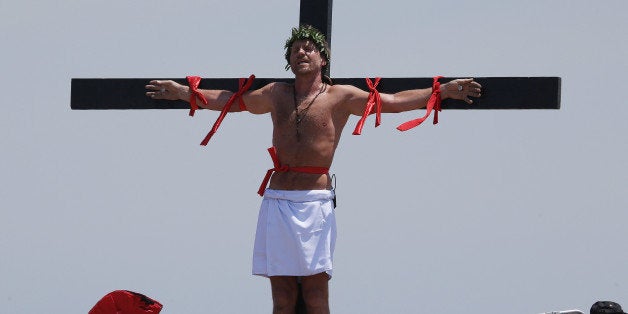 The Danish filmmaker and stunt performer from Copenhagen raised eyebrows in 2014 when he joined several devout Filipino Catholics in northern Pampanga province for the annual crucifixions. The bloody display has been condemned by health officials, and the Catholic Church calls it a "distortion of the Easter message," but that hasn't stopped thousands of onlookers from traveling to Pampanga to watch the men grimace in agony.
Unlike some of the other local "Kristos" or penitents who cried out when they were nailed to wooden crosses, Olsen only grimaced and closed his eyes. He also remained silent as his cross was raised by costumed centurions. His cross stood erect for a few minutes before he was brought down.
Foreigners are usually banned from participating in the ritual. But Olsen was reportedly allowed in after presenting a liability waiver from the Danish embassy.
HuffPost Religion reached out to Olsen one year later to ask about his story. His response has been edited for clarity and length.

Here is Lasse Spang Olsen's story.
I am Danish and live in Copenhagen. I'm 50 years old.
Denmark is not a religious country -- or even a religiously diverse country. Generally, everybody is just Protestant. Almost nobody goes to church regularly. I've never been religious and was not raised to go to church or believe in God.
I saw a movie about stuntmen when I was 4 years old and since then, I knew that it was the job I should have. At the age of 12, I carried out my first professional stunt job on a film.
Since then, I've worked as a stuntman and stunt coordinator for more than 400 films. I was also educated as a cinematographer, producing and directing a number of documentaries and feature films. That's what I focus on now.
Like anyone else, I don't like pain. However, I have suffered many broken bones and have received stitches at the hospital 29 different times after stunt accidents. I've always thought that I had a fairly relaxed attitude to pain, although I do not like to get hurt. But that was before I decided to get crucified.
Philippine Christian devotee Ruben Enaje (C), grimaces in pain as he is nailed to the cross by men dressed as Roman soldiers during a re-enactment of the crucifixion of Jesus Christ on Good Friday in San Fernando City, Pampanga province, north of Manila on March 29, 2013.
Three years ago, I made a documentary in the Philippines called "My Best Crucifixion." It is about Ruben Enaje, a man who has been crucified 28 times. I followed him for quite a while, to film him and try to understand why he wanted to be crucified.
I found out that a very important reason, for him at least, was to make a deal with God. I found it very interesting that -- if you believe enough in God –- you can achieve some sort of agreement with him (or her) to get something in return for being crucified. This is what most people in the Philippines seem to do when they let themselves be crucified. Almost everyone has a reason and a deal handy before they do it. Of course they are very religious, but at the same time they have something they want in return from God.
Many of them talk to God or Jesus while being crucified. I found this very fascinating and exciting. I really wanted to try talking to God. But at the same time, as I watched the crucifixions take place, I thought that it seemed very repulsive and certainly not something I could see myself ever doing.
In 2012, however, I fell on the kitchen floor in great pain. I had developed a serious heart problem. If my daughter hadn't happened to be nearby and call the ambulance, I might have died right there.
I've been close to death many times in my work as a stuntman, but it was different this time. As I lay there on the operating table, the doctor told me that if I wanted to say goodbye, I'd need to do it now. It was possible that I would never wake up again.
It dawned on me then, after years of flirting with death, that I really did not want to die. But here I was. Was that really it? I felt sad that I did not believe in God. Because this would have been a good time to pray.
I found it strange that I was so unready for death. As a stuntman with lots of accidents behind me, I should have been better prepared. But I was really missing someone to talk to.
As the anesthesia kicked in, I decided then and there that next time I am to die, I will be better prepared. That I will have someone to talk to.
Luckily, the operation was successful. As I recovered, I started thinking about Ruben in the Philippines, who was talking to God as he was being crucified. He was so religious that he had direct contact with God. I wanted that, too.
The problem was, since I've never been religious at all, I didn't know how to get in touch with God or Jesus. But I thought that it probably was not that hard to learn. It couldn't be harder than getting a diving certificate or a race-car license.
I wanted to see if a non-religious person like me could learn to be religious, and in doing so, learn to talk to God. And to see how far I'd come, I would test myself in the most extreme way -– by getting crucified.
I went into training to become a believer. I had to convert to Catholicism and show the organizers in the Philippines that I really meant it.
I thought I would become religious if I just wanted it enough. I went through six weeks of religious training –- praying, going to church, struggling to understand the Bible. When I had read the entire book from cover to cover, it dawned on me: This was not going to work. I believed too much in natural science and logic. The Bible seemed completely untrustworthy and full of contradictions.
I very much liked to come to church. I learned to pray, and it was really good. I just did not believe it. And that was, of course, a problem. Crucifixion is a very serious matter for those organizing the event, and they won't allow any media stunts.
But I really wanted to learn the faith with all my heart, and I think the organizers could see and feel that I did this with all my heart.
Danish film maker Lasse Spang Olsen grimaces as he is nailed to a cross during the a re-enactment of the Crucifixion of Christ during Good Friday celebrations in the village of Cutud, Pampanga, north of Manila on April 18, 2014.
It took eight months for me to get the proper permits to be crucified. Then, I had to get my "Jesus clothes." A blacksmith made me four long nails for my crucifixion. Luckily, I didn't have to use the long-haired wig that the other participants use.
The place where you are crucified is like a mixture of a festive flea market and the Pope's funeral. There are children and candy shops, stalls with food and drink. It's a very nice and expectant mood, mixed with a deep religious sentiment. It's a really old and very serious feeling.
When I came up on the cross and got the four nails through the hands and feet, it hurt so much. I thought I was used to pain from all my accidents. I thought four holes in my body would be nothing. But I think it hurt so much because I was on a cross.
Since I was born, I have always been told that the cross is very serious matter, a place where Jesus died. So when I climbed up and was crucified on the cross, something happened. My body did not like it. I was quite clear in my head and tried to pray, but I could not remember all the English prayers I had learned. Then I tried to pray in Danish. And when the language changed, something happened.
There was a complete peace without pain. There was direct line through. Just like when you talk to a child on the phone and hear them shake their head. I should have hung there for two minutes, but ended up staying for 14 minutes because I had such a good conversation with something that was not within myself.
Lasse Spang Olsen is carried on a stretcher by medical personnel after being nailed to a cross.
I felt like what I experienced was probably the same feeling that people who are very religious have with God. It's hard to put into words. At that time, I had no concept or picture of a god, at least not as specific as the other people who were getting crucified. But it was through the cross, through the church and through Jesus that I achieved this strange and very intense contact with something greater than myself.
So when the Filipinos call this something "God," I will also call it speaking to God, though the image in my head probably looks different.
One can tell me that it was the endorphins or pain that created the feeling of connection to the divine. But I have tried the effect of endorphins many times. This was a completely different feeling -- and it is still there. It was probably one of the greatest experiences of my life.
God can be so many things. If you ask me if I believe in God, then you will get a resounding "yes." I have spoken to him or her, whoever it is. But I would NOT call myself religious and I will never try to convert others to believe in something they do not want to believe in. I still don't go to church regularly. But I haven't stopped praying.
And today I know, the next time I face death, I will have someone to talk to.
Editor's Note: We are simply documenting one man's journey. HuffPost does not endorse spiritual practices that involve violence or self-harm. If you are considering harming yourself as part of such a practice, we encourage you to speak with spiritual leaders in your community. If you are considering self-harm in any other context, please call 1-800-DONTCUT for the S.A.F.E. Alternatives hotline.
Before You Go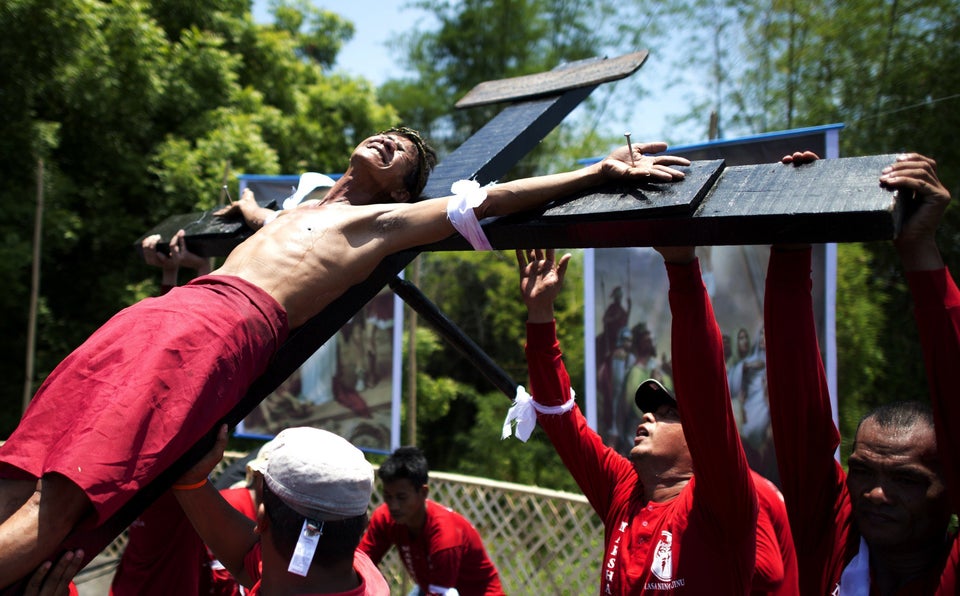 Christians re-enact crucifixion on Good Friday
Popular in the Community