When we at Art Production Fund install a major public artwork, we never really know what the reaction will be. We aim to present projects that appeal to a wide audience -- from school kids to seasoned connoisseurs -- but there's never a guarantee.
Yoshitomo Nara's White Ghost -- twin sculptures on Park Avenue and 70th and 67th streets installed by APF on September 7th in association with The Asia Society -- is now in its final week. Before we deinstall on November 6th, White Ghost offers the perfect opportunity to monitor how the public actually reacts to public art in this city.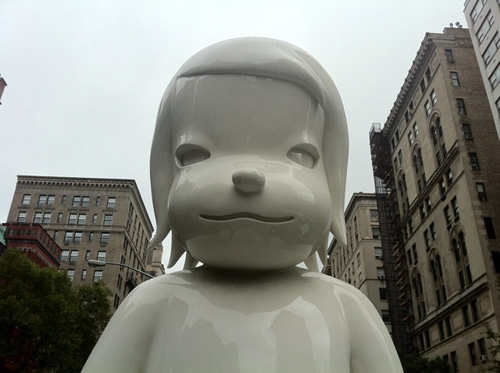 Yoshitomo Nara's White Ghost
Yoshitomo Nara is a Japanese artist who, since the Japanese pop movement of the 1990s, has received international acclaim with his distinct figurative style. His drawings, paintings and sculptures are popular with collectors and can also be seen in permanent museum collections, including MOMA. The mixture of vulnerability, rebellion and hopefulness in his artwork connects intimately with people worldwide.
We were eager to see how the public would react. A morning of observation revealed four basic interactions:
1. The Walk By: Some people walked right by the work without reacting at all. Perhaps they'd been here before? Perhaps they were distracted? In any case, this is a good sign. When you live with an artwork, it should be capable of oscillating between foreground and background.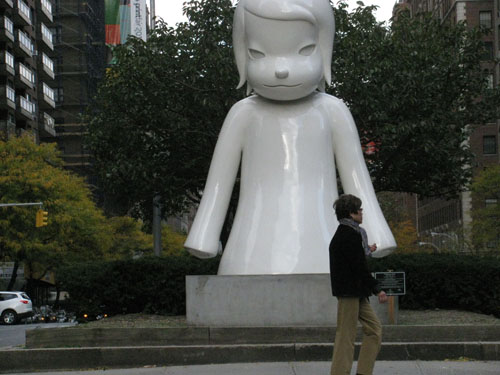 The Walk By
2. The Walk and Look: This was the most popular and practical way to engage. Nothing is more satisfying than knowing you can get a bit of culture on your way home from work. It was also an opportunity to engage in conversation with others.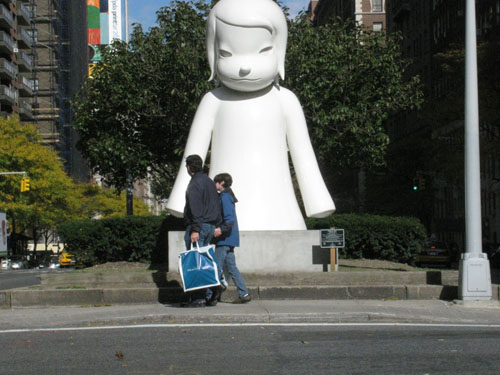 The Walk and Look
3. The Stop and Shoot: Some people snapped as they passed and others took the opportunity to pose with the art. Either way, a perfect memory.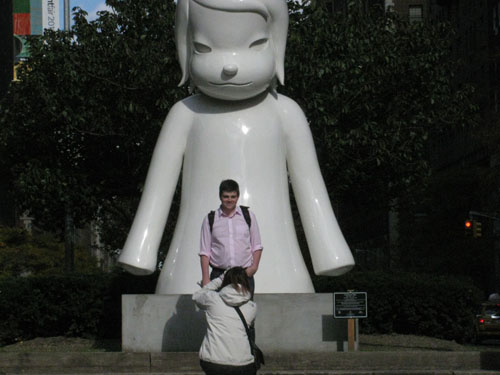 The Walk and Look
4. The Embrace: Finally, Some people connect with a piece so intimately it seems only natural to engage in it fully. While we only have skid marks as evidence, apparently some public work lends itself to hugging and climbing. This is the main difference between an artwork anywhere else, and a work in the public realm. Art in the public is made for the public to embrace, literally and figuratively.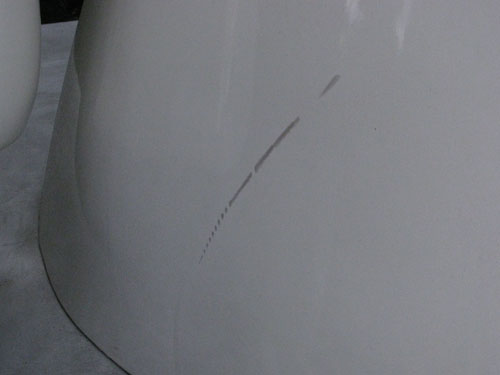 The Walk and Look
White Ghost is on view through November 5th at two locations: Park Ave and 70th street, and Park Avenue and 67th street, NYC.
Made possible by The City of New York's Department of Parks and Recreation, and the Fund for Park Avenue.
Support HuffPost
The Stakes Have Never Been Higher
Related
Popular in the Community