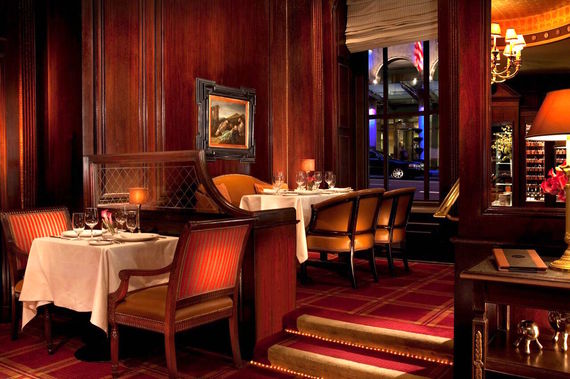 The bad news is that, yes, the Waldorf-Astoria, which opened during the Depression in 1931, will close next year for a three-year conversion of three-quarters of its rooms into luxury condos--just what NYC needs!--thanks to its owner, Chinese holding company Anbang Insurance Group Co., which purchased the hotel from Hilton's parent group in 2014 for a record $1.95 billion. The rest of the rooms will be upgraded to luxury suites.
The good news is that the storied Bull and Bear restaurant will remain open until the closing next year, especially since the food has never been better, with a menu geared to steaks and chops but with a good deal more to choose from, including the Waldorf salad ($19), created for the hotel's opening by imperious maître d' Oscar Tschirky, made with candied walnuts, sweet and sour apples, celeriac, and, now, truffles.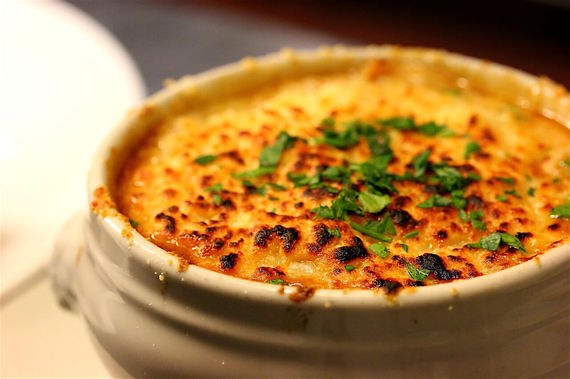 The restaurant itself, adjacent to the very popular four-sided bar, is in high polish, a far cry from so many of the raffish East Side steakhouses whose dated décor looks purchased from a 1930s catalog. The B&B's design evokes the Gilded Age with a 1960s swank: tartan plaid carpets, draped tablecloths, small glowing lamps on the tables, fine paintings and extremely comfortable armchairs and banquettes. General manager Damien Collins is running what was not always a tight ship, so that the staff is now more attentive than in the past.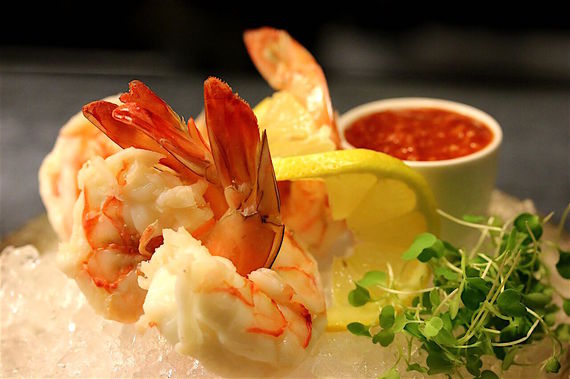 If you stay truly traditional, you might order the jumbo shrimp cocktail with horseradish cocktail sauce ($24), a dish that proves that doing the minimum to a great ingredient will make for a finer result. That goes for the meaty crabcake, also with jumbo lump meat ($25), which now comes with a red chili aïoli, remoulade and shaved Brussels sprouts. The hearty French onion soup ($18) is layered with just the right amount of golden Gruyère to seal a well-caramelized amalgam of onions and deeply flavorful broth (right).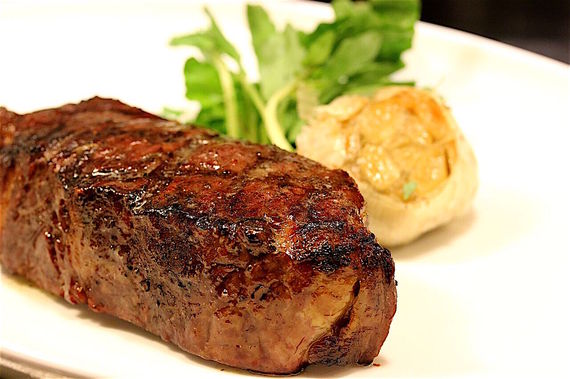 Among the beef offerings there is the now requisite wagyu--five ounces for $140--which I assiduously avoided in favor of a superb USDA Prime NewYork strip steak (above) with head of roasted garlic ($57) and Colorado lamb chops (below), beautifully trimmed just enough without losing all the good fat ($59). You may add to these superlative meats on the plate a crabcake ($13), foie gras ($18), lobster ($16), or blue cheese ($5), which add measurably to the kind of meal Diamond Jim Brady once would down a couple of times a day.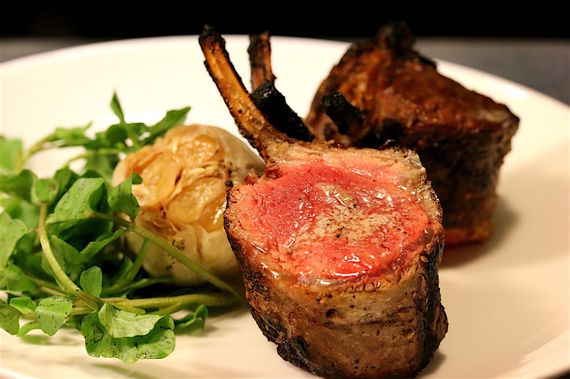 There is a two-pound lobster, steamed or broiled ($65), that comes from Atlantic waters, so it is mystifying why the B&B would ship in inferior farm-raised salmon all the way from New Zealand and charge $38 for it. A much better seafood choice is chef Peter Betz's red snapper ($46), carefully seared and served with a confit of tomatoes and a rich, wonderful Sauvignon Blanc sauce with a little garlic and thyme.
Side dishes like the perfect-sized beer batter onion rings ($12), the cheese-glazed potatoes au gratin ($14), creamed spinach ($14) and lobster mac-and-cheese ($16) are easy to share for a table of four people.
There is of course a good cheesecake with cherry compote, and I highly recomend the bread pudding with vanilla ice cream, or the pecan salted caramel tart. or a chocolate black-out cake (below). But wow! $16-$18 is as high as dessert prices get in NYC!
Given the elegance of B&B--which gets some appropriately dressed business people among the slovenly dressed t-shirted tourists--you expect a great wine list, and with the Waldorf's history, it's a given that the list will hold a lot of trophy wines, like 2004 Domaine de la Romanée-Conti at $1,300 and 1998 Château Latour at $2,200. The irony is that if you could find the Romanée-Conti in a wine store it could cost you $10,000, though the Latour runs about $400 retail. Among the American bottlings are a lot of very high-end California cabs, like a fairly priced 2010 Far Niente at $275 and 2008 Bryant Family at $1,375, which, while difficult to find, goes for about $400 in stores. Otherwise, there is a good number of bottles under $75 on the list, while by the glass the average is $17.
You could throw a bread roll out the window of the B&B and hit half a dozen high-end steakhouses serving much the same menu at the same prices, but none has the historic cast, the romantic lighting, or the civilized ambiance of the B&B, where you get a good deal more than you pay for, even though it comes at a high price.
Open for breakfast and dinner nightly, for lunch Sat. & Sun.
BULL & BEAR
PRIME STEAKHOUSE
Waldorf Astoria Hotel
540 Lexington Avenue (at 49th Street)
212-872-1275
bullandbearsteakhouse.com