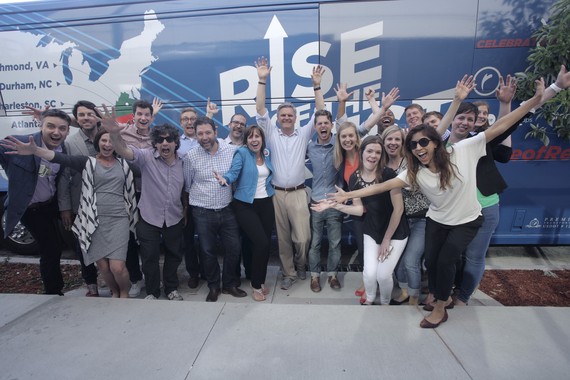 As Steve Case said in the fireside chat with Walter Isaacson, "New Orleans is a city that prioritizes the community over the individual."

Tim Williamson, CEO of the Idea Village (an organization that has supported entrepreneurship in New Orleans for fifteen years), talked about how New Orleans has a community calendar of rhythms and rituals: Mardi Gras, Jazz Fest, the Saints. The Idea Village helped found New Orleans Entrepreneurship Week seven years ago, and since Hurricane Katrina, entrepreneurship has been a fourth ritual.

On Friday, we had the first pitch fest we've ever seen on a Mardi Gras float, where Steve Case was crowned the King of the Krewe De Nieux (the entrepreneur's Krewe) and watched pitches while flinging beads over the side. (A "Krewe" is a New Orleans Mardi Gras group that hosts a parade.)

All the entrepreneurs we met in New Orleans talked about a dual mission--to build a great business, and to build an entrepreneurial community and they shared anecdotes about the extensive hours they put into recruiting, supporting, and mentoring peers who were building businesses.
"We aren't fighting each other for talent--we're fighting for success as a community" said one entrepreneur. "New Orleans is a great place to be an entrepreneur because we decided it would be," said another.

For the Rest to Rise, entrepreneurs have to go together.

Inclusion
"If you're not a diverse team, you're not going to have the skill sets to succeed."
After opening the day with a community breakfast at Commander's Palace (an honored occasion, as any New Orleanian knows!), we had one of the best conversations of the week with Jean Case and community leaders around inclusive entrepreneurship.

The inclusive entrepreneurship conversation felt like an exclamation point towards a week-long theme: If the rest is truly going to rise, and if the US is going to remain the most entrepreneurial nation in the world, we have to level the playing field.

Although there are issues related to inclusion everywhere, in New Orleans, there's an element of community that made it more collaborative than most places. Women are 47% of the tech talent in New Orleans, and the pay gap between women and men is 4%. You can't find those numbers in Silicon Valley.

But you also can't expect everyone to rise overnight. You have to invest in the pipeline as well as the results. The winner of the $100,000 prize in New Orleans was Crystal McDonald, an African-American woman who founded GoToInterview. Upon winning, Crystal, on stage and through tears, gave credit to PowerMovesNOLA for getting her business to a place where it was ready for prime time.

This was the second straight day that we saw entrepreneurs, whom Steve Case calls the "seed corn of the new economy," begin to blossom in new places. An African-American woman, Jewel Burke, won the $100,000 investment in Atlanta and similarly credited the Opportunity Hub (from a previous post) in backing her as a founder of color.

When investors complain about lack of inclusion, they say it's a pipeline problem. New Orleans--and the entire tour--showed us that when you invest in the pipeline, you get results that work better for everybody.

Perseverance
As Steve Case always tells entrepreneurs, "choose battles worth fighting."
The final theme we saw in New Orleans--and throughout the tour--is entrepreneurs in Rise of the Rest communities are disproportionately working on businesses that build on their community's assets and unique experience to solve major problems--rather than apps that make the lives of the well-off slightly more convenient and interesting. The ability to improve the things that touch people's lives every day--food, education, energy, health--is an opportunity the Rise of the Rest is poised to take advantage of.

As one example, New Orleans has a fast-growing education technology startup community primarily as a response to a horrific disaster. After Hurricane Katrina, the old school system was, in some cases, literally washed away, and New Orleans became the first school system to be 100% charter in the country. For entrepreneurs, this means tremendous opportunity. Where most public schools have long sales cycles and difficult-to-understand purchasing decisions, New Orleans' schools have flexible technology budgets and autonomy for principals that gives wonderful flexibility to education entrepreneurs. We at Village Capital saw this in Kickboard for Teachers--my firm Village Capital's first investment--founded by CEO Jen Medbery, who developed a better way to manage data while working at a charter school.

As we wrap up the final pitches in New Orleans, and cool down the bus, I've never been more sure that the rest will rise. We saw wonderful entrepreneurs this week--and we're only getting started.

Thanks to Jen Medbery, founder of Kickboard for Teachers; Kirk Coco, CEO of NOLA Brewing; Patrick Comer, CEO of Federated Sample; Robbie Vitrano, CEO of Naked Pizza; Earl Robinson, President of PowerMoves.NOLA; and Beth Galante from PosiGen Solar for many of the insights reflected in this piece.
Note: This post was cross-posted from Southern/alpha, which is the premier publication covering startups, entrepreneurship and innovation in the South with a focus on high-growth companies and the founders, engineers, investors, team and culture around them.
REAL LIFE. REAL NEWS. REAL VOICES.
Help us tell more of the stories that matter from voices that too often remain unheard.