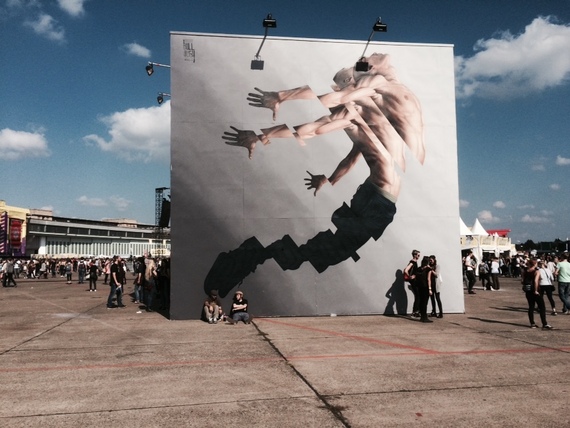 There was a final taste of summer two weekends ago in Berlin, as good weather helped to usher in the first European addition of Lollapalooza. Taking place in the former Tempelhof Airport, the history of the building and the location resulted in more of a "city" festival vibe, with less grass and chill out space, and more concrete. But with a varied roster of acts, from singer/songwriter James Bay to electronic super producer Martin Garrix, the event tried to offer something for everyone, and as a result, was completely sold out.
Berlin (at least for me), is synonymous with electronic music, and a special sound that can be heard everywhere, from the neighborhood spätkauf (late shop), to the taxi, to the hundreds of clubs that inhabit the city. But this was not the style (other than a fairly minimal set by Klangkarussell) dominating the festival. This was an event comprised mainly of acts dominating the charts.
A highlight was Perry's stage on Sunday, the electronic area named after festival founder and Jane's Addiction member Perry Farrell. The melodic and deep house sound that is already a staple on the radio in Europe and starting to make a dent in the U.S (being reworked for artists such as Justin Bieber), filled the space. People dressed as unicorns, throwing balloons made out of condoms, and covered in glitter, danced and sang along with a genuine and unabashed happiness. And as sunset approached, Germany's own Robin Schulz, who has had an incredibly successful global crossover, played a crowd pleasing set to welcome in the night. But the day belonged to breakout producers Felix Jaehn and Kygo who, pun intended, stole the show.
Felix Jaehn is just 21, but without question has the ability to control a crowd. This was evident by the fact that when he asked people to pull out their phones and Shazam a track, about a quarter of them followed his instructions. Originally from Hamburg, Felix had a loyal and excited group dancing from the start of the day, also showcasing some of his newer tracks that feature a bit of a darker and funkier sound. And while some of the visuals accompanying his set (lyric video style text layered over moving images) took a bit away from the energy, you could tell the crowd was with him, with probably the loudest sing along of the festival happening when he played "Ain't Nobody (Loves Me Better)."
And... Kygo. As rolling pockets of fire shot into the air during his opening track "Firestone," it was clear that Kygo would surprise us all. Halfway through his set, while standing on top of the DJ booth, Kygo announced that this was his very first show in Berlin. The crowd cheered in approval, as many were open, but unsure of what to expect. Kygo is most widely known first as a producer and not a DJ, and second for a more tropical, sunny house vibe. But a lot of his set actually reflected a deeper, danceable sound, flanked by great visuals and pyrotechnics. The new sound shows an evolved artist and it is clear that we can expect a lot more from Kygo as he prepares his debut album, which will likely be played everywhere next summer.
Over two days, more than 50,000 people gathered in the former Tempelhof Airport to celebrate music in many different forms. Lollapalooza is set to return to Berlin in 2016, but for now, the airport will be turned into a camp to help accommodate the almost one million refugees expected to enter Germany this year.
Calling all HuffPost superfans!
Sign up for membership to become a founding member and help shape HuffPost's next chapter