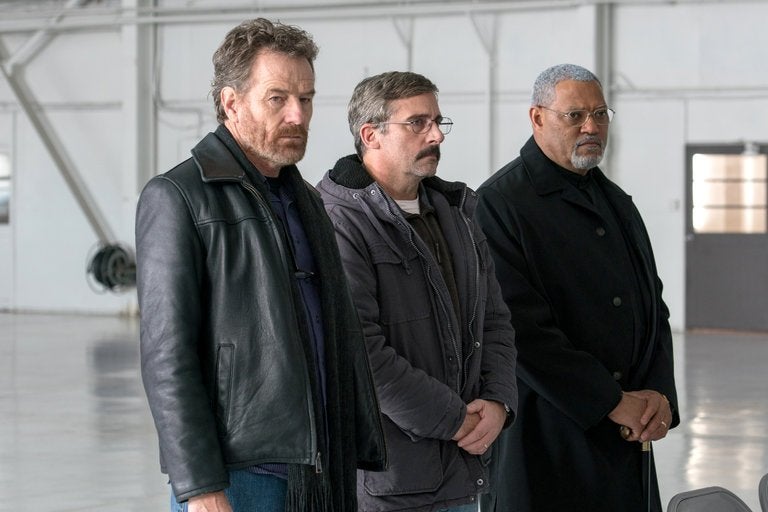 Movie Review - Jackie K Cooper
"Last Flag Flying" (Amazon Studios)
"Last Flag Flying" is a movie that doesn't arrive with trumpets blaring. It arrives with the softest word of mouth. Just a whisper from a friend who has seen this movie about three Vietnam veterans. Let me be that friend and let me tell you this is one of the best movies of the year. Bryan Cranston, Steve Carell and Laurence Fishbourne are the stars and they do some of their best work ever.
The story is basically a simple one. Out of the blue Larry "Doc" Shepherd (Carell) shows up at the bar belonging to Sal Nealon (Cranston). The two men have not seen each other in decades and Nealon doesn't recognize Doc until he reveals himself to him. As they reminisce the conversation turns to personal maters. Doc states that his wife has died and that their only child, a son, joined the military a year ago.
Doc then adds that a few days ago he was notified his son had been killed in the line of duty. Now he wants Sal to go with him to Arlington to attend his son's funeral. Amazingly Sal agrees, as does Richard Mueller (Fishbourne), the third member of their Vietnam group, who they approach at the church where he is pastor. Thus begins a fantastic journey of epic proportions as far as emotional depth is involved.
Carell's Doc is the centerpiece of the story and this usually comedic actor plays the role to perfection. There is a heavy mantle of grief that surrounds Doc. It is in his eyes, his shoulders and his mouth from which come very few words, but every one is a revelation of the burdened life he has lived.
Mueller is the voice of calm reasoning. Fishbourne manages to let this character slide back into the raucous story telling and profanity laden words of Vietnam, without losing the sincerity of the man's faith and his ability to profess it. It is a complex performance that demands an ability to be righteous but rowdy, human but saintly.
And then there is Cranston's Sal. In this role Cranston steals the show. He brightens the dark corners of the script with his mildly manic performance of a man who has never found his niche. His is a world of excess drinking and one night stands. He has a lot to offer as a man with a heart but he has never found the woman or the friend to whom he can commit.
These three performances blend together in a way that brings you into the group as not just a viewer but as a participant. You live these days with these men as they reconnect and reaffirm their friendship. It is a special bond that is created and it is a special movie that reflects this.
The film is rated R for profanity and adult situations.
For some this movie might be too stark, too profane, too adult. But for others it will be a movie experience that is a unique in its subject matter and artistic in its execution. I am not going to even mention the ending of this film but prepare yourself to be tremendously touched.
I scored "Last Flag Flying" an unfurled 8 out of 10.
Jackie K Cooper - www.jackiekcooper.com
Calling all HuffPost superfans!
Sign up for membership to become a founding member and help shape HuffPost's next chapter
This post was published on the now-closed HuffPost Contributor platform. Contributors control their own work and posted freely to our site. If you need to flag this entry as abusive,
send us an email
.