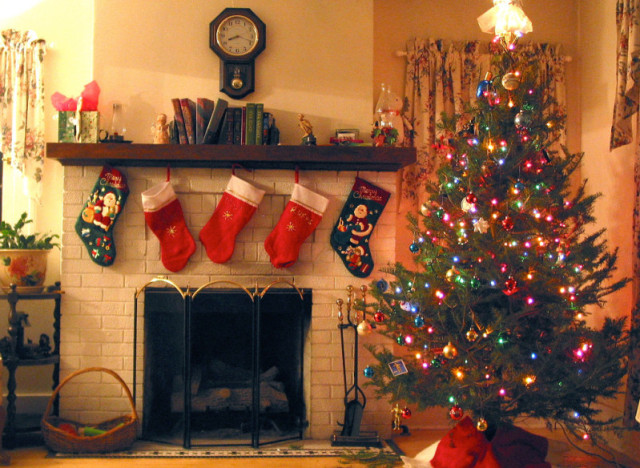 Flickr Photo by Scott Feldstein
Are you ready to face Christmas cleaning disasters? Are all of your gifts wrapped and ready to go? Is the front door decorated and prepared to welcome guests? During the holidays, everything is in hyperdrive. With so much going on, it can be easy to forget what is ready, and what still needs some work. So, to make sure your holiday runs smoothly, we put together this ultimate Christmas checklist of everything from entertaining tips to holiday crafts. Feel free to check it twice...we know we'll have to!
Christmas Entertaining Ideas
Christmas parties are all about creating the perfect holiday atmosphere. Here are some great entertaining ideas for both hostesses and guests alike.
- Believe it or not, you can throw a cocktail party for $50 - here's how!
- Entertaining for a crowd? Be sure to read this first.
- Are you throwing a party at the last-minute? Here are some must-see tips.
- Your front door is the first thing guests will see, so you need to decorate it. Get inspiration from these 11 amazing designs.
- Guests will always gather around an open fire, so check out these 12 fantastic decorating ideas to make sure your mantel is ready for the attention.
- Still need some last-minute decor, gifts or cards? Check out these 19 fabulously free printables.
- Are you buying an artificial tree to make post-party and post-holiday cleaning easier? Look at these tips first.
- Look at these need to know facts about preparing your guest room before your family comes a-knocking.
- Do you know the essentials for a well-stocked bar? Make sure you have them before throwing your holiday shindig.
- Still search for decoration inspiration? Check out our holiday decor and show us yours.
Christmas Tablescape Ideas
Christmas isn't just about presents, the dinner being served and the table it's being served on are hugely important too. Whether you are looking for inspiration or finishing touches, these links below will help you create a fabulous table setting for the evening.
- Make your table look just as gorgeous as your food with these 11 Christmas table setting ideas.
- Still need help with a centerpiece? Check out these 11 fantastic floral ideas.
- Are you a creative person? Try out one of these 12 inventive centerpieces you've never seen before.
- A great alternative to buying placemats is to make your own. It's fun and budget friendly.
- For an artsy accent to your table setting, take a look at these colorful napkin rings made from paper.
- Napkin folds are a great last-second stress reliever to hide from relatives during the busy holiday. Try out this fabulous rose fold, an elegant kimono fold, a traditional bishop's hat fold, or advent-inspired candle fold.
Gift Guides
Whether you need one extra-special secret Santa gift or an entire array of presents for your family, these ideas will have everyone looking at you in awe.
- Need some gifts on the fly? Here are a few easy but still impressive last-minute homemade gifts.
- Here are 17 wonderful gift ideas for the stylish women in your life.
- Check out these 12 fantastic gift ideas for the man in your life.
- Are you going to a holiday party? Be sure to look at these 13 fantastic hostess gifts before it's too late.
- Everyone's forgotten to buy a present at some point, but not everyone had this list of 20 easy last-minute gifts that recipients will still adore.
- Shopping for holiday plants? Check out this guide before buying any for yourself or friends.
- All of our favorite stores run on special holiday hours...midnight shopping trip, anyone?
- Baked goods are great presents during the holidays, so use one of these 10 free printables to turn those treats into gifts.
Support HuffPost
A No-B.S. Guide To Life
Related
Popular in the Community