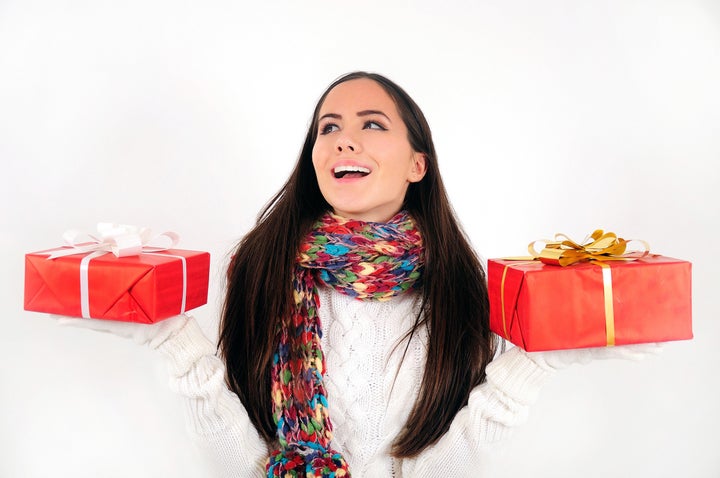 With the holidays upon us, many (including myself) are scrambling to find last-minute gifts. For me, avoiding the stores, post office and intricate gift-wrapping sessions is key to maintaining sanity. Luckily, this year I've found that it's the little things that people really don't like to buy for themselves -- online subscriptions, expensive workout classes, museum entry, etc. They add up fast, which is why I've decided to fill inboxes instead of stockings with gifts that will be enjoyed in the new year and for months to come. Here are the best gifts that require just a few clicks for purchase and delivery.
Music Lover: Spotify Premium $9.99/month
If I'm not sleeping or engaged in conversation, chances are I am listening to Spotify on my iPhone. This music app allows users to browse and save playlists of almost any music that exists -- making it a perfect gift for anyone with a smart phone or computer. Their gift options allow you to purchase one month or an entire year for someone.
Workoutaholic: Soul Cycle Gift Card $32/class
If you live in New York City, chances are you've heard about Soul Cycle. Yes, it's expensive and intense, but that's because it's one of the best workouts in the city. Treat a friend to a class and you're sure to spark a healthy addiction!
Techie Friend: General Assembly Workshop Package
All of us have the token techie friend. They disappear for days of coding in their bedroom alone, they try to tell you about their recent, failed attempts at hacking and they aspire to be the next hot nerd. For that person, just buy a package of classes from GA -- you can't go wrong with it. General Assembly hosts classes online for both basic and advanced skills in design, business, programming and development. They are brilliant, and you don't have to leave your computer to attend.
Artist: Creative Cloud $49.99/month
Creative Cloud is a membership product which combines the best of all Adobe worlds: Photoshop, Illustrator, Dreamweaver, InDesign and more. It's a dream come true for your struggling artist friends or family members who don't want to pay for the full creative suite.
Old-School Writer Friend: Personalized Stamps $20.95/sheet of 20
For the friend that keeps a good stash of stationery and pens, make a book of personalized stamps for their snail mail. Photos, symbols, graphics or messages can be uploaded and placed on stamps, and it only takes a couple clicks!
Newshound: Next Issue $44.97/3 months
I just discovered this application for tablet devices. Basically, you pay one fee and have access to over 75 magazines, including New York, The New Yorker, GQ, Vogue, Harper's Bazaar, Elle and People, which is kind of amazing.
Heath Food Junkie: Organic Avenue Gift Card $50
This is another New York-y gift for those juice-cleanse-girls. Organic Avenue actually sells gift cards online, which means you don't have to go out of your way to find one of their locations in the city. The only downside is that they don't do electronic delivery, so you'll need to order it a few days before you want it to appear in a friend's mailbox.
Family Gift: an Adventurer Membership to the Museum of Natural History $250
For a young family, this is a great gift, which includes invites to four annual events, unlimited general admission to the museum for up to four people and a discount in the store. If you have a brother/sister/friend/cousin who has toddlers or children, this is a good gift for the whole bunch.
French Friend: Champagne of the Month Club
Wine of the month club is great, but champagne of the month is even better! This one allows you to select when you want bottles delivered, how often you want them sent (monthly, bi-monthly, quarterly) and how you want to be billed. All in all, you end up paying about $220 for eight bottles if you go with the quarterly option. It's a perfect gift for your roommate (wink, wink).
Traveler/Outdoorsy Friend: Brooklyn Outfitters Adventure from $75
New Yorkers -- this is another gift option for you! Get your friends outdoors for skiing, hiking, rock climbing and more by booking a trip online with Brooklyn Outfitters. Look over various trip options, starting at $75, book it and email your friend all the details. Gift, done!
REAL LIFE. REAL NEWS. REAL VOICES.
Help us tell more of the stories that matter from voices that too often remain unheard.