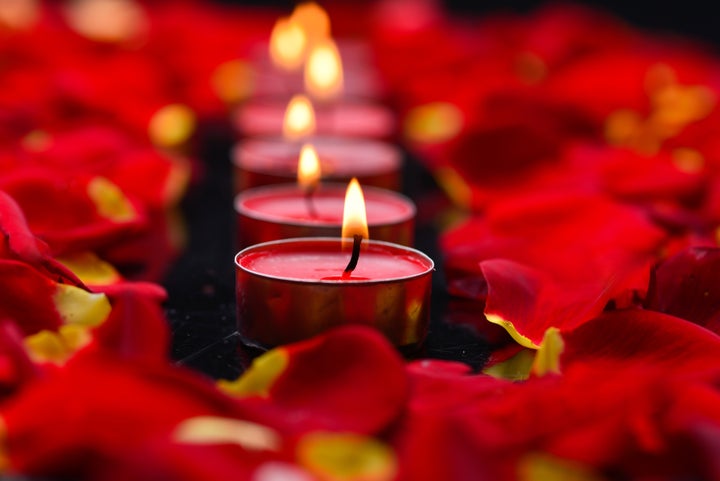 Let's say, as a pure hypothetical, that you are a lazy, no-account lover who has yet to book a restaurant for Valentine's Day. The most romantic dinner of the year is happening in a matter of hours, and your significant other is going to be very unhappy if you two end up eating at Arby's again. How can your hapless, slacker behind get your gears in motion and score a last-minute Valentine's Day reservation at a restaurant that doesn't serve its condiments in small, tearable packets?
See What's Available On OpenTable
Your first stop, by necessity, is going to be OpenTable, the most thorough and well-designed site for reserving restaurant tables on the Internet. Select your city (and perhaps neighborhood within that city), your date (2/14, stupid) and the time you want for your reservation. Then click "Find a Table," and OpenTable brings up all the restaurants that can accomodate you and your darling valentine on Thursday.
If there are a lot of resturant openings in the results, you can use the controls on the left side of the page to filter for price or type of food; a tab at the top of the page also allows you to view your results on a Google map of your city.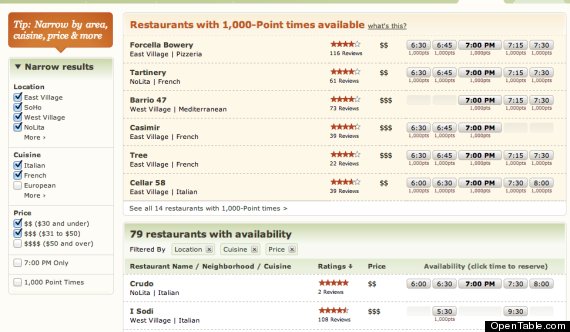 Looking for an open table on OpenTable. The "1,000 point tables" are at restaurants that pay OpenTable more than their competitors. Get a full explanation on Quora.
However, you're not going to want to book a table based purely on availability and cuisine -- that table for two at the place with the Italian name might not be a candlelit meal with red wine, but rather two barstools at a pizza parlor with Orange Crush from the soda fountain.
It's time to do some detective work, Dick Tracy, and find a restaurant that's actually romantic.
Yelp Is Your Friend. So Are Foursquare And Foodspotting.
Despite some persistent complaints that its reviews are tainted (both for and against the restaurants!), Yelp remains, on the whole, a valuable, often-accurate resource for diners seeking information about a location before eating there. Search any restaurants you're considering on Yelp.com, and read several of the most recent reviews to get an idea of what kind of experience you can expect.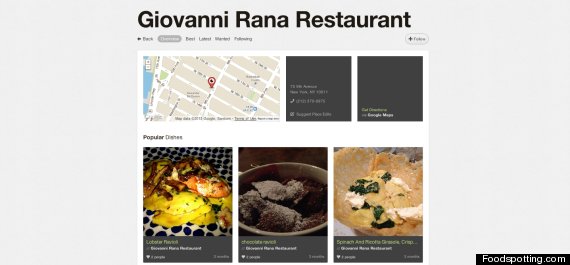 The Foodspotting page for Giovanni Rana, an Italian restaurant in New York City, features photos of popular dishes, location and contact information. Foodspotting is also available as an app for iOS and Android.
Finally, if you want some direct advice, try a local community like Chowhound, which features a message board where local foodies discuss the merits of different nearby establishments. If you sign up for an account, you can post a question -- such as, "Will my wife hate me if I take her to RESTAURANT X for Valentine's Day?" -- and generally expect fairly quick feedback.
Take A Look Inside With Google Maps And Bing (Yes, Bing!)
If you need a bit more reassurance that your restaurant's ambiance is indeed V-Day-appropriate, point your browser to Bing, which has been stockpiling interior photographs of establishments around the country for its Maps section. On Bing Maps, type in the name of your restaurant and click on the corresponding page; if you see a photo with a "Step Inside" tag on it, you'll be able to virtually walk into the restaurant and "spin around," thanks to interior panorama photos that Microsoft has commissioned through the app Gigwalk.
Google Maps can also provide an on-site preview of the location. Enter your address and then drag the little yellow man on the left side of the map onto the screen for a Street Level view. Clicking on the name of the restaurant itself will take you to its profile page, which should include some interior photos and more user reviews.
From there, if everything looks peachy, head back to OpenTable and lock in your reservation. You should get an email confirmation, and once that arrives -- hey, congratulations! You somehow managed to not ruin Valentine's Day once again.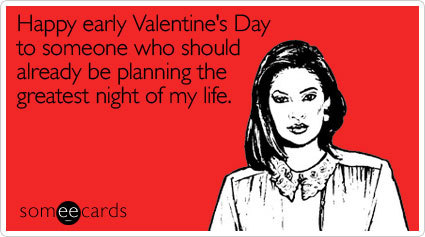 Calling all HuffPost superfans!
Sign up for membership to become a founding member and help shape HuffPost's next chapter